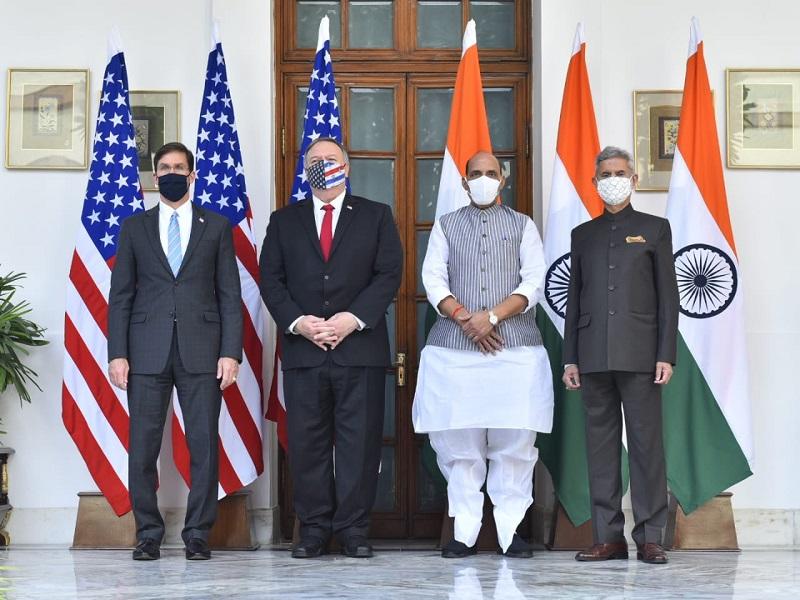 New Delhi: India and the United States on Tuesday emphasised the need for concerted action against all terrorist networks including Lashkar-e-Tayyiba, Jaish-e-Mohammad, Hizb-ul-Mujahideen, al-Qaeda and ISIS/Daesh and asked Pakistan to take immediate, sustained and irreversible action to ensure that no territory under its control is used for terrorist attacks.
They also asked Pakistan to expeditiously bring to justice the perpetrators and planners of all such attacks including Mumbai, Uri, Pathankot and 26/11.
During their third 2+2 Ministerial Dialogue here, the two countries denounced the use of terrorist proxies and strongly condemned cross border terrorism in all its forms.
Read Also: India signs BECA with US, Rajnath Singh terms pact as 'significant move'
They welcomed the virtual convening of the 17th meeting of the India-US Counter Terrorism Joint Working Group and the 3rd Session of the India-US Designations Dialogue on September 9-10,
US Secretary of State Michael Pompeo and Defnce Secretary Mark Esper led the US side at the Dialogue while Defence minister Rajnatgh Singh and External affairs minister Dr S Jaishankar head the Indian side.
The ministers committed to continued exchange of information about sanctions and designations against terror groups and individuals, particularly in light of recent legislative changes in India, as well as countering the financing and operations of terrorist organizations, countering radicalism and terrorist use of the internet, cross-border movement of terrorists, and prosecuting, rehabilitating, and reintegrating returning terrorist fighters and family members.
They resolved to strengthen cooperation in multilateral forums, including the UN and reaffirmed their support for the early adoption of a UN Comprehensive Convention on International Terrorism (CCIT).
Read Also: 2+2 Dialogue focuses on Indo-Pacific, maritime security, counterterrorism
In view of the announcement made during President Trump's visit to India to establish a new India-US Counter-Narcotics Working Group, the ministers welcomed the proposal to convene the first such virtual meeting later this year, with an in-person meeting in 2021, to enhance cooperation between Indian and US drug and law enforcement agencies.
They welcomed efforts by the US Department of Homeland Security and India's Ministry of Home Affairs to reinvigorate the Homeland Security Dialogue.
---