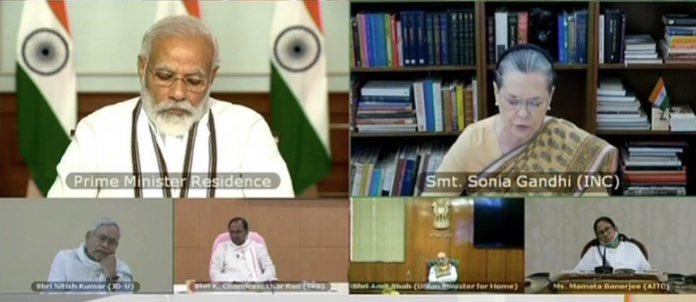 New Delhi: A crucial all party meeting called by Prime Minister Narendra Modi on Friday evening began to discuss the India-China violent face-off in Eastern Ladakh which resulted in loss of lives of 20 Indian Army men has upset political parties like the Rashtriya Janata Dal (RJD) and the Aam Admi Part (AAP) which have not been invited for the meet.
Congress President Sonia Gandhi and Trinamool Congress supremo and West Bengal chief Minister Mamata Banerjee are among the leaders of 15 political parties which are likely to take part in the all party meeting, being held through video-conferencing.
It is learnt that Defence Minister Rajnath Singh had called up all party chiefs on Thursday evening and invited them to the meeting, showing seriousness on the part of the BJP-led NDA government in keeping all parties on board while dealing with the tense situation along the LAC in Eastern Ladakh.
RJD's Tejashwi Yadav, son of former Bihar chief minister and parliamentarian Lalu Yadav, in a tweet, questioned the government on criteria being adopted by it while inviting parties for the meeting. He said that RJD has five MPs and has a substantial base in Bihar and it had not been invited.
Similarly, AAP's Rajya Sabha member Sanjay Singh was also cut-up as the ruling party of Delhi did not get an invitation to participate in the meeting. He said that during a national emergency situation all parties should be brought together.
AAP leader and Delhi minister Gopal Rai said it was unfortunate that their party was not invited and alleged that the BJP was using mathematical formulas to ascertain who should be invited and who should not be.
"In order to discuss the situation in the India-China border area, Prime Minister Narendra Modi has called for an all party meeting at 5 pm on June 19. President of various political parties would take part in this virtual meeting,'' PMO had said in a tweet.
---