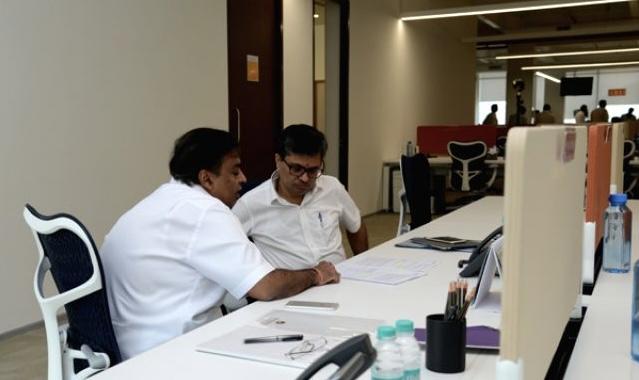 Mumbai: Impressed with his dedication and loyalty towards the Reliance Industries, Indian billionaire businessman Mukesh Ambani has gifted a 22-storey building-cum-office worth Rs 1,500 crore to his employee, Manoj Modi in Mumbai.
Manoj Modi is said to be Ambani's right hand man in his multi business segments and also his classmate from the school days.
The building is located on the Nepean Sea Road in Mumbai, which is the most expensive area. Entire building is spread over sprawling 1.7 lakh square feet and is being built by the Leighton India Contractors Pvt Ltd.
As per the sources, Ambani's friend will be residing with his entire family members. Out of 22 storey, seven have been reserved for the parking of vehicles. Each floor of the building is designed as per the wish of y the family members.
Modi's office will be on the 14th floor while 15th will be converted as the medical facilities that will also have an ICU unit.
Besides, there will also be a state-of-the-art gaming facilities, party rooms, formal meeting areas, spa center as well as a theater on other floors.
A total of 175 staffs will be stationed in the building to serve him and his family members. The staffs include, chef, butler, security guards and managers. Israeli company has designed the high-tech security system to provide safety of the building.
"Ambani is known for his generosity towards his friends and family alike. In this case, he has gifted this property to his trusted aide in Mumbai's one of the most expensive area," an family source said.
The interior work has been entrusted to Talti & Partners LLP while the furnitures have been sourced from Italy.


---