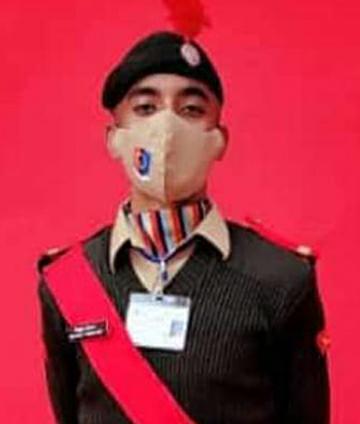 New Delhi: Tripura National Cadets Corps (NCC) cadet Bikash Debnath earned the honour of leading the northeast region NCC contingent during the Annual Prime Minister Rally held at Cariappa Parade Ground in Delhi on Thursday.

A 2nd year student of Swami Vivekanand Mahavidyalay, Mohanpur (West Tripura), Bikash happens to be the lone representative of NCC from Tripura to attend the Republic Day Camp 2021 and to earn this distinction, an official said.

Prime Minister Narendra Modi addressed the rally of the National Cadet Corps (NCC) at Cariappa Ground in Delhi.

Union Defence Minister, Chief of Defence Staff and the three armed services Chiefs were present on the occasion.

The Prime Minister inspected the Guard of Honour, reviewed the March Past by NCC contingents, and witnessed cultural performance during the event.

Speaking on the occasion, the Prime Minister said that nations with strong presence of discipline in Social life, thrive in all fields.

He said NCC has major role to play in instilling this sense of discipline in the social life of India. The Prime Minister said that as the largest uniformed youth organization, NCC is gaining in stature day by day.

NCC cadets are present everywhere where Indian tradition of valour and serviceis being promoted or awareness about the constitution is being generated.

Similarly, any project involving environment or water conservation has NCC participation.

The Prime Minister praised NCC cadets for their contribution during calamities like Corona.
---