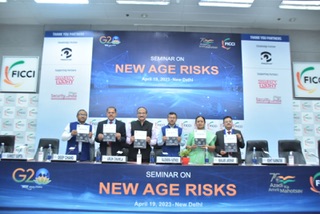 New Delhi: The Federation of Indian Chambers of Commerce and Industry (FICCI) organized a seminar on 'New Age Risks'.
The seminar aimed to discuss and debate the trend of traditional risk parameters and emerging risks that may impact the industry and overall working environment.
The highlight of the event was the launch of the 'India Risk Survey 2022 Report', jointly released by FICCI and Pinkerton.

Rajendra Ratnoo, Executive Director – NIDM, Ministry of Home Affairs, Government of India, emphasised over the importance of risk management, and said we need to identify the disruptors in our growth process & mitigate them. While addressing the seminar on 'New Age Risks' organized by FICCI, Ratnoo highlighted the importance of stakeholder sensitization about emerging risks for effective risk management.

"I am delighted to be associated with FICCI in this special India Risk Survey, where we are contributing towards achieving the goal of Amritkaal," added Ratnoo.

He further said, "We often miss the behavioural risk, and this is the important key in risk management because if you have a good workforce then only other factors will come into the act."

The highlight of the event was the launch of the 'India Risk Survey 2022 Report', jointly released by FICCI and Pinkerton.

Deep Chand, Advisor, FICCI CASCADE and and Former Special Commissioner, Delhi Police spoke about how online markets (e-commerce) has manifolded the risk of counterfeit products.

"With an increase in online transactions these days, the risk of counterfeit products have also increased manifolds. Being aware of it and prepared to tackle it is the need where this report caters," said Chand.

Manjari Jaruhar, Advisor, FICCI Committee on Private Security Industry and Former Special DG, CISF, Government of India said, "Old age risks are not fading away, but the new age risks are staring at us. When they come simultaneously, they create high risk situation to tackle. A lot has been done and a lot is to be done to understand cyber threats and work in accordance to minimize it. I congratulate FICCI and Pinkerton for a successful decade of risk analysis."

Arun Chawla, Director General, FICCI, highlighted the importance of addressing emerging risks in today's dynamic business landscape.

He said, "The economic progress of nations is directly linked to a secure and well-protected working and living environment. There should be an increased emphasis on investment in the security of cyber infrastructure and also raising awareness about safe usage of cyberspace."

Speaking on the occassion Rohit Karnatak, Vice President – India APAC & EMEA – Global Screening, Pinkerton, said, " The India Risk Survey has successfully reached its 10th year milestone, and I feel very proud to say that this survey
report has helped many organizations, both private and public, in identifying and safeguarding themselves from
the potential and prevailing risks."

FICCI-Pinkerton 'India Risk Survey 2022 Report' was also launched during the seminar.

Key points from 'India Risk Survey 2022' reports:
• Intellectual Property theft is a top risk for businesses, as trade secrets, copyrights, patents, and trademarks can be quickly monetized by cybercriminals and dishonest personnel who seek to sell them to rivals. Proactive identification of these risks can lead to the development of business-focused strategies and legal remedies for revamped IP management.
• Information and cyber insecurity is a major risk for businesses as they increasingly store more data online, leading to data thefts, ransomware, disrupted business, and tarnished brand equity. Businesses need to assess different security risks and determine the effects of cyberattacks to build an effective security system and protect their IT systems from hacktivists.
• Accidents are ranked as a top risk for businesses due to increased frequency resulting in physical and/or mental harm to employees, financial costs from victim compensation and production halts, and negative impacts on the company's reputation. To prevent workplace accidents, businesses should use state-of-the-art technology and create secure workplaces for their valued employees.



---