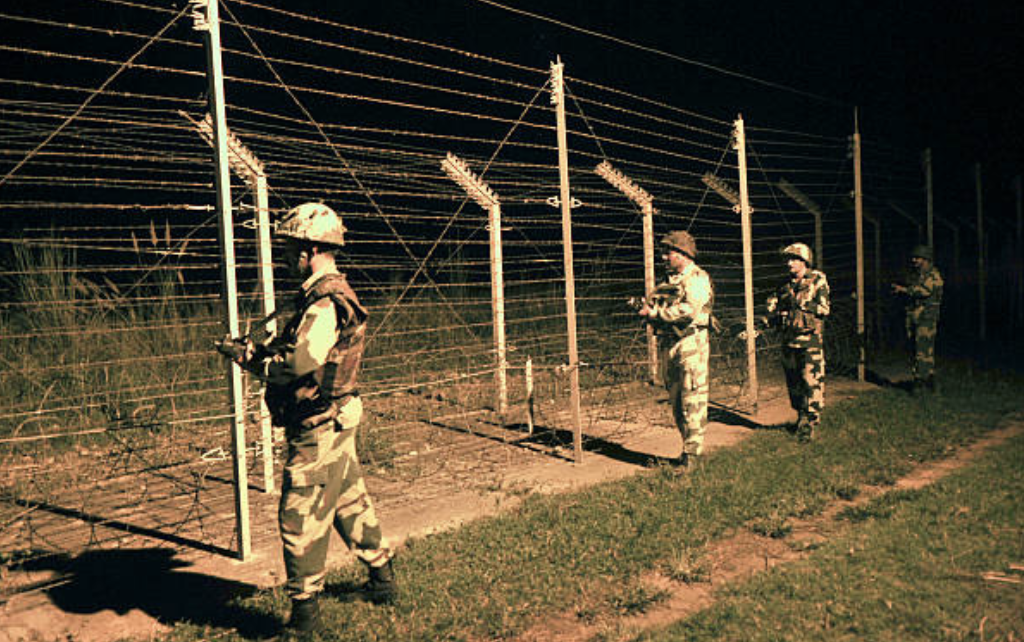 BSF troops patrol along the India-Pakistan border in Akhnoor, Jammu. (File photo)
The recent detection of tunnel in Samba area of India-Pakistan border has generated a lot of brouhaha, and allegations of laxity and/or incompetence on part of Border Security Force are being levelled thick and fast. Many retired Army officers have recommended that BSF should be placed under the Indian Army's command.
This is not a perfect world and every organization achieves some successes and faces failures too. That tunnel was dug and remained undetected is a fact. Even if BSF could not intercept the militants, they should have been detected by the Army troops deployed in second tier. That they failed to do so puts paid to the recommendations to place BSF under command of the Army.
On 22 Nov 2020, a joint team of BSF & J&K Police detected a tunnel originating from Pakistan side of IB & exiting into Indian side in the area of BOP Regal, Distt Samba, Jammu about 160m from IB, 70m from border fence & depth 25m. pic.twitter.com/HH8VNBWLsM

— BSF (@BSF_India) November 22, 2020
People must realize that border guarding has attained much wider meaning and scope. It has come to imply management of borders to ensure well-being of border population and integrating them with the mainstream by ensuring peace and tranquillity in border area.
The BSF Act, 1968 defines the most important role of BSF as "inculcating a sense of security among border population" besides preventing transborder crimes and smuggling.
BSF has eminently succeeded in this primary role wherever it is deployed.
Talking specifically of the 200 kilometres of the international border in Jammu being managed by BSF, one major achievement of supervisory and ground-level leaders in Jammu is the success of measures taken by them to prevent transborder firing.
This has brought peace and tranquillity in the border area and facilitated the border residents to carry on with their normal life. The farming activity which was severely disrupted till about two years ago due to it has resumed in full swing. The schools and other educational institutions in the area are functioning normally.
Importantly, the civilians who had lived in fear and had even built bunkers inside their houses can now move right up to the boundary line without fear, because they are aware that the BSF patrols that are dominating the area are there to help them in case of any contingency. The psychological scars that the children carried because of the constant uncertainty due to disruption caused have begun to heal. There have been no causalities or injury to civilians in the last two years.
The snipping incidents which were frequent have totally stopped and there have been no injury or death of BSF personnel.
The "border-area development programmes" (BADP) and the "civic-action programmes" (CAP) meant to be executed in border area for improving infrastructure and skill development of residents of border area have commenced once again. These had almost come to a total halt during prolonged period of transborder firing since 2013 or so.
The effectiveness of border-guarding measures can be assessed from the fact that the enemy is now being compelled to use methods like tunnel and drones to send across militants and logistic supplies to them. Failing to penetrate the strongly guarded international border and fence, Pakistan-based terror group Jaish-e-Muhammed used drones to drop arms and ammunition from across the border in September this year in the Akhnoor sector. Prior to that, on June 20, a Pakistani drone, loaded with a sophisticated rifle and some grenades, was shot down by the BSF in a first such incident along the international border in Hira Nagar area of Kathua district.
These achievements of BSF have been in spite of severe constraints in terms of deficient manpower, lack of use of technology, the current coronavirus situation, etc, and not the least lack of operational intelligence.
This is the sixth tunnel detected by BSF in last four years in the 200km border area of Jammu. The first such tunnel was detected in Punjab in 1997 after the fence was constructed along that border. Detection of
tunnels in border area by troops is extremely difficult because of thick foliage of "elephant grass" along the Punjab and Jammu border. The troops being unable to patrol the extremities of border during transborder firing was another reason in the past.
It is extremely disappointing that in spite of detection of around twelve tunnels in Punjab and Jammu in the last 23 years, we have not been able to acquire technology to locate them. Acquisition of "deep-penetrating radar" (DPR) would have helped matters but things have not progressed beyond the trial stage.
It is ironical that trials for DPR are currently being done at Delhi instead of conducting them in field conditions. True measure of its effectiveness would be clear if these are able to detect the already existing tunnel. The leadership of BSF would do well to shift the venue of trials being currently undertaken to Jammu even at this stage.
In fact, a major problem plaguing the technology introduced is that the trials are conducted in ideal conditions. The failure of "comprehensive integrated border management systems" (CIBMS) deployed in Jammu and riverine area of Brahmaputra is due to the fact that initial trials were done at Gwalior where the weather conditions do not replicate those in the field. Gwalior doesn't experience fog or heavy rains or extreme cold. Nor is there any major waterbody with rapid current. The trials of any new technology being introduced must be conducted in actual field conditions.
The technology introduced must also be easy to use and cost-effective.
Technology which demands heavy maintenance cost is not useful for our conditions as there always shortage of funds. The complicated financial procedures also play their part in delay in repair, maintenance and replacement of defective parts.
Finally, it is felt that we should avoid the tendency to rush to the media to announce discovery of such tunnels. By keeping the detection, a closely guarded secret we will have the advantage of surprise and
cause causalities to the infiltrators. Such causalities will also impose caution on the enemy in using this method in future.
It is important for the decision makers and general public to understand the constraints under which BSF operates. It is also important that proper technological support is made available to the troops in order to make border guarding more effective. Reorienting the focus of intelligence branch of BSF to collecting operational intelligence will also enhance effectiveness of domination.
The leaders of the force must pay attention to these important aspects.
---
[Disclaimer: Views expressed by the author are his own and don't necessarily reflect the views of India Sentinels.]
---