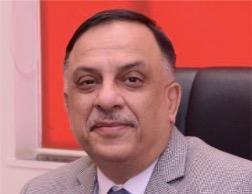 Commodore Rakesh Anand (retired), head of Crown Group Defence's Marine Division. (Crown Group Defence photo)
Commodore Rakesh Anand (retired), head of Crown Group Defence's Marine Division, in this interview with Palak Sharma of India Sentinels, talks at length about India's maintenance, repair, and overhauling (MRO) industry. He talks extensively about the current challenges the industry faces, its future, and about his own company. Here are some excerpts:
Palak Sharma: Commodore Anand, thanks for giving us the time for the interview. For the benefit of our audience, let me begin by asking you what is the importance of indigenous defence MRO capabilities for India?
Rakesh Anand: To maintain and service India's huge defence assets, it is very important for our country to develop indigenous MRO capabilities as we need to maintain and service our military assets on a regular basis to be in battle ready mode all the time. With the Indian government's thrust on "Make in India" and "Atmanirbhar Bharat" (self-reliant India) vis-à-vis the current environment and ecosystem, great opportunities have arisen for MSMEs (micro, small, and medium enterprises) to build their capabilities to meet current and future challenges in the defence MRO sector.
PS: Tell us about Crown Group Defence's Marine Division.
RA: Crown's Group Marine Division comprises Dynatron Services Private Limited (Dynatron) and OSK India Private Limited (OIPL). This division caters to the MRO and servicing needs of the Indian defence forces' operational readiness.
Dynatron, which has been serving the Indian Navy and Coast Guard for more than four decades, provides ship repair, general engineering, ship modernization, ship refits, marketing, and after-sales support for mechanical and electronic systems. Apart from other projects, we have been supporting MRO activities for the Indian Navy's only amphibious warship from the United States, INS Jalashwa. We are also involved in providing support to the aircraft carrier INS Vikramaditya, which is currently India's only operational carrier, and other naval warships, submarines, and aircraft.
Dynatron has the sole authorization for repairs and maintenance of gearboxes and thrusters from Germany's ZF Marine and exclusive partnership with Japan's Kubota for engines, coupled with Mase Generators of Italy for providing MRO services to the Indian Navy.
OSK India has a state-of-the-art electronics repair facility in Mumbai, which specializes in the repair of electronic modules and weapon systems of international origin. We have recently repaired critical weapons equipment for the Indian Navy and are currently working on the next order.
PS: What are the major challenges indigenous MRO companies are facing in India?
RA: The key challenge the Indian MRO companies face today is cyclic workload, which is not forecastable and thereby leads to problems associated with creation of capacities and capabilities. One of the main reasons for the low volume of MRO work in India is the fact that the number of platforms which are available for the civil MRO industry is quite minimal. It is anticipated that coming years would bring in better time for the Indian marine industry due to a larger number of ships and submarines being inducted by the Indian Navy which would lead to greater volume of work for the MRO industry. The government's incentives of reduced taxation in the country would lower the cost of MRO and make it attractive to both Indian and international naval and merchant marine ships to get repairs undertaken in India.
PS: Where does Crown Group have marine MRO support facilities?
RA: Crown Group Defence has set up six world-class facilities and workshops across India for taking on specialized MRO and manufacturing activities based on customer requirements. We have one of the largest facilities in Karwar, which is Asia's biggest naval base, to undertake mechanical and electro-mechanical repairs primarily for the Indian Navy. We have set up an electronics repair/manufacturing facility in OIPL Mumbai where we are doing repairs of complex weapons equipment, PCBs (polychlorinated biphenyls), and electronic modules. In addition, we have two ship repair workshops in Chennai and Visakhapatnam.
PS: Tell us about Dynatron and OIPL's tie-ups with national and international original equipment manufacturers.
RA: As I stated before, Dynatron has a long-term partnership with Germany's ZF Marine (Germany) repairs and maintenance of gearboxes and thrusters from Germany's ZF Marine and exclusive partnership with Japan's Kubota for engines. It has a tie-up with Mase Generators of Italy for sales and support.
In a drive to support indigenization of equipment for Indian naval ships and submarines, Dynatron has also tied up with WILO Pumps, one of the world's leading premium providers of pumps and pump systems, and Meru Pumps, which is based in Ahmedabad, to help them customize their products to defence specifications.
We are also glad to share that at DefExpo 2022 in Gandhinagar, Gujarat, OIPL has signed a major memorandum of understanding (MoU) with Meson Valves India Private Limited who has appointed OIPL as its exclusive dealer for naval and marine requirements of all kinds of valves and fittings in India and other countries.
The MoU covers the following organizations:
a) Mazagon Dock Shipbuilders Limited for HDW-Class submarine refits and life-extension projects.
b) Goa Shipyard for Talwar-class frigates only.
c) Indian Naval Dockyards.
d) Other international companies for defence exports in naval and other marine requirements.
OIPL signed another MoU at DefExpo 2022 with Infinity Radar for the joint development and marketing of a wide range of defence machinery and equipment, like drones, threat-detection and identification systems, auto-tracking systems, autonomous vehicles, etc, for the government, armed forces, and law enforcement agencies.
Dynatron at DefExpo 2022 has signed an exclusive "channel partner" MoU with Teignbridge Propellers India Private Limited for provisioning of wide range of propellers and shafting in the mid- and small segments of boats and crafts for the Indian market, which includes all shipyards, government, and private organisations. Some of the customers assigned by Teignbridge in India are as follows:
a) Mazagon Dock Shipbuilders Limited.
b) Garden Reach Shipbuilders and Engineers.
c) Goa Shipyard Limited.
d) Cochin Shipyard Limited.
e) Hindustan Shipyard Limited.
f) Naval Dockyards in India.
g) Shalimar Works (1980) Limited, which is an undertaking of the West Bengal government.
h) Titagarh Wagons Limited.
PS: Why have international defence OEMs picked Dynatron OIPL as partners in India?
Global OEMs that are looking for organized players to help them maintain and service their equipment and provide quality service to their customers in India find it easy to partner with us because of our world-class MRO facilities and workshops spread across India and experience in working with international OEMs.
Dynatron and OIPL are one of the only organized and fully equipped players in India that are present across all the coastal cities catering to the MRO and servicing of Indian naval ships, providing both marine engineering and weapons system MRO support to the Indian Navy and the Indian Coast Guard. They have fully functional state-of-the-art facilities in Karwar, Mumbai, Goa, and Chennai.
For international OEMs it is much more economical to partner with local players who already have facilities and understand the local business environment.
Global OEM's also trust Crown Group's core competency, which lies in its technical and professional team. Crown Group is one of the very few companies to have ex-servicemen (ESM) from the Army, Navy, Air Force and Coast Guard right from the top level to the ground level, who bring their years of valuable experience with them in the organization.
This puts Crown Group Defence in a strong position to support the "Atmanirbhar Bharat Abhiyan" (self-reliant India campaign) by partnering with foreign OEMs in expanding the MRO base in India and taking forward the government's vision under its "Make in India" push.
PS: Apart from critical MRO services, does Crown Group Defence plan to get into manufacturing of defence components and equipment in India?
RA: Crown Group has already established facilities and received orders for design & manufacturing of complex PCBs for specialized equipment in OIPL, Mumbai.
We are further working towards establishing indigenous manufacturing facilities for components and spares that have higher volumes or are categorized as consumables.
Keeping with the government's focus on promoting self-reliance in defence manufacturing and positioning India as an exporter of military hardware, Crown Group's focus is on indigenization through both tie up with international OEMs and in-house research and development.
Crown Group's focus is on indigenization, MRO, and manufacturing through both tie up with international OEMs and innovative activities in collaboration with various leading incubation centres in the country.
We are also engaging with the academia across India to bring out technologically advanced solutions that will strengthen and modernize the Indian defence sector. We have tied up with Amrita University to promote defence research and development. We are also in advance talks for collaboration with IITs and other reputed universities for various defence projects.
PS: Is Crown Group also catering to the civil side of the merchant shipping industry?
RA: Yes, the entire range of services, which is currently being offered to naval ships – apart from weapon system repairs and services, is also being offered to the merchant shipping industry. Both Dynatron and OIPL have MoUs with international OEMs among which there are also those whose products fall in the dual-use category (civil and defence). Some of those products are hydraulic systems, system valves, pumps, compressors, etc. Thus, apart from undertaking services for foreign origin equipment of naval ships and submarines, merchant ship repairs can also be undertaken for various systems.
PS: How is Crown Group's Marine Division contributing to making India "Atmanirbhar" in defence MRO and manufacturing?
RA: Crown Group Defence with a legacy of more than four decades has established itself as India's leading defence MRO. It provides critical services to the Indian Navy, Indian Air Force, and the Indian Coast Guard through its various group companies and is at the forefront to meet the current defence MRO requirements.
Leading the way in making India self-reliant in defence MRO and manufacturing, Crown Group Defence is establishing indigenous MRO and manufacturing facilities and forging technological tie-ups with international OEMs to provide critical services to Indian armed forces as their service and supply partner.
What should the government do to boost the Indian defence and marine MRO sector
Maritime transport is the backbone of global trade and the global economy. The maritime industry has grown rapidly over the years with the addition of ships to the national fleet and investments are being made by private and government companies worldwide. The strength of the fleet has been increasing over the years to make India an attractive MRO hub.
Both the Indian Navy and the maritime sectors are on a growth path as shipbuilding continues to grow in the country. With the growth in naval strengths and the merchant marine, the MRO sector is also on a growth path. To give a boost to the marine MRO sector, the government needs to focus on reducing taxation, enable creation of the MRO ecosystem and provide all due skill sets for handling efficient repairs.
With the creation of industrial clusters focussed on marine MRO, it would be possible to generate enormous scale and thereby make the Indian maritime MRO economically viable. Continuous focus of the government for creation of such maritime clusters would enable in shifting the present leaders in MRO in the region, which are Dubai and Colombo, to India.
PS: What are Dynatron and OIPL's plans for future expansion and growth for India?
RA: We are focusing on the MRO projects at hand to establish authorized service centres with the required equipment and technically trained manpower to service the increasing MRO requirements. This is an ever-increasing need for indigenizing such MRO activities as it improves equipment availability providing timely support and at much lower costs.
The government's "Make in India" policy gives an impetus to undertake major repairs of warships and submarines within the country, which in earlier days, used to be achieved by sending the ships and submarines to the countries of their origin. With the envisaged growth, both Dynatron and OIPL are poised to scale up their operations by creating additional capacities and capabilities.
The largest Dynatron workshop at Karwar is being geared up to meet the additional requirement of workload of ZF gearboxes and thrusters and augment the repair work in Chennai, Visakhapatnam, and Port Blair. As far as OIPL is concerned, it is intended to commence operations in Chennai and Visakhapatnam. We, thus, foresee a phenomenal growth in the activities and revenue of both Dynatron and OIPL in the next five years.
Disclaimer: All views expressed by the interviewee are his own. They don't necessarily reflect the views of India Sentinels.
© India Sentinels 2022-23
---