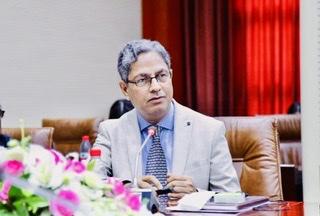 Pandemic has presented the biggest example of advantage India over China. Even before Pandemic Covid-19 India was supplying vaccines to 170 nations. Even before, India was largest producer of generic medicine that it can deliver at extremely low prices making these especially attractive across developing and least developed nations. In an exclusive interview Chairman of Centre for International Politics, Organization and Disarmament at Jawaharlal Nehru University Prof Swaran Singh tells Sapna Singh for India Sentinels
Question: Eurostat declared that China has become the EU's main trade partner last year, which was dominated by the United States, how do you see the development having huge market potential, China with a population of 1.4 billion and the EU over 400 million?
Answer: For year of pandemic, 2020, China is the only one among major economies to claim a positive growth of 2.3 per cent taking its GDP to $15.5 trillion. By comparison, most other major economies, including the United States, experienced negative growth rates. This has surely provided a boost to China's trade-led development model pushing further its global economic footprint, including its trade with states of European Union. Given that China had come to be world's largest exporter from 2009 and world's largest trading nation since 2014, this was only expected to happen. Pandemic and resultant economic deceleration in much of the world has only advanced it and perhaps caught others bit off guard. But, in the longer run, it is not Europe but Africa which will the driver of global growth in coming decades and China has been deeply engaged in that continent as well.
Question: Xu Haifeng, chairman of Bank of China (Luxembourg) S.A., recently in an interview, hailed the Eurostat's statistical development as a watershed moment for EU-China trade ties. Can we say, China is all set to dominate global market despite termed as human rights violator forcing labours to work in extreme conditions?
Answer: Unlike most neo-liberal economies and Bretton Woods financial institutions that lay enormous emphasis on ensuring normative standards for human rights and democratic values as a prerequisites for their economic engagement (though subject to their selective invocations and subjective interpretations), China model of economic engagement has never put such preconditions for its trade, aid and investments. This has had its traction amongst its partner nations, including those from the neoliberal West, where increasing number of developed economies have begin to either ignore or just provide lip-service to Beijing's track record on these matters. Events in cases of Hong Kong, Tibet or Xinjiang therefore we have seen these nations orchestrate ritual murmurs with not serious action that may hurt China. Even China's ardent critics have chosen to only bark but not bite given their own prosperity being increasingly intertwined with the economic rise of rise of China. However, as China's economic rise begins to challenge the global leadership of the United States and its allies, they likely to feel the heat and then we may see then using some of these issues but only to arm twist China for their own advantage.
Question: At global market platform, business leaders from China and the European Union are encouraged to see the bilateral growth after this development and particularly in 2020 when world was dealing with lockdown and curbing trades due to the pandemic... as per the official figures EU bloc's imports from China in 2020 increased by 5.6 percent to 383.5 billion euros (465 billion U.S. dollars), and export increased by 2.2 percent to 202.5 billion euros, however its trade with the US also saw a substantial decline, how do you see this development in the US context?
Answer: Other than the Big Three of European Union -- Germany, France, United Kingdom -- most other members of European Union have become increasingly comfortable with China's preponderance in its economic engagement with them and they do not see China's rise as any serious strategic challenge. It is only the United States and its major allies of the G7 that feel worried about China's economic rise and try to take countermeasures that includes limiting and carefully regulating their trade and commerce with Beijing. As for other members of the EU, year 2020 saw them receive additional imports of China manufactured medical equipment, medicines, test kits as also become more receptive to China's exports. But it is important to also underline that given the usual rapid expansion of its foreign trade, the increase you mentioned in case of EU for last year represents but a modest one. This looks noticeable only in face of last year's global echoic deceleration.
Question: In December 2020, China and the EU completed investment agreement negotiations on Comprehensive Agreement on Investment (CAI), the agreement is pending with EU as the draft document is yet to be approved by the European Parliament and national legislatures, China has also signed two big trade deals with the US and RCEP. How do you think RCEP will shape up ? Do you think India did India miss out not being a part of the group ?
Answer: India not joining the RCEP was a miss for both sides. India would have been the third largest economy in RCEP after China and Japan but perhaps most vibrant of them all and also the most receptive one for rapid expansion of trade and investments. So, absent of India sure limits the potential of RCEP for both sides. But had India joined it in its current format, it would have increased India's trade deficit with these nations and also negatively impacted India's small and medium industries. India already suffers from continued adverse trade deficit with eleven of these fifteen nations, China accounting for more than two-thirds of it all. As regards CAI, as an economic powerhouse, China has been in spate of signing FTAs and its CAI with EU is only a matter of time. Even within the G7 nations most of them have had bilateral agreements and Italy has even signed up for China's Belt and Road Initiative. Their dilemma is how to separate their China-driven economic redemption from China reaching out to influencing their political choices and strategic stature. Other than pandemic, this is the dilemma that has contributed to delays in finalising arrangements like EU-China Comprehensive Agreement on Investments.
Question: Chinese President Xi Jinping during a video conference with EU members, said the agreement will promote recovery of the world economy in the post-pandemic era and will boost the confidence of the international community towards economic globalization. However, China is only dominating with such agreements as Chinese companies are now investing in the EU market, how do you see the development for big powers – The US and India
Answer: Even before world got inflict with Covid-19 pandemic, China had emerged as the main driver of global growth which was occurring primarily amongst emerging and smaller economies while G7 industrialist nations had faced slow growth rates since 2008 global economic slowdown. Now, pandemic has seen China mark an exception of recording a positive growth compared to major economic deceleration much of the developed world including the United States and India. This is likely to only further hasten the coming of the next cold war between US and China which is bound to be far more grounded in economic, rather than military, competition giving China advantage over former Soviet Union that was the opponent of the US during the last cold war. This is what has triggered protectionist impulses and decoupling debates amongst US and its friends and allies but even that is going to be a rather difficult exercise. So other than their coming together to ensure restraint on China's expanding footprints -- with Chinese companies replacing Western monopolies -- these nations must focus on enhancing their competitive edge in technology and innovation; something that China has been focused on for last two decades, if not more.
Question: India has fallen way behind China in the last 6-7 years in terms of economic growth, do you think Indian can still compete with China in the coming years?If so, what should we try to do?
Answer: In pure economic growth rate terms -- which have been increasingly questioned by economist as the most dependable measure of national development -- China has sure seen much higher growth rates compared to India making there economic equations far too asymmetric and their trade increasingly one-sided. This had seen New Delhi opening up for China's investments and joint ventures as also living with formidable adverse trade deficit. But there other side of the story was India's attraction for China as destination for its trade ad investments which empowers India in both negotiating terms of agreement as also potentially punishing China through opportunity costs like last year's banning of hundreds of Chinese online apps and tightening of regulations of China's investments. Equations in inter-state competition require each side to carefully calibrate to fully harness one's strengthens which, in case of India, are its increasing political goodwill across the world, its increasingly proximity with the United States and its friends and allies and its policy of multi-alignment that keeps it engaged even with all major powers including Russian and China. So India will have to focus on its strengths and work for reducing this increasing gap in their economic development.
Question: Interestingly, until 2005, India and China were close in their overall trade volume with South Asia, however, China increased its trade with South Asia, barring a slight dip in 2009 due to global recession. Presently, only landlocked countries – Afghanistan, Bhutan and Nepal have a higher trade share with India when compared to China, however, China's trade is growing in Myanmar, Bangladesh, Pakistan and Sri lanka. China is establishing itself a major trade partner of South Asia, for instance – China became Bangladesh's top trading partner in 2015, As enhancing trade in the South Asian region is pivotal in both ways – economically and strategically too to integrate India with the global economy.. Do you think it is time for New Delhi to work on its trade policy?
Answer: To put things in perspective, China's total foreign trade is about five times bigger compared to India total foreign trade and this is bound to have its reflection in their respective trade with South Asian nations. Second, low percentage of intra-regional trade in South Asia has always been an issue of regional level debates and is often explained in terms of the history of complex equations between bigger economies of India and Pakistan and India's other occasional rifts with other nations. China has not had any such rifts with any of the South Asian nations other than India; and Pakistan has been its 'all weather ally' while its spreed of investments under Belt and Road Initiatives has also created new avenues for increasing its trade ties with India's South Asian neighbours. But, pandemic of 2020 has showcased advantage India! India -- which is now being called pharmacy of the world for producing 62 per cent of world vaccine production -- has generously gifted vaccines to its South Asian neighbours making them rethink of they China-engagement thereby reinforcing thcir consciousness of India's importance. Given that vaccinations are going to be a gigantic exercise these gifts are likely to be followed by commercial exports of vaccines provide hope for economic windfall further empowering India compared to the economic powerhouse China.
Question: As infrastructure plays a vital role in trading, cross border infrastructure connectivity are best incentives saving time, cost and energy.. Is New Delhi coming up with new infra projects aligned with trade policy?
Answer: Without doubt, connectivity remains a precondition to incentivise economic engagements and make these profitable by cutting time, energy and other transection costs. The most recent examples of India's initiatives in building connectivity include its emphasis on maximising connectivity by infusing 'I-way' to 'highways' and India has since launched satellites decimated to South Asia and now proposed a regional air ambulance and lenient South Asian visa regime for medical professional to deliver cross-border services in times of emergencies like pandemics. Of course India also continued to be engaged in traditional physical infrastructure building connecting India's frontier provinces with their neighbouring nations. But again, the tendency to compared selective project delivery timelines with that of China often makes India appear slow in delivering these projects. This seems misplaced comparison as India has to play on its own strengthens and not blindly emulate another nation.
Question: What is your suggestion for India to close the trade gap between India and China as India's industries are struggling due to a range of reasons and markets are heavily dependent upon Chinese imports?
Answer: Greater infusion of private sector in 'Make in India' can make India's exports more competitive vis-a-vis China and also make them attractive for the Chinese market. India though also has to work with Beijing to ensure it removes various non-tariff barriers and opens up markets for India's exports. This can be done in carefully negotiating terms of trade thereby allowing China's investments into India while ensuring these serve India's interests. China's local manufacturing in India can also make India's exports competitive as also redress the problems of India's adverse trade deficit with China. Some of this was already being carried out till last year saw pandemic and border tensions creating adverse conditions. But these should at best be an interlude and will see India reviving its economic growth and becoming both attractive for Chinese investments as also competitive in its exports.
Question: Do you see any areas where India can be competitive against China in global markets?
Answer: Pandemic has presented the biggest example of advantage India over China. Even before Pandemic Covid-19 India was supplying vaccines to 170 nations. Even before, India was largest producer of generic medicine that it can deliver at extremely low prices making these especially attractive across developing and least developed nations. Now, in midst of Pandemic, India has come to be world's pharmacy exporting first Hydroxychloroquine and Pentacid and now it has been sending vaccines Covishied and Covaxin jabs around the world. India, of course, also exports several other medicare products including medical equipment. Besides, countries like UK, Canada, Australia, United States have large work force of doctors of Indian-origin and Indian nurses in several nations of the Middle East which all have become India's goodwill ambassadors. Now, it is important to underline that bulk of India's generic medicines are produced from Chinese APIs. Following this Pandemic, world assuredly going to spend much more on healthcare creating new avenues for trade and investments.
---