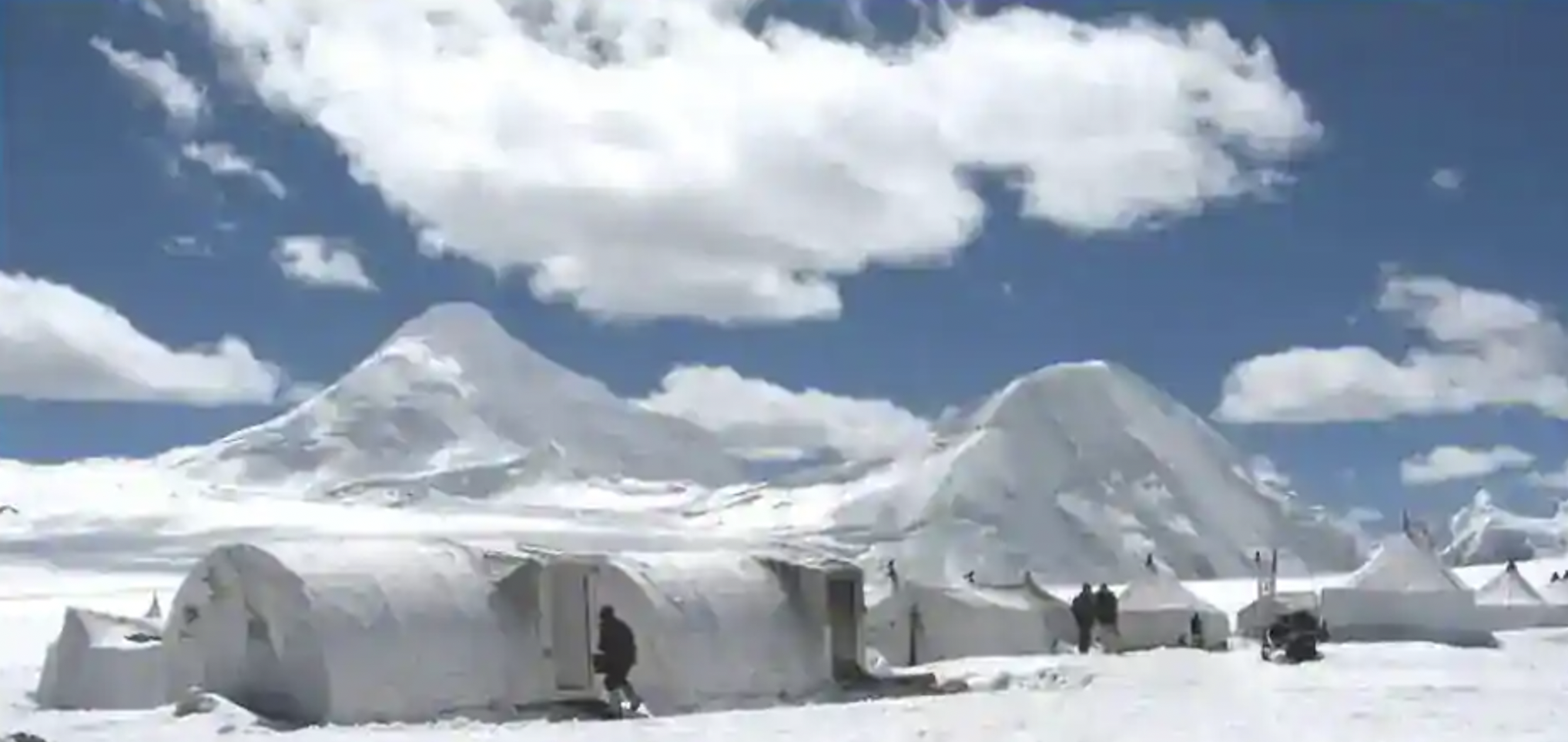 Indian Army tents high in the Himalayas.

Winter Wars – Tales of misery from Moscow to Ladakh
The country waits with bated breath as corps commander-level talks go on – and on. Will status quo ante be restored? Will China resort to further aggression? Will India even the score?
The sabre-rattling goes on in TV debates and living rooms. Did X number of troops die? How many were avenged? Will our experienced, professional troops roll over their "conscript army"? Should our units stay put in their forward positions through the winter months?
As we look at maps and satellite images, ponder over geo-politics and national pride, some of us shiver, with memories of other winters at war for other men, at other times. We think of Moscow, Stalingrad and Korea. We think of the western allies blundering in the Russian winter to defeat the Bolsheviks during the Soviet Civil War. We remember other strategic follies and national failings which condemned men to suffer inhuman conditions, for doubtful gains accruing to politicians back home.
Now coming back to Ladakh, who are these "professional troops" we talk about so glibly? Men – our boys who man those positions in those heights and plains are just flesh and blood men ... right? What is it like to be a man of flesh and blood, manning combat positions at 5000 metres above sea level, at –20-degrees celsius, with icy winds sweeping across the heights and plains? What is it like to be an Indian soldier in any of the places today, which have become household names, namely Galwan, Pangong, Depsang, Rezang-la? What is it to live with the frost bites, trench foots and snow blindness?
What is it like in those machines they are supposed to sit inside or service? The tanks, the BMPs, the artillery pieces, in those conditions? With metals cracking, lubricants and engines freezing? Artillery and machine guns malfunctioning and protective mine fields becoming treacherously ineffective?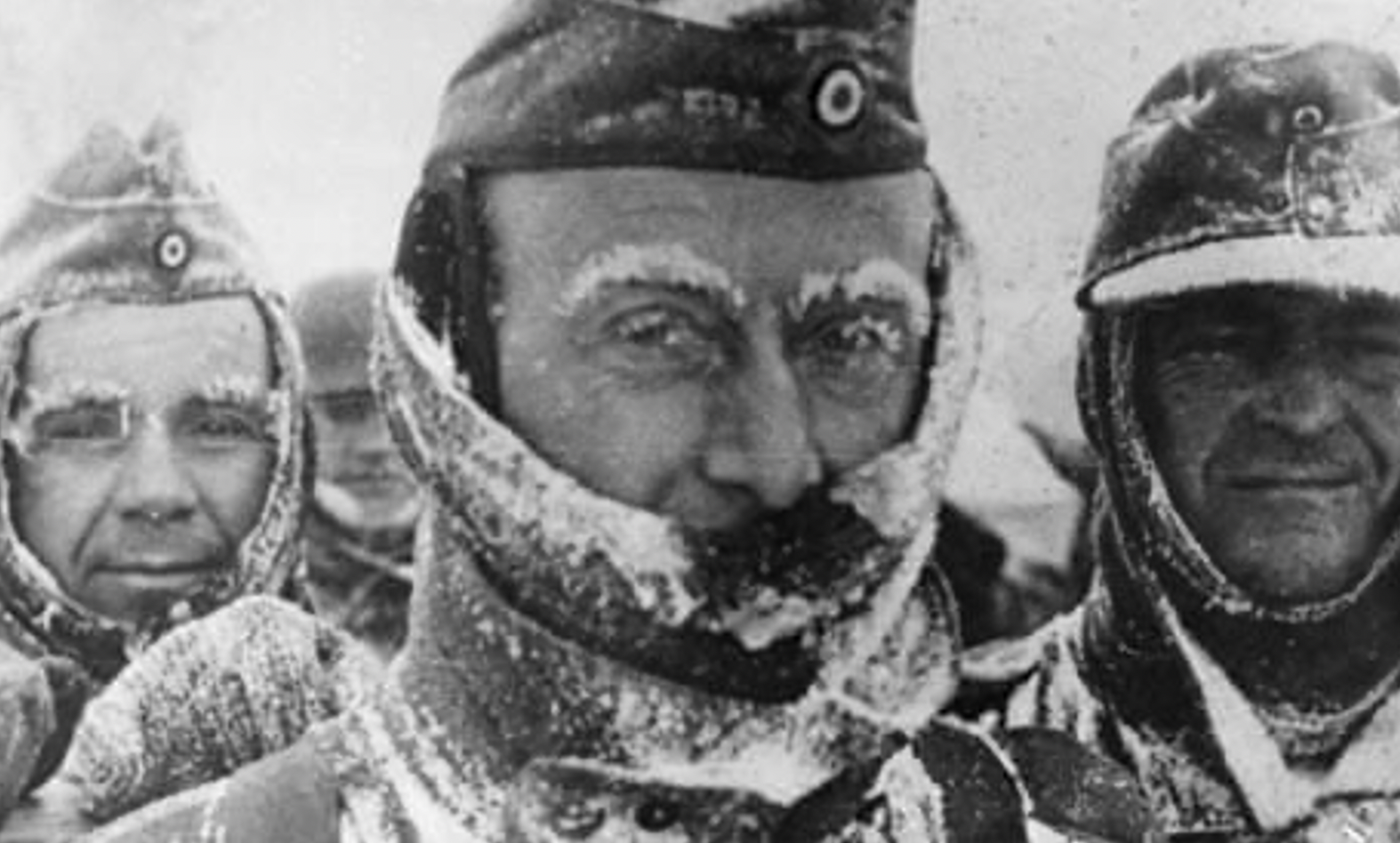 Three German soldiers covered in snow during winter on the eastern front during World War II. (Photograph: Hulton Archive/Getty Images)

This was what the Germans suffered at the hands of General Winter, as their Operation Typhoon reached its frozen nemesis in the winter of 1941-42. [Fighting the Russians in Winter: Three Case Studies; Dr Allen F Chew, Combat Studies Institute, US Army Command and General Staff College, Fort Leavenworth, 1981]

We at India Sentinels, have delved into the issues around the line of actual control (LAC) in eastern Ladakh over the last five months. We have brought you a series of interview based stories, detailing the operational and tactical situation on the ground and its implications. We have gone into the details of patrolling points (PPs), PLA incursions, Indian riposte and what it all means.

Today we would call out the elephant in the room, "General Winter" – and take you through the actual implications of a winter war, or at least a winter deployment, for our men and equipment, along the LAC. And to help us take you on that journey, we have Major General Yashpal Singh Mor, Sena Medal (retired) who has a rather unique qualification to be our storyteller today. He was the first general officer commanding of the Leh subarea, with entire Ladakh as his AOR (area of responsibility).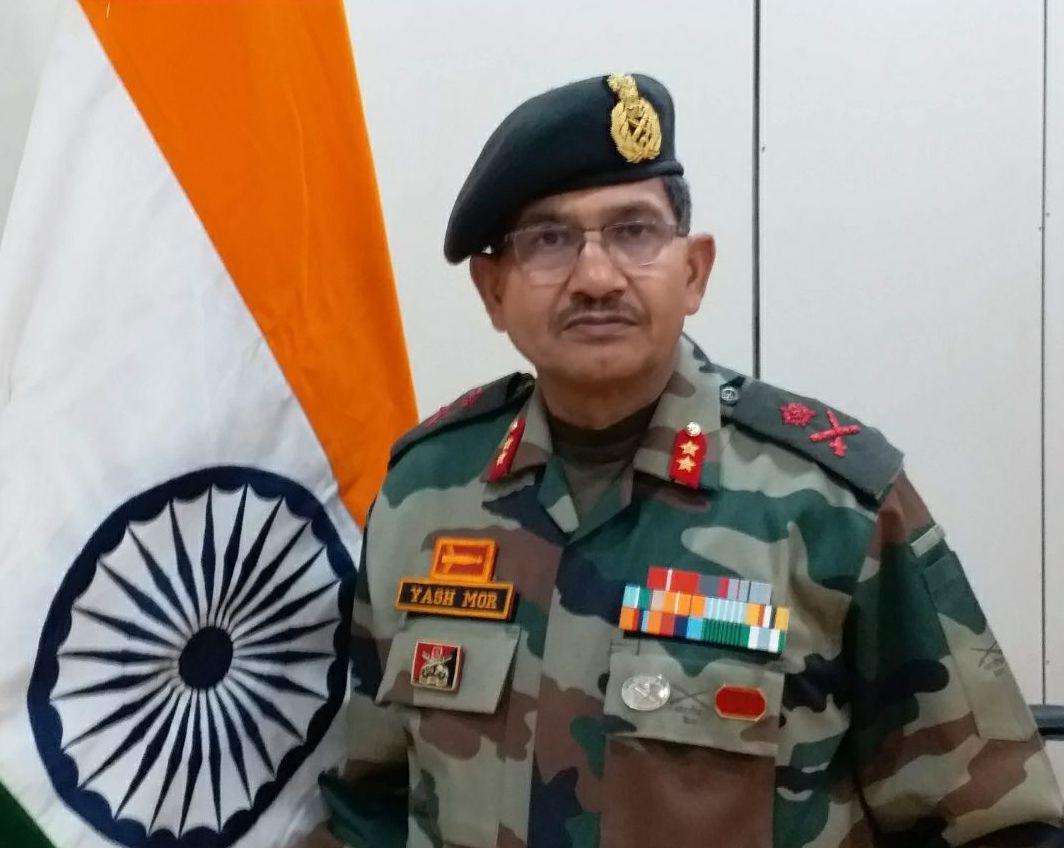 Major General Yash Mor, SM (retired).
This entity was a fall out of the Kargil Review Committee. For the first time the Indian Army had a dedicated administrative HQ to support operational deployment in the XIV Corps area. Has it made a difference on the ground? Are our troops of the XIV Corps better off today for this focused support, meant specifically for making their living and fighting conditions better?
As the first GOC of the Ladakh subarea, Gen Mor had multiple challenges. First, the operational and administrative role of the new Headquarters was not well defined. The command and control of subordinate units was also not clearly enunciated. It was planned as a strategic administrative headquarters based on the lessons learnt during the Kargil war of 1999.
The aim was to free the operational formations from logistic responsibilities so that they could concentrate on operational tasks. The biggest challenge thus was to take charge of all static logistic units under command. This is easier said than done due to apathy and status quo tendency of the military staff in the chain of command.
Gen Mor took over on May 1, 2018 and travelled across the entire Ladakh region to understand the operational and logistics issues that needed immediate attention. His priority was operational logistics, which included winter stocking of Siachen glacier and other high-altitude units. The improvement in the habitation of troops in terms of living, clothing and health was another area of focus.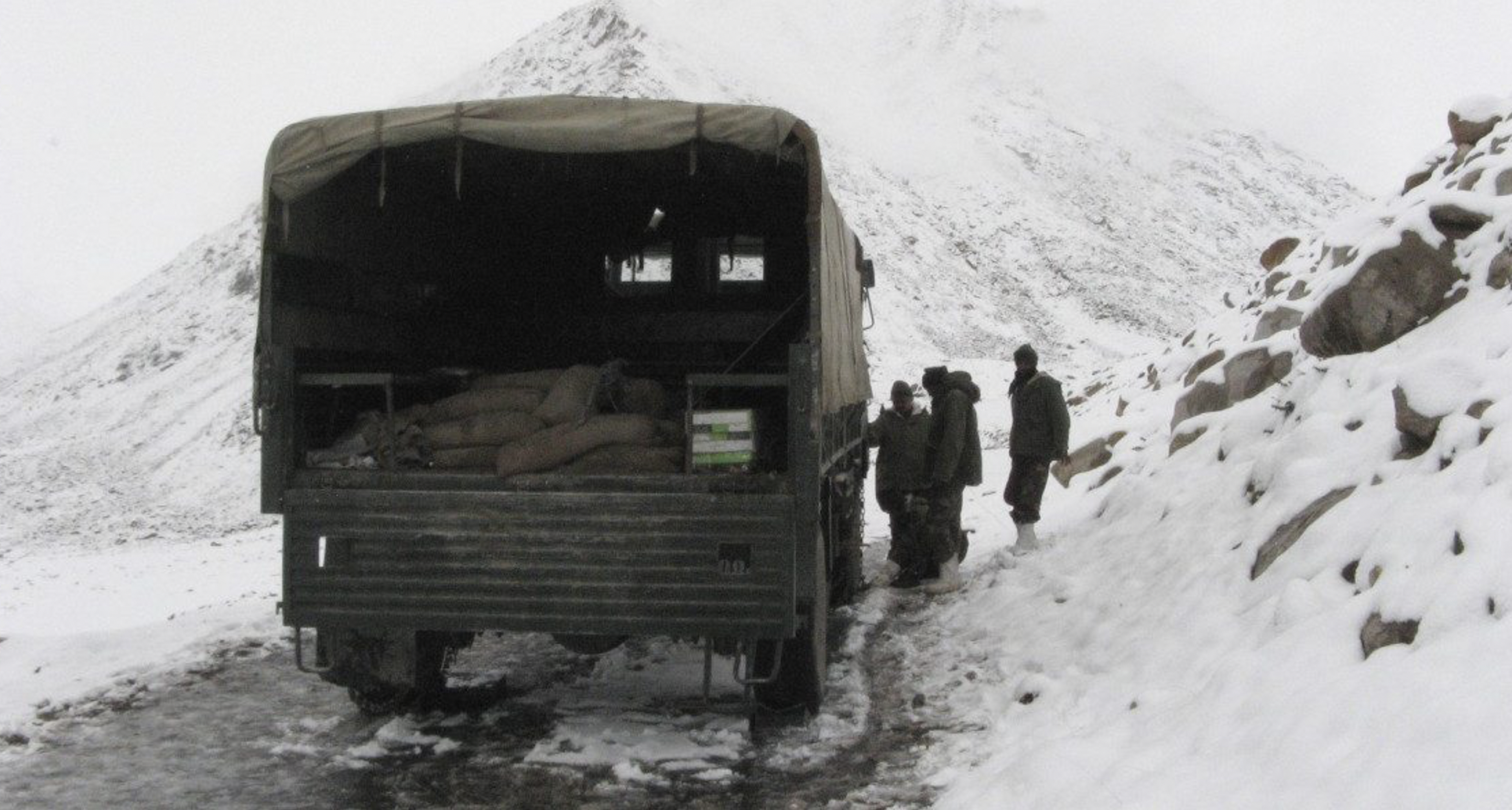 An Army truck stuck in a snow-induced roadblock on the only road leading to Pangong-tso.

The nature of the tasks involved went beyond the purely military domain. A lot of complex dealings were involved with the bureaucracy and local communities. A special drive was launched on electricity and water supply in his AOR. A major litigation between the villagers and the National Thermal Power Corporation had to be solved out of court, to allow high-tension power cables to reach Leh from Alchi dam. This solved the electricity problem of the entire region. The case was in lower courts for eight years.
Another major problem was the state of civil-military relations. Due to land issues the relations were not cordial at all. In fact, "trust deficit" between the two organisations was clearly visible. Non bailable warrants had been issued against serving officers by the Police at the behest of the judiciary! These needed to be addressed as a primary enabler to ensure that the targeted military support and logistics infrastructure could be smoothly put in place and maintained.
The transit facility for troops cried for immediate attention. The new subarea HQ had to ensure that the best possible living conditions and food for the transients were made available. Toilet facilities and heating in winters were a major challenge as everything freezes. This took elaborate preparatory work in the summer months to put things right for winter.
Mobile connectivity was very sparse and poor even in the military garrison of Leh. Today internet is as important as food, hence in a major initiative and working through complex "permissions", eight mobile towers were sanctioned and installed quickly. This brought relief to the forces as well as people of Leh town.
However during Gen Mor's tenure in Ladakh, he noticed endemic and perennial shortcomings in the following areas which have a bearing on the issues under today's agenda:
1. Coordination and cooperation with ITBP, whose personnel manned the forward posts near the LAC.
2. ISR (intelligence, surveillance, and reconnaissance) capabilities of the Indian Army.
It is to be noted that the areas which the Indian public are hearing about today had Indo-Tibetan Border Police camps near the points of incursions – namely the Burtse company post, west of the Y Junction where PLA troops are blocking Indian patrols from reaching PPs 10, 11 11A, 12 and 13; the company post at Gogra-Hot Spring, by the Chang Chenmo river and the post near Finger 3, on the north bank of Pangong-tso, near which the PLA are blocking our patrols at Finger 4.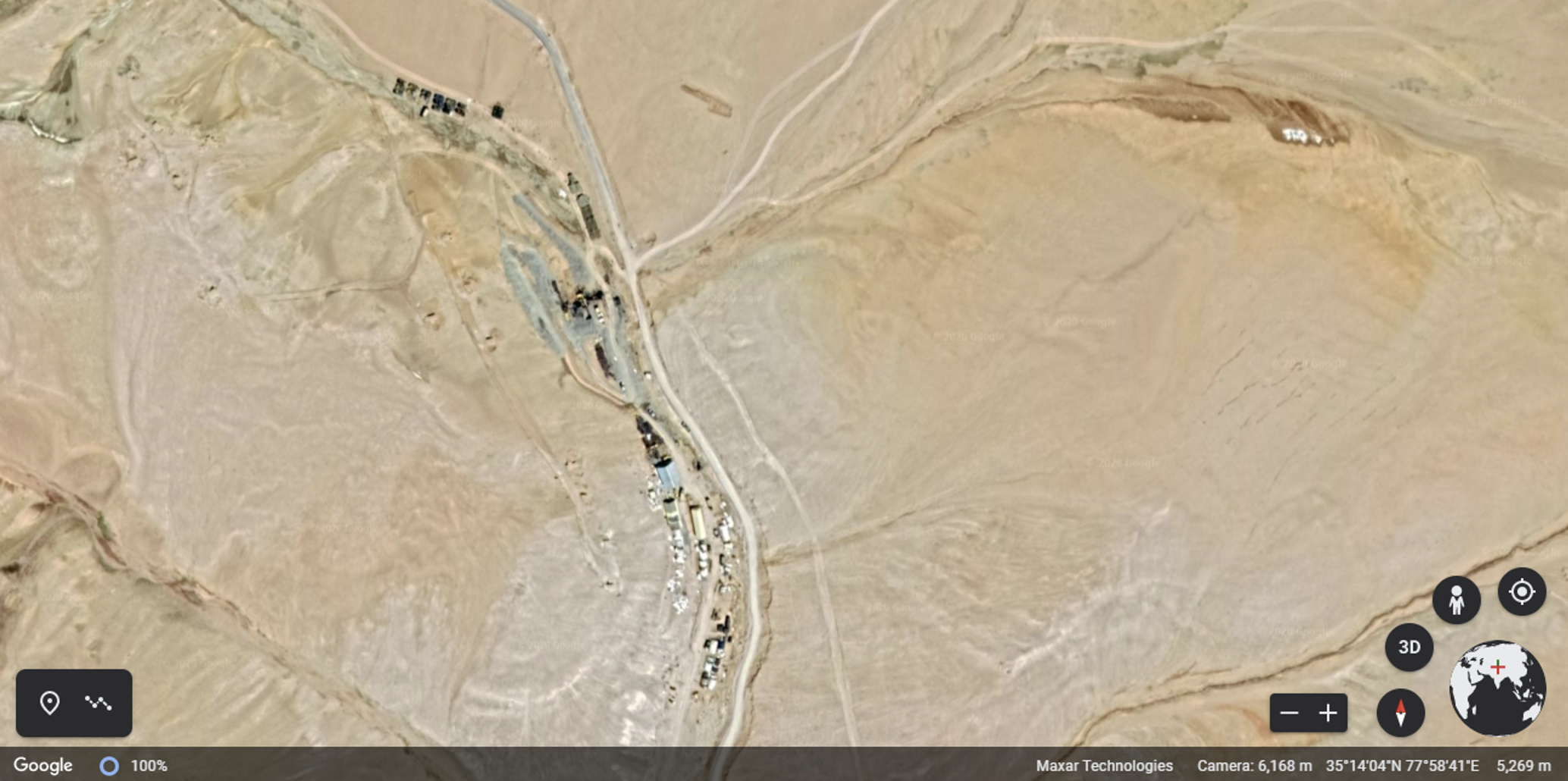 ITBP's Burtse camp.

Gen Mor says that coordination between the army and the ITBP is not up to the mark and communication at the functional level is very sparse.
This does come as a shock, seeing that both these armed forces are responsible for securing our LAC (line of actual control) and IB (international border) in Ladakh, in their own ways. Actually, they come under different ministries and follow different chains of command. As a result, it appears that there is very little coordination at the ground level.
This reminds us of the fiasco in North-East Frontier Agency (now Arunachal Pradesh) in the late 1950s, leading up to 1962, involving the Assam Rifles, the Intelligence Bureau and the Indian Army. The demand by the Indian Army for placing all ITBP units under the operational command of army formations, appears to be well founded.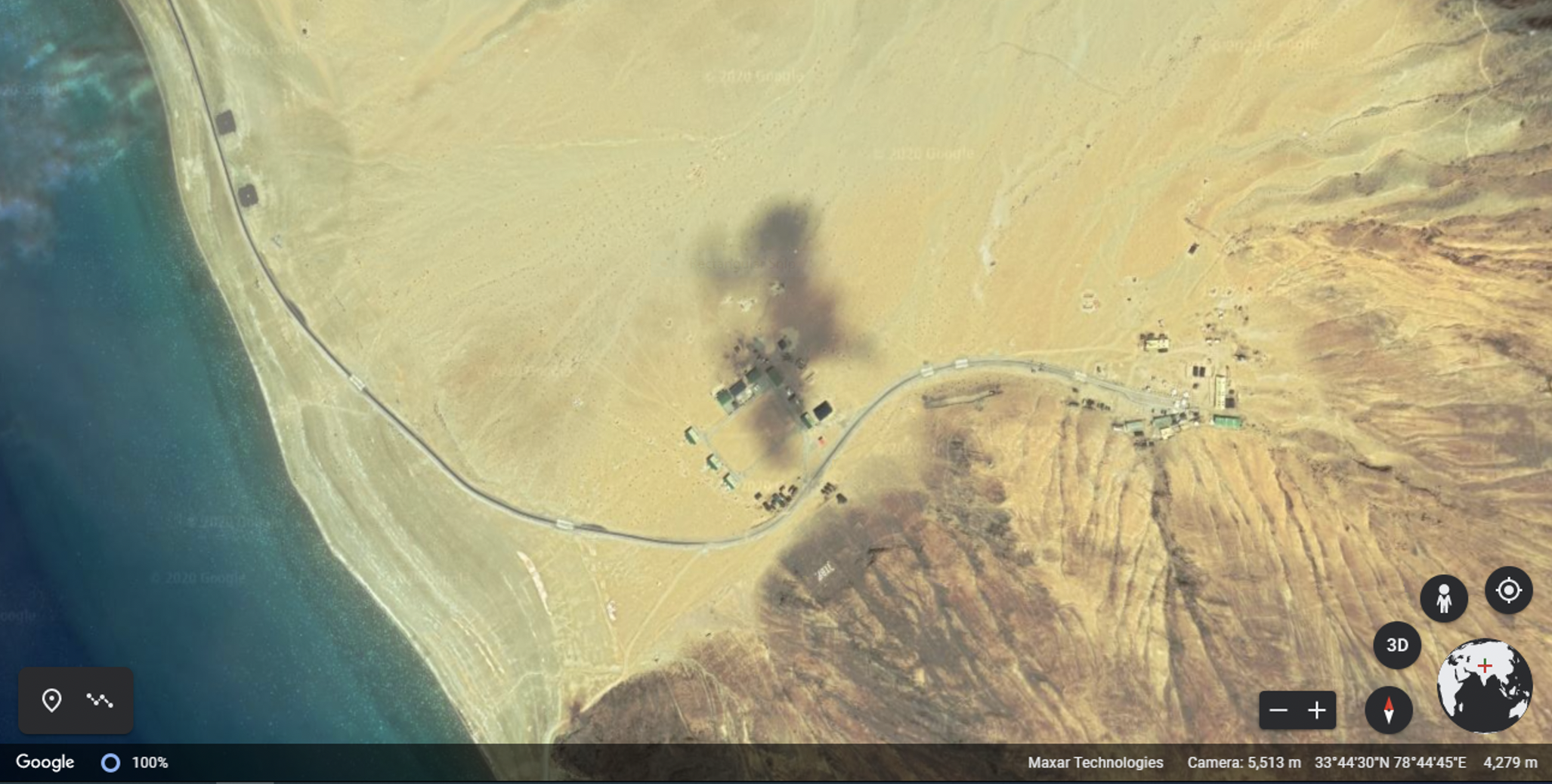 ITBP camp beside Finger 3, North Bank, Pangong-tso.

Coming to ISR, Gen Mor is quite critical about the Indian Army's basic approach to military intelligence since 1947. He feels that we have always failed in assessing enemy intentions and our surveillance resources and intelligence agencies have been a let-down. The story of Kargil was repeated here in April 20. The People's Liberation Army preparations went unnoticed and we were taken by total surprise.
MI receives scant focus and resources and is a parking lot for not-so-bright officers. It is certainly not seen as a key strategic and operational enabler, according to him. It is high time to address this issue urgently and do whatever it takes to galvanise our intelligence resources in terms of technology and human resources. The results have made themselves distressingly apparent time and again, be it Kargil or be it eastern Ladakh this time. Intelligence has been caught napping and has a lot to answer for, notwithstanding the failings of our other agencies, including the Research and Analysis Wing (RAW).
Gen Mor left Ladakh in February 20. However, he had a premonition of things to come when a PLA heavy boat deliberately rammed into our lighter craft in the Pangong-tso (Pangong lake), in October 2019. This kind of aggression was unusual. A few of our men were injured in the clash and had to be evacuated by air to the base hospital in Leh.
The Indian Army's riposte of August 30, says Gen Mor, was well executed and we managed to surprise the Chinese, by physical occupation of the Kailash range south of the lake. However, we are still on our side of the LAC. Our tanks and BMPs along with Infantry are holding the important heights, on our side. This has given us a good bargaining tool. At places both the armies are almost "eye ball to eye ball' and "tank gun to tank gun", at few locations the tanks and men are at 20 metres distance from each other. This can flare up into a major confrontation or skirmish any time as an accidental discharge of a tank gun or an anti-tank missile. Now this is something that is news to many of us. That the armour of both sides, are actually confronting each other at literally stone throwing distances!
This begs the question: Is this how armour is meant to be used – in combat deployment at heights, and with scant room for manoeuvre?
Gen Mor says that irrespective of anything else, the advisability of staying and sustaining at these locations, in winters, is not recommended and a solution to the standoff has to be found fast. The talks at the corps commander level, have almost failed to give any tangible results as the decision-taking has been passed on to New Delhi and Beijing. The two armies can easily resolve issues at sector level or even at the divisional commander level. With political leadership of both countries involved as also the foreign ministry's presence in the picture, the commanders on ground have lost any leeway to negotiate or come up with practical solutions.
The decision-makers are busy in political activities and have little time or understanding of the issues on the ground. At places we seem to be rigid now and new conditions keep coming from our national capital, New Delhi. The troops are staring at a harsh winter in this totally desolate region. The winter deployment may result in this sector becoming like the LOC we have with Pakistan. Gen Mor holds very strong and clear views on this aspect of the Ladakh stand-off.
With no solutions in sight the Indian Army has galvanized its logistic resources at war footing. The advance winter stocking has never ever been done at such a frantic pace and with such a mammoth level of stoking. The war effort has now shifted focus from the enemy PLA to the natural elements of weather. The chances of another skirmish are now remote due to freezing temperatures and bone chilling wind factor. Even the 1962 war had ended, when PLA withdrew on November 21, since it was no longer possible for them to push forward or even hold on to the gains made by them in the Chushul Sector.
Some of the severe challenges created by holding additional troops in the inhospitable terrain are very apparent to every military planner.
Health of troops
Maintaining health of troops is perhaps the most daunting task for the Army. The medical resources designed for the troops normally posted to the 14 Corps zone are taken care by the Army Hospital in Leh, a 200 hundred bed capacity hospital now increased to 300. The troops deployed at forward posts may have at the best one young medical officer for one unit. Winter-related cold injuries, like hypothermia, chill blains, frost bites, cerebrovascular accidents, cortical venous thrombosis, Heart attacks, pulmonary hypertension are so serious that many patients have to be airlifted to Chandigarh. The logistics of lifting a sick soldier from his post to the hospital in Leh and onward treatment is a nightmare.
To add to the agony is the sudden 'packing up' of the weather not permitting any air evacuation. The loss of life due to the vagaries of the weather are heart-breaking and have very telling effect on the state of mind of other soldiers. It is to the credit of the medical fraternity within the forces that the very best young doctors are posted to Leh and Srinagar hospitals. If the standoff persists the Army will have to make plans to improve critical care in Leh Hospital.
Clothing
The Indian Army has scaled up its requirements of extreme winter clothing. The clothing required below 12,000 feet is not much of an issue as all products are made in India and sufficient stocks are available as reserves. The real challenge is "special" winter clothing for deployments beyond that altitude. Almost the entire range of clothing has to be procured from abroad at exorbitant rates. The Army has done well to get the required clothing from various agencies and as per reports over 15,000 new special clothing sets have been purchased off the shelf from foreign countries. The troops are definitely very comfortable with the new high quality winter clothing bulk of which has come from the US.
Habitation and heating
The habitation for the troops has been constructed at war footing and much of the work may still be in progress. Just making these special shelters to withstand extreme cold and bone chilling winds is not sufficient, these have to be provided with heating arrangements. With no electric generation capacity in these areas, the entire load is on diesel generating sets consuming huge amounts of diesel.
The good old "bukahri" too needs colossal amounts of kerosene oil. This kind of requirements of fuel for heating purposes has never ever been stocked earlier. The region doesn't have underground storage capacity and hence most of this stock maybe kept on the 'wheels' adding to further difficulties. For sustaining some portion of the force for temporary tasks high quality winter tenets are required on emergent basis.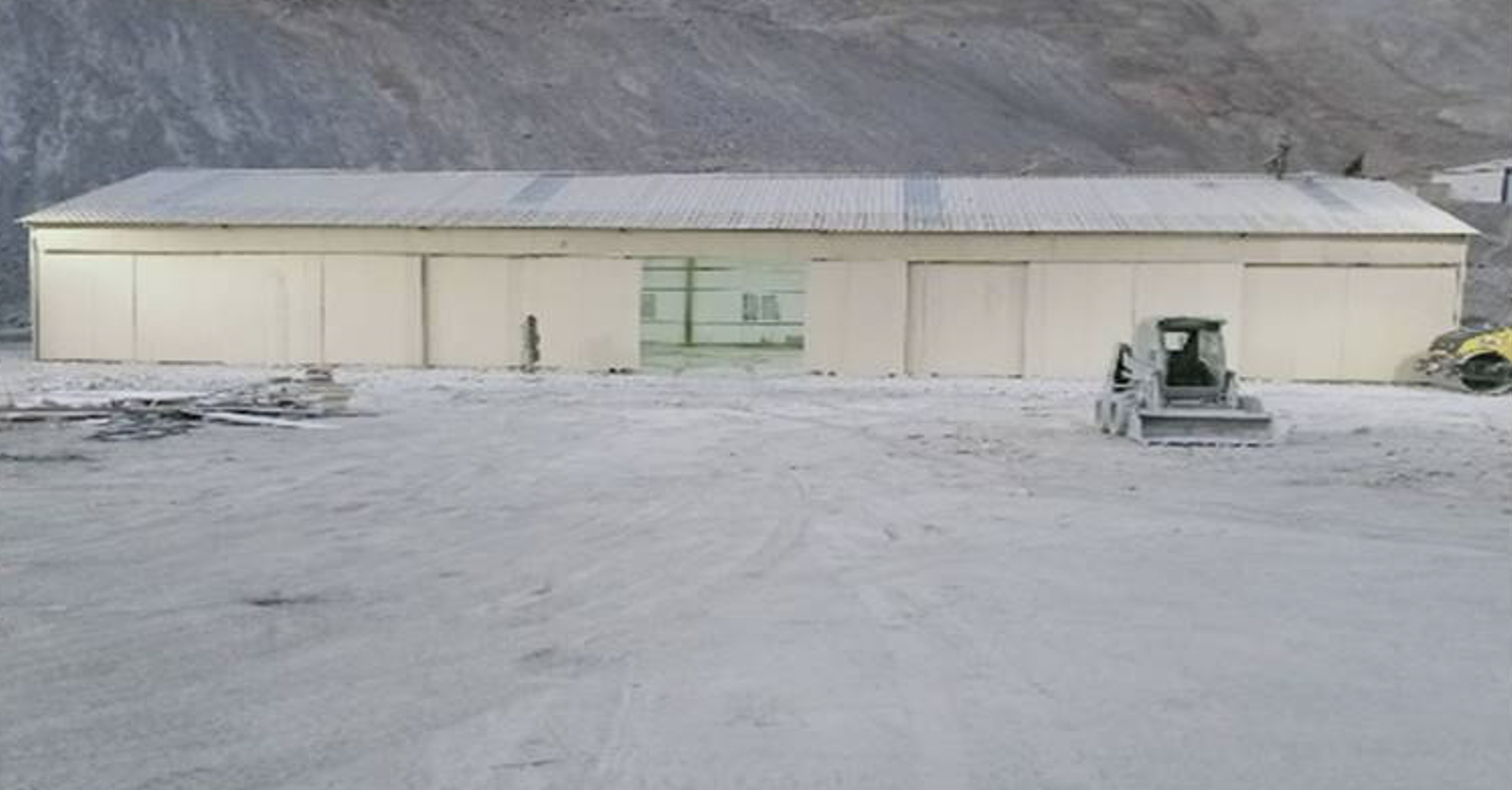 An Army vehicle shed-cum-maintenance depot in Ladakh.

Water woes
The water resources have all been frozen as the rivers that provide fresh drinking water are already at freezing point. The troops need water not only for drinking but also for bathing and cooking. Carriage of water from lower altitudes on water tankers on very narrow roads is unfathomable task for the logistic echelons. The feasibility of digging bore wells at these altitudes will have to be undertaken by military engineers, these can be also used by the local population when not needed by the army.
Equipment repair and maintenance
A large amount of high-tech equipment has been deployed in the region in view of the likely war breaking out with PLA during the summers. It includes the T-90 and T-72 tanks, Mechanized infantry combat vehicle (BMP), radar systems for air defence and early warning, specialist radio equipment, Artillery guns and mortars, Surveillance equipment and plethora of other opto-electronic devices. This kind of equipment needs temperature-controlled repair and maintenance sheds, which are almost non-existent in this desolate region. Such facilities too require power supply through generating sets, which adds to the requirement of fuel. To add to the logistic challenge is the requirement of specialist lubricants for such a variety of equipment. Many of these are imported and need lead time for procurement agencies. Additional major assemblies to include engines may have to be placed well forward to be used when ever needed. [Readers may note with interest "Fighting the Russians in Winter: Three Case Studies" by Dr Allen F Chew, Combat Studies Institute, US Army Command and General Staff College, Fort Leavenworth, 1981]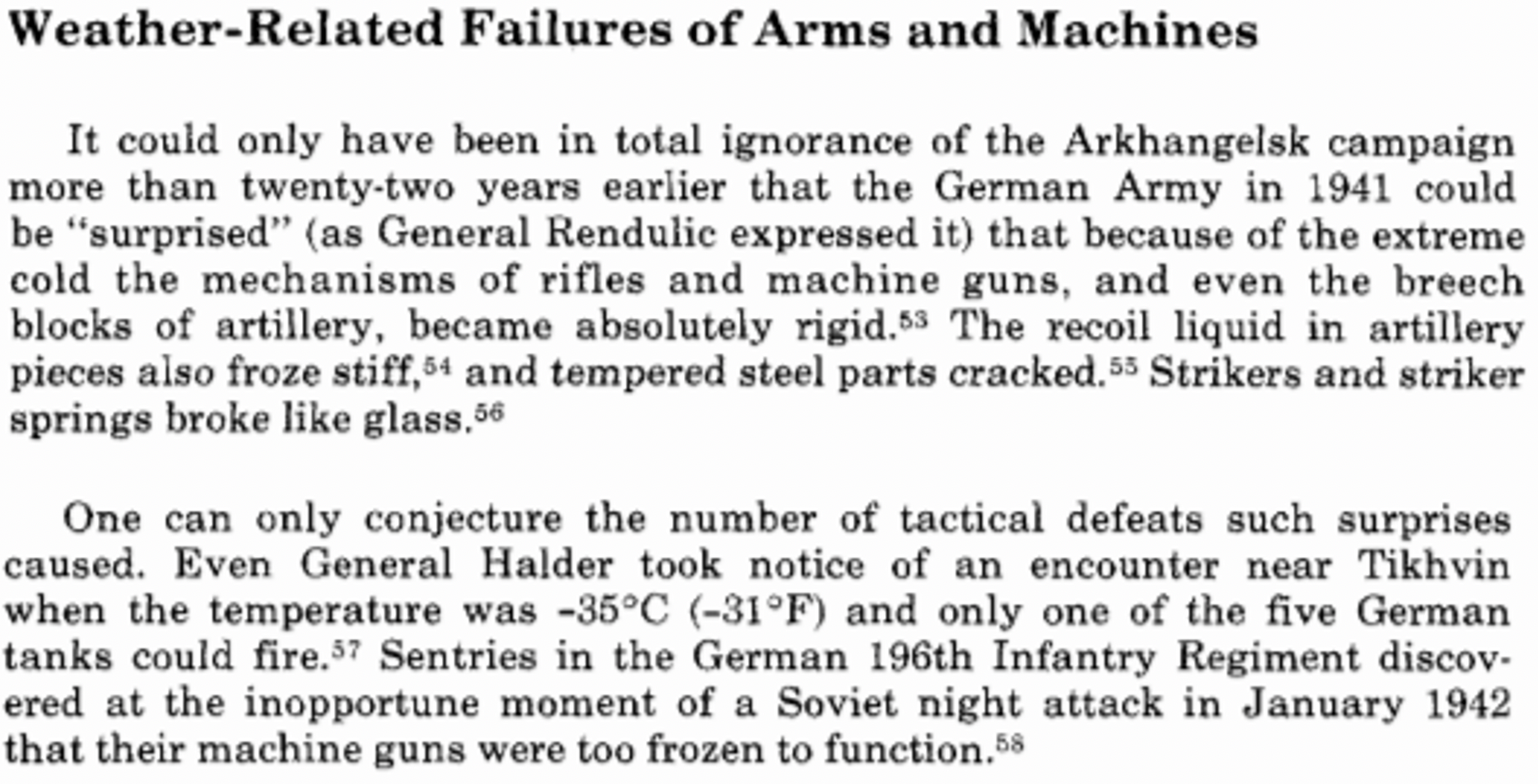 Road infrastructure
The supply chain is very complicated and to add to their problems is poor road infrastructure in the region. The Chushul-Pangong-tso sector is serviced by one road coming from Leh across the formidable Changla Pass. Another road through Kiari-Nyoma is very long and is not in state to take sustained traffic. Due to heavy snowfall the pass often becomes unfit for movement of vehicles.
The narrow road can be blocked for hours with only one truck getting stuck or a vehicle meeting with an accident. At best the road is fair weather even in summer season. The task of moving thousands of tons of supplies and troops on this single road must have been a major management challenge. The alternate route even though a bit longer across the Warila pass needs to be kept open in winters. This may need special effort by Border Roads Organization.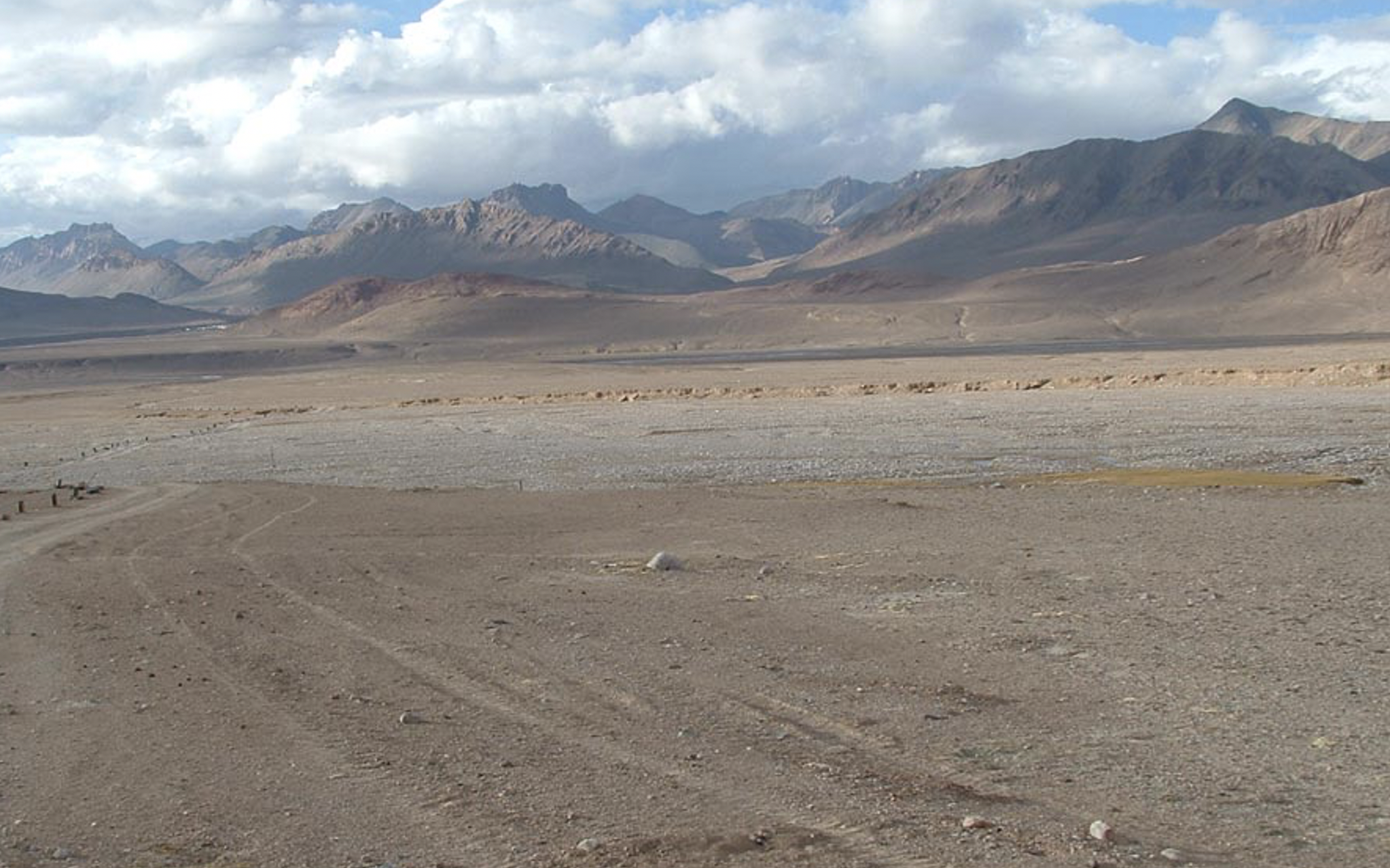 The desolate Depsang-la with unpredictable winds.

Covid-19 pandemic
The Covid-19 pandemic could not have come at a worse time for the forces already stretched due to the almost war like situation with China. The Covid-19 positive cases among the forces in the region have been under control but it did cause a concern to the military leadership. The Covid-19 protocols have added to the overall logistic burden on the system already stretched to its seams due to induction of additional troops in May 20. The transit camps at Chandigarh and Delhi which are "holding" places for induction to the sector are overloaded. Many a times troops have to be told to stay at home and not join back on duty due to lack of billeting spaces. The compulsory quarantine at various camps extending from 14 to 21 days has further added to the uncertainty and 'state of nothingness' for the troops.
Fire hazard
With so much of fuel required to be used for almost everything from cooking to living billets, the chances of fire increase manifold. The good old bukhari is one kind of jugaad and often responsible for many fire accidents in winter months. This is thus a big challenge for the junior leadership to ensure zero fire accidents. The loss of equipment and life due to fire is thus taken very seriously by the army leadership at all levels.
It would be relevant here to take our readers back to what were the learnings from the German campaign against Moscow in the winter of 1941-42, which ended in devastating failure.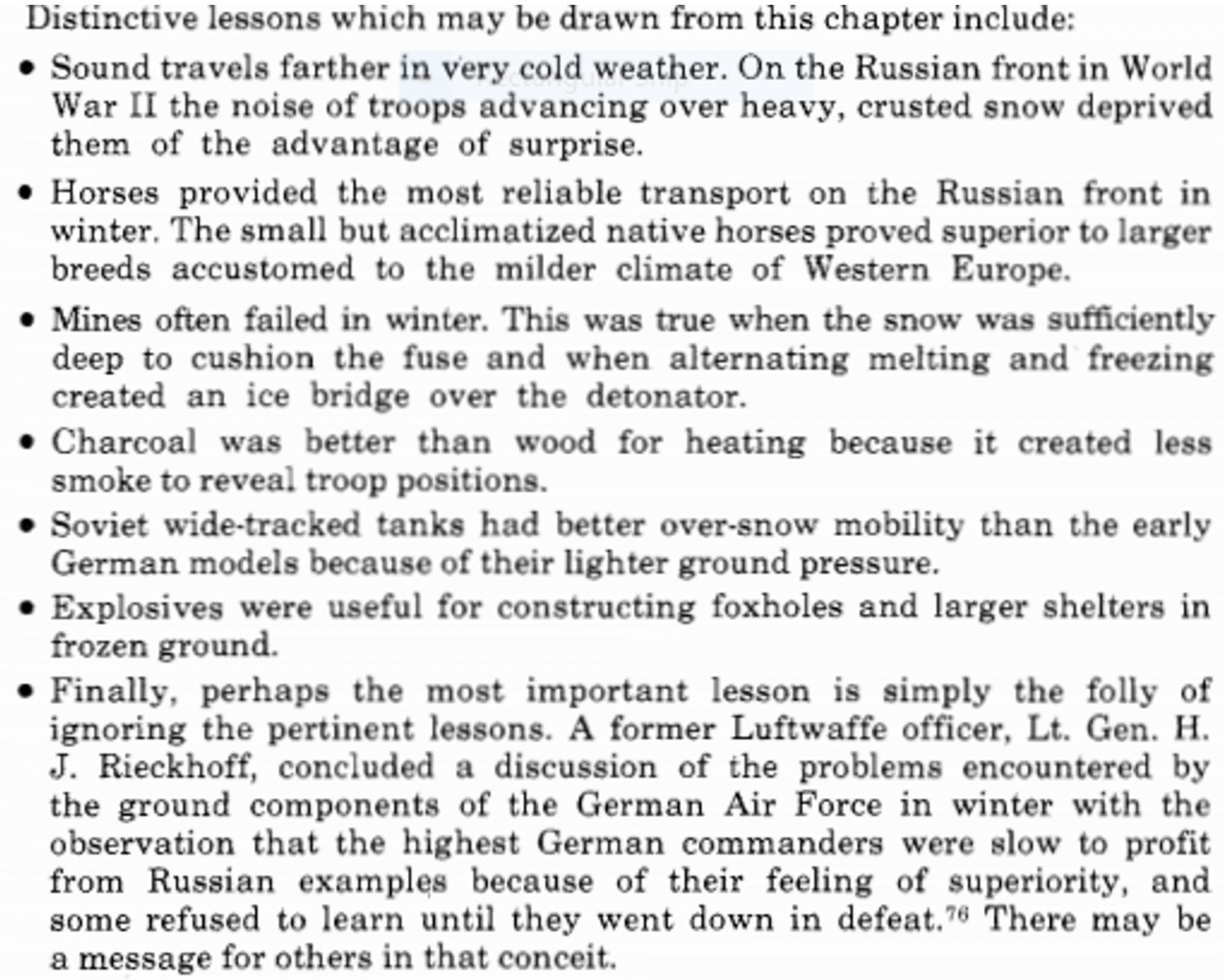 To summarize
Gen Mor says: "The challenges of the winter months are real and almost over burdening. From the health of human resource to the upkeep of costly high-tech equipment is an everyday challenge. The best part however is the 'never say die' attitude of the Indian army soldier and junior leadership. The sheer resilience in face of such odds make the steel core of the soldiering in the Indian Army. Their grit and determination against heavy odds and still keep high morale in the face of adversity makes the Indian Army one of the best fighting forces of the world."
Therefore, where does the reality leave us Indians finally? Have our troops been given a cruel and impossible task this winter? If they continue to man those forward positions in the coming three months, will it mean unacceptable damage to our men's health and morale along with crippling degradation of equipment and heavy weapons? Will that leave us weaker and vulnerable in the coming spring?
And if we pull back, will we ever be able to return and recover what is our sovereign territory? Are we in the mother of all Catch-22s, this winter in eastern Ladakh? Time, Mahakal will tell.
Video of the conversation between Maj Gen Yash Mor and Sandeep Mukherjee:
---
*About Major General Yashpal Singh Mor, Sena Medal (retired)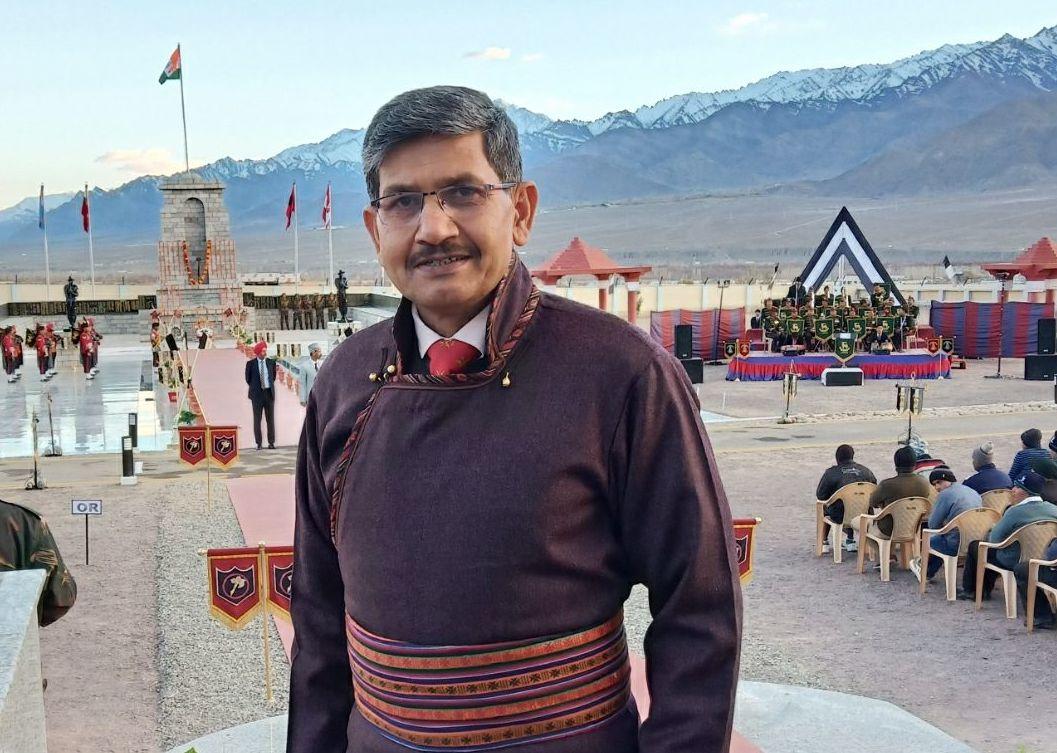 Maj Gen Yash Mor, SM (retired) is currently the CEO of Save the Himalayas Foundation and is a popular figure with veterans and civilians in Ladakh.
Gen Yashpal Singh Mor is a third-generation Army officer. Born and brought up in rural Haryana's Bass village in Hisar district, he has done his schooling from Rashtriya Military School, Bangalore. He passed from the prestigious Indian Military Academy, Dehradun in June 1985 and was commissioned in 1 Guards – one of the oldest infantry battalions of the Indian Army.
He represented the country in the United Nations as a peacekeeper in Mozambique in 1993-94. He is a graduate from Defence Service Staff College, Wellington and also Command and General Staff College, Dhaka, Bangladesh.
He has an MSc in Defence & Strategic Studies from Madras University and Masters in Defence Studies from National University, Dhaka, Bangladesh. In addition, the officer has an MPhil and PhD from Osmania University, Hyderabad.
He has experience of fighting terrorism in Punjab and Jammu & Kashmir. He was awarded the Sena Medal and the Army chief's Commendation Card for gallantry during counterterrorism operations in South Kashmir.
He is an alumnus of the NESA Centre, Washington DC, which is a prestigious United States thinktank on strategic affairs.
He commanded 1 Guards and an independent armoured brigade. He has been the directing staff (instructor) at Staff College, Wellington. He also served in the prestigious Strategic Planning Group in the Directorate General of Perspective Planning in the Army HQ.
He was specially chosen to be the first general officer commanding (GOC) of the important administrative headquarters in Ladakh. Before superannuating on September 20, 2020, he was the chief of staff of a corps in the desert sector.
---
Follow Gen Yash Mor on Twitter here.
Follow Sandeep Mukherjee on Twitter here.
---
---
[Disclaimer: Views expressed by Major General Yashpal Singh Mor are his own and don't necessarily reflect the views of India Sentinels.]
---