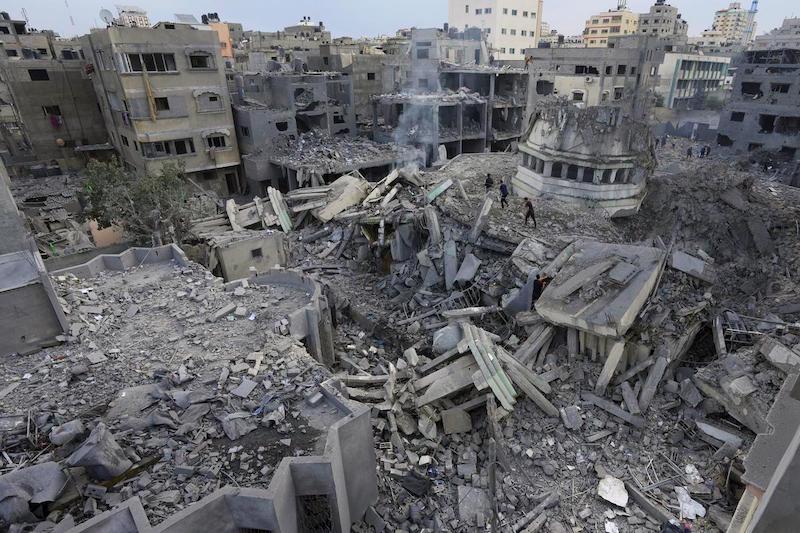 Israel flattened neighbourhoods after neighbourhoods in Gaza through air and artillery strikes in retaliation to Hamas's surprise attack that saw over 1,200 Israelis dead, so far. (Photo via Twitter)
Four days have passed since the sudden rocket attack and air-land-sea assault on dozens of Israeli settlements and kibbutzim by the Palestinian militant group Hamas triggered the Israel-Palestine war taking the death toll to 3,000 on both sides. The large-scale and brutal attack on Israel, which took the Jewish state by complete surprise, and the savage retaliation by the Israeli military on the Gaza Strip, in which neighbourhood after neighbourhood was flattened, raises some very pertinent questions at this moment.
What is happening in Israel and Gaza? What will it take to de-escalate the situation? What shape will this war take in the days to come?
The Israeli Defence Forces have continued relentless air and artillery strikes on the Gaza Strip, saying their mission was to ensure that Hamas will not have any military and administrative capability and turn Hamas sites into rubble.
On Wednesday, the Israeli prime minister, Benjamin Netanyahu, spoke on telephone with the US president, Joe Biden, apprising him of the rapidly developing situation. He was quoted as saying that Hamas militants were worse than the terror outfit Islamic State in carrying out the killings of Israeli people. While thanking Biden for his support, Netanyahu said the Hamas assault was one of the worst attacks on Jews since the Holocaust.
Israel has also faced missile attacks from Syria and Hezbollah militant group in neighbouring Lebanon, which landed harmlessly, or its defence forces have tackled, so far. Hamas has shown through the audacious attacks on Israel that it was able to penetrate the Israeli defences and outfox Israel's famed intelligence and surveillance apparatus to unleash violence and destruction on a massive scale unknown to Israel hitherto.
Psychological scars of Saturday's attack on the Israeli government and its people will be felt for a long time to come. In that sense, Hamas was able to achieve what it had set out to do. The militant group also knew that after its attack, Israel would carry out strikes at Gaza, which is home to about 2.3 million people, a majority of whom are children and have no inkling of Hamas's plans. Even as the death toll on Day 5 continues to rise on both sides, the Israeli army has sent out a warning that fighting will intensify, and heavy casualties will not deter them or weaken their resolve.
Biden has described the Saturday's assault by Hamas on Israel as an "act of sheer evil". His Russian counterpart, Vladimir Putin, was quoted in reports as having said that the explosion of violence between Israel and the Palestinians showed the US policy had failed in the Middle East and took no account of the needs of the Palestinians.
The breakout of the Israel-Palestine war has once again thrown the world into a quagmire of conflict and violence-ridden whirlpool. Along with the ongoing Russia-Ukraine war beginning February 2022, it will also extract a heavy price in terms of untold misery, suffering for the people, loss of lives on both sides, and economic distress as well.
There is another aspect to it. Top arms-selling countries, like the US, Russia, France, Germany, and China, stand to make a quick buck. Over the past decade, the world has seen Israel and Hamas going to war, wars breaking out between Armenia and Azerbaijan, in Syria, Sudan, Ethiopia, etc. And if the Russian invasion of Ukraine was not enough, the latest Israel-Palestine war will only further compound the situation.
Though the second round of Israeli counteroffensive against Hamas, which is mainly concentrated in Gaza – one of the most densely populated area in the world – will be more lethal, ruthless, and unforgiving, it will also increasingly raise humanitarian concerns across the world as civilians in a large numbers will be the ones to face the consequences and the aftermath of the war. This is bound to evoke sympathy for the Palestinian people and their cause.
The UN high commissioner for human rights, Volker Turk, has already condemned the Israeli decision to order a "full siege" of Gaza and pointed out that militants' kidnapping of hostages was also forbidden under international law. He condemned Israel's ban on food, water, and electricity reaching Gaza. Hamas's brutal attack and Israel's savage counterattack have seen appeals for an end to the fighting and protection of civilians.
The UN rights chief warned that the world cannot afford more polarization and stressed on the need to find solutions guided by the respect for international humanitarian law.
It will not be an easy task as in the days to come, the global community will be seen moving towards a divide on the Israel-Palestine war like divisions being witnessed in the case of ongoing Russia-Ukraine war. India's prime minister, Narendra Modi, has strongly condemned Hamas for the terror attack on Israel. However, Palestine's envoy in New Delhi, Adnan Abu Alhaija, was quoted in news reports as having said that India's solidarity with the Palestinian cause goes back to the time of Mahatma Gandhi. He said that India, as a friend of both Israel and Palestine, was qualified to work towards bringing down the tensions.
India's support to Israel also stems from the fact that Tel Aviv came to the rescue of New Delhi during Kargil conflict with Pakistan in 1999 by supplying much-needed precision-guided ammunition, although media reports during that time revealed Israel charged India up to even 10 times more the price of those munitions than usual. But that helped India, nonetheless.
As Moscow remains entangled in its war against Ukraine, Israel has emerged as a major arms exporter to India. With the US-India ties getting much closer in strategic and defence areas, Israel too sees benefits from it. India has relied on importing grenades, radars, UAVs, firearms, and missiles from Israel. According to a SIPRI report, during the 2001-21 period, India's imports from Israel were said to be worth $4.2 billion.
India has, in the past, carefully avoided intervening in conflict situations. New Delhi has trodden the path of having good relations with Israel after establishing ties with it in 1992 as well as the Arab-Gulf nations. The Israel-Palestine war will certainly have its impact on the Middle East situation, it will also mean that India, enjoying good relations with the Arab-Gulf nations, will have to use its rising global influence to act as an arbiter.
---