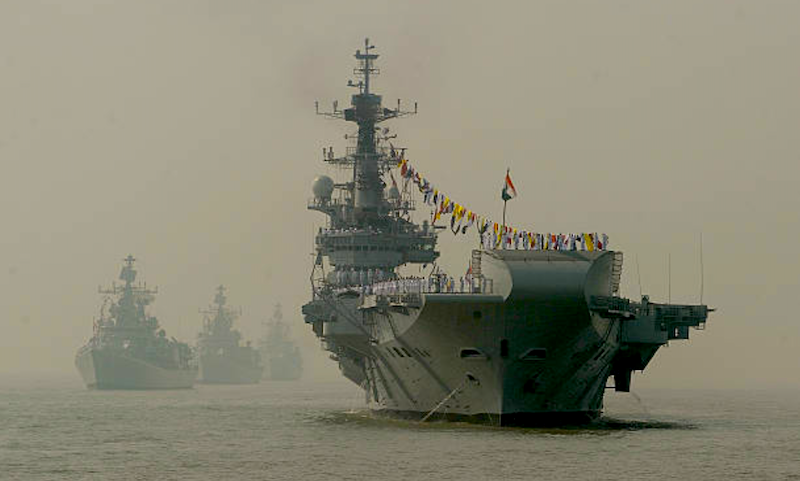 The Indian Navy is the principal manifestation of India's maritime influence in the Indian Ocean Region (IOR). In the last few months, since the Covid-19 pandemic hit the globe, the operations IOR have seen an expansion with Indian naval ships being deployed through the length of IOR.
INS Kesari, the landing ship tank (large), recently undertook "Mission SAGAR", carrying 580 tonnes of food aid and medical supplies, including ayurvedic medicines to Maldives, Mauritius, Madagascar, Comoros Islands and Seychelles, covering over 14,000 kilometres in 49 days. In June, INS Airavat, another sea-lift ship provided anti-piracy escort to the merchant vessel Juist, which transported 3,000 tonnes of humanitarian food aid to Somalia under UN's World Food Programme. The execution of Operation Samudra Setu on 8 May to repatriate distressed Indian citizens from abroad, who were stranded by the Covid-19 pandemic saw the Indian Navy's sea-lift ships – Jalashwa, Airavat, Shardul and Magar – successfully bring back 3,992 Indian citizens by sea over 54 days, sailing over 23,000 kilometres.
The seamless connectivity provided by the maritime domain has always enabled free flow of influences across different maritime regions ever since man took to the seas. Oceans have been the economic lifelines for the well-being of nations' populations as seafaring states have employed them to move goods and people, and extract natural resources contained therein. The interconnected and interdependent economies of the globalized world employ the maritime domain not only for transportation of energy, goods and commodities, but also to project power for military and diplomatic purposes. To assure their use of the seas, nations build navies to execute military, constabulary, benign and diplomatic functions.
For a country's navy, its most important attributes are their combination of mobility and persistent presence in a region without the need to acquire basing rights or occupy territory. This makes navies inherently flexible instruments of national power. The navy's diplomatic role is centred around messaging, branding and communicating. Navies are capable of demonstrating presence, shaping the behaviour of other nations/actors, reassuring friendly nations, providing succour and, if need be, deterring aggression. This makes naval diplomacy inherently multi-layered and multi-directional, allowing simultaneous engagement of several nations while signalling political intent and interests in a nuanced, non-threatening manner.
Naval diplomacy has a particularly important role in India's relations with her maritime neighbours, especially the island nations across the "great commons" and others with whom India shares no land border, but who remain India's immediate and extended maritime neighbours. The Indian Navy has been engaging other navies constructively, conveying India's diplomatic position, fostering mutual understanding, professional interface and interoperability. These activities stem from India's policy and a desire for peace and stability in the IOR.
To enhance the security and safety of international shipping passing through the region, on request from friendly island nations in the Indian Ocean, the Navy has provided maritime assistance conducting exclusive economic zone (EEZ) surveillance patrols, hydrographic surveys, diving assistance, search and rescue and overseeing ship construction. Joint EEZ surveillance patrols have emphasised good order and enforced the international legal regime at sea. For over seven decades, overseas deployments have been an intrinsic part of the Navy's operating philosophy and continue to be one of the principal means of exercising naval diplomacy.
Indian naval ships have visited over 100 countries in past 75 years rekindling old ties and establishing new ones. Overseas deployments enable establishing presence, build defence and political relations, portray national intent, demonstrate indigenous technology and if required, present a deterrent posture. The crew of Indian naval ships which visit foreign ports, though a microcosm of India's population, have been India's ambassadors, and have reflected the Indian culture, values and characteristics.
Maritime engagements through joint exercises and training with foreign navies large and small, within the IOR and across the world, have become the foundation for mutual understanding and joint operations in times of necessity. They serve to hone skills, develop mutual confidence and create an environment to counter the flow of threats and challenges encountered at sea through inclusive and cooperative efforts. Exchange of personnel with other maritime forces for training and gaining operational experience has also strengthened India's maritime diplomacy.
To address the wide range and large spread of unconventional security challenges in the maritime domain, such as piracy, smuggling, human trafficking, gunrunning, etc, the Navy has been pursuing capacity building and capability enhancement of maritime forces in India's neighbourhood through training and technical assistance. Cooperation in the field of hydrography and hydrographic assistance to friendly foreign countries, for survey of their maritime domains and preparing nautical charts, has been another important key area of India's naval diplomacy.
The Indian Naval Hydrographic Department (INHD) has charted the waters of the Indian Ocean Region through hydrographic cooperation with several countries, including Bangladesh, Indonesia, Kenya, Maldives, Mauritius, Mozambique, Oman, Seychelles, South Africa, Sri Lanka and Tanzania.
The Navy has an exceptional track record of being one of the first responders to a natural calamity in India's maritime neighbourhood. Naval forces, due to their intrinsic mobility, capabilities and the ability to operate helicopter, are well suited for humanitarian assistance and disaster relief (HADR) and other benign operations, such as evacuation of personnel. In the aftermath of the tsunami in 2004, the Navy provided simultaneous HADR to Sri Lanka, Maldives and Indonesia.
In its outreach to Indian citizens working and residing overseas, the Navy has conducted non-combatant evacuation operations (NEO) in recent years to evacuate citizens from areas of instability. During the Israel-Lebanon conflict in 2006, the Navy evacuated nearly 2300 people of Indian and other nationalities from war-ravaged Lebanon. Similarly, in 2015, the Navy once again evacuated over 3000 people of different nationalities from war torn Yemen. Another prime example of employing naval diplomacy to ensure regional stability was Operation Cactus, in 1998, wherein, the Navy acted swiftly and jointly with the Indian Army and Indian Air Force to counter the attempted coup against the democratically elected government of Maldives, on the request of its president, restoring normalcy.
Participation in fleet reviews and coronation events conducted by other nations have become a regular feature in Navy's annual calendar. Since 1953, when INS Delhi participated in a fleet review at Spithead, UK, to commemorate the coronation of Queen Elizabeth II, Indian naval ships have been present at fleet reviews hosted by nations across the globe. To build bridges of friendship across the oceans, fleet reviews have been hosted by the Navy at Indian ports regularly.
Evidently, naval diplomacy covers a vast canvas and Indian Navy's diplomatic initiatives have encouraged positive engagement with other navies and nations. They have helped forge strong relations with like-minded navies, while opening windows of opportunity for working together to combat common maritime threats. Naval diplomacy has strengthened India's defence relations with other nations and without threatening, portrayed a credible defence posture and capability. Most importantly, it has promoted regional and global stability and thereby enhanced maritime security in the region.
---
[Disclaimer: Views expressed by Seema Chowdhury are her own and don't necessarily reflect the views of India Sentinels.]
---