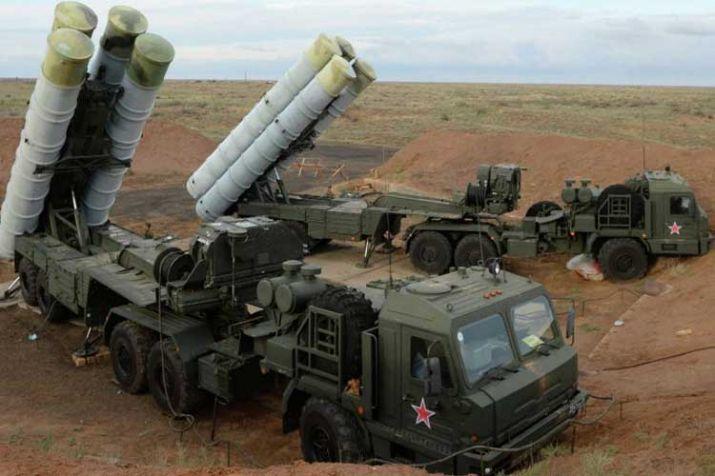 S-400 anti-missile defence system.
In this interview with Prof Swaran Singh, Sapna Singh of India Sentinels discussed the possibility of US sanctions on India under CAATSA for buying S-400 anti-missile defence system from Russia, as well as the implications if at all Washington imposes sanctions on New Delhi.
Q: Recently, the US secretary of state, Antony Blinken, warned Turkey and other US allies against buying weapons systems from Russia, saying such purchases could be subject to sanctions and strain ties with Washington. India is expecting to get its first S–400 from Russia in November. Will India also face the Countering America's Adversaries Through Sanctions Act (CAATSA) as Blinken clearly uses the word "future purchases" for US allies?
A: First, both China and Turkey – with regards to their S-400 purchase – has their limitations when it comes to understanding if India's purchase of this air defence system would trigger US sanctions under CAATSA. India is neither a NATO ally nor any sworn "competitor" (read adversary), but an emerging strategic and major defence partner of the post-pandemic United States. Second, India has also been careful in not pushing the US to the wall. The India-Russia "contract" for the S-400 was signed during their 2018 summit, yet their joint statement had avoided any mention of it. The deliveries of the five S-400s was to begin last year but could not happen due to hiccups in timely payments. At the same time India has repeatedly made it clear that it would stand by this deal and with its close defence cooperation with Russia. In such scenario, US sanctions on India would hurt both sides. It can happen only if the US and China were to patch up their differences, which will lower Washington's dependence on India to countervail Beijing's expanding influence across this region.
Q: How will this development affect US-India joint ventures in the defence sector? India signed the S-400 deal with Russia one year before the US enacted CAATSA.
A: Both New Delhi and Washington have been working on how to untie this knot of the US being bound to trigger sanctions if India was to receive S-400 from Russia. This plea of negotiations having started before CAATSA came into force provides one respectable exit often used in interpreting international legal conventions. In this case, it's not even international treaty that bounds India but only a domestic legislation. However, the US remains the only country that has successfully and repeatedly applied its domestic laws to punish other nations. It would call a far more subtle calibration of India's exit strategy to procure S-400 and skirt US sanctions under CAATSA. India could also use its commercial lure as it has already come to be as the second largest buyer of the US defence equipment and weapons. The influential Indian diaspora could also be used to lobby our case. India-Russia have also had great track record of joint research, development and co-production of defence systems and possibility of a joint production of S-400 could also provide an escape from CAATSA provisions that talk of slapping sanctions of "procurement" of such defence systems.
Q: In the rapidly changing geopolitical equation, the US pivot to Indo-Pacific is also critical. If India ultimately acquires the S-400 and the US imposes sanctions, will this affect the ties between New Delhi and Washington? And how the US will deal with Russia here?
A: The impact of the CAATSA sanctions on the nature and scope of India-US strategic partnership will depend on when, how and how much of this punishment is inflicted on India. The spirit of CAATSA being focused on dealing with Russia could deflect the intent and intensity of such an action, especially in face of ever rising US anxieties with regards to China's expanding footprint in the Indo-Pacific region. India is now fully engaged in the US-led "Quad" framework. India a very valuable partner for the Biden administration. Incidentally, Russia also remains an influential resident power in the Indo-Pacific. Like China, India has remained an outlier in the US-led Indo-Pacific debates and decisions. India, on the other hand, almost to the discomfort of the US, has continued to be engaged with both Russia and China. Currently India holds chair of both the Shanghai Cooperation Organization and BRICS, which may see India showcasing its close ties with both Moscow and Beijing. The recently launched "2+2 Dialogue" between India and Russia provides an apt example of India trying to secure balancing act in engaging both Moscow and Washington. The Biden administration will be counting these strands of "strategic autonomy", and "multi-alignment axis" of India's foreign policy in calibrating its options to browbeat India into revoking its S-400 contract with Russia.
Q: Do you think the time has come for the US also to begin an open discussion with Indian officials about the broader set of basic issues that CAATSA obscures?
A: It is widely expected that both sides will find a way to overcome this this dilemma of the US having to slap sanctions on India's procurement of S-400 air defence systems. There have been ample signs of this being tried from both sides. Already Trump administration's US functionaries, like former US secretary of defence James Mattis, former commander of US Pacific Command Admiral Harry Harris, and recently Biden administration's assistant secretary of state for political military affairs R Clark Cooper, have been on record about India being an exception in this case. There is always a possibility of presidential "waiver" to India in the name of US national security interest justifying such action. After all, India is most likely to deploy S-400 air defence systems on its northern borders against China, which happens to be an equally sworn challenger to the US pre-eminence in this region. The rapid forward movement in India-US defence and strategic cooperation in recent times and anticipation of increased China-India tensions should make the Biden administration extremely cautious in contemplating such sanctions. Even in worst case these could come as mutually agreed extremely mild nominal sanctions accompanied with compensatory concessions to India.
Q: How India will balance its equation with Russia at times when Russian equipment and weaponry are also an integral part in our forces. What if, Washington imposes sanction on New Delhi at times equations between US and India are changing in the Biden administration?
A: According to the globally respected Stockholm International Peace Research Institute, Russia's share in India's defence imports has already declined from its peak of 63 per cent to 49 per cent. In the Covid-19 pandemic-hit economy, this has been a worrying sign for Russia which, other than energy exports, depends primarily on its defence exports. India has also tried for diversification of its defence imports but has not given up its time-tested dependence on Russia. This period of relative decline in defence imports have coincided with their expanded joint research, development and co-production in defence as also in India's investments in Russia's energy sector. And finally, in spite of an unusual pace of building Indo-US defence cooperation, India has continued to demonstrate its "strategic autonomy" in ensuring its continued engagement with Russia and the US power elite understand it well. Indeed, US also fully understands that being world's largest democracy, India can never choose to burn bridges with all to be in the US camp. That will only further undercut India's status and stature and will be indefensible for any Indian leader's domestic constituencies.
---
Dr Swaran Singh is a professor for Diplomacy and Disarmament at Centre for International Politics, Organization and Disarmament, School of International Studies, Jawaharlal Nehru University, New Delhi. His views are his own and doesn't necessarily reflect the views of India Sentinels.
---