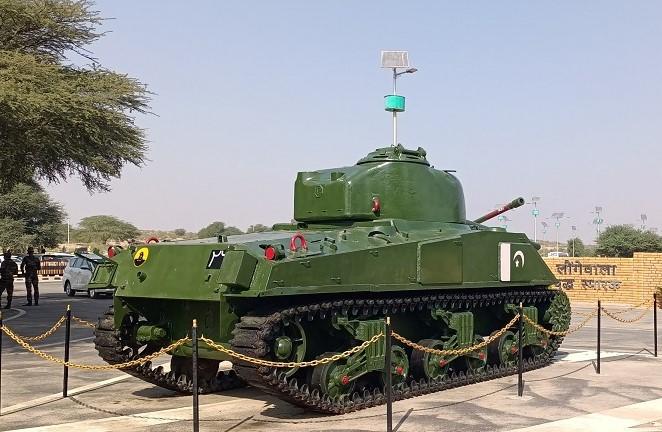 A captured Pakistani tank on display at Longewala near where the battle took place.
The Indian Army celebrated "Parakram Diwas" on December 5 to commemorate the 51st anniversary of its victory over Pakistan in the Battle of Longewala during the 1971 Bangladesh Liberation War. The main function was held at the Jaisalmer military station and Longewala War Memorial in Rajasthan.
A number of events were organized at the Sagat Singh Stadium in Jaisalmer, including a band display, daredevils motorcycle stunts, mixed martial arts, mallakhamb, show jumping, musical performance, parachute free-fall, among others.
---
Read also: Story of BSF's key role, valour and sacrifices in 1971 India-Pakistan war
---
The Battle of Longewala
The Battle of Longewala was one of the biggest and most decisive battles, fought on the western sector during 1971 India-Pakistan war, which is written in golden words in history.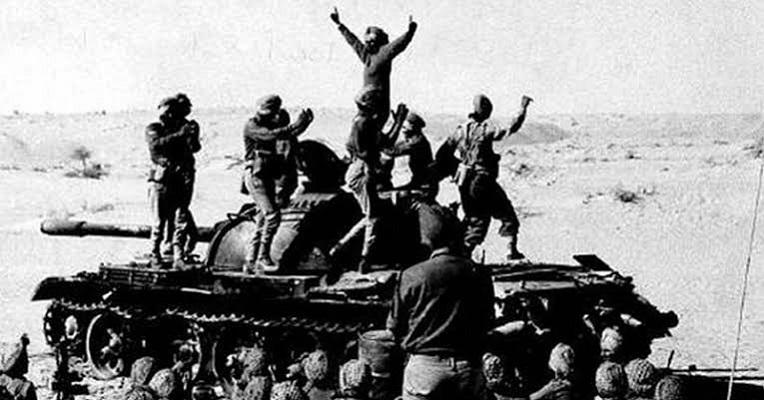 On the night of December 4-5, 1971, the Pakistani army attacked Longewala border post, which was being guarded by 23 Punjab. The attack was carried out by 4,000 Pakistani troops, T-59 and Sherman tanks, and a medium artillery battery.
With the support of Indian Air Force, the Indian Army gallantly held the post.
---
Read also: What is Navy Day and why it is being celebrated on December 4?
---
On December 5, IAF's Hunter aircraft which was based at Jaisalmer wreaked havoc on the adversary side with their devastating firepower.
According to records, the Hunter aircraft of 122 Squadron of the IAF conducted 18 sorties and destroyed 36 enemy tanks, 100 vehicles and killed over 200 Pakistan soldiers in a very short span of time. It thwarted their advance movement towards Indian side.
What was Pakistan's operational plan?
The original plan of the Pakistani Army was to capture Ramgarh and neutralize the Jaisalmer airfield. It was decided to deploy the Pakistan army's 38 Cavalry, with a battalion from 206 Brigade to capture Ramgarh, and 22 Cavalry less one squadron with a battalion from 51 Brigade to neutralize the Jaisalmer air field.
---
Read also: 'Open Sangsar' - The radio message that sealed the fate of East Pakistan
---
Later, they changed their plan anticipating that there would be tank battle at Ramgarh and the plan was reversed. The Pakistanis sent 51 Brigade with 22 Cavalry to capture Ramgarh and 38 Cavalry Group to Jaisalmer while 206 Brigade was deputed to advance and capture Longewala with one battalion and establish a firm base there.
Also, the Pakistan air force commander had assured them that the PAF force would provide them air cover.
Later, the PAF informed that it would not be able to provide air cover since it needs to activate Jacobabad air strip. They decided to go ahead without any air cover.
---
Read also: Army chief pays tribute to 1971-war hero Lance Naik Ekka in Gumla
---
Reasons for Pakistan debacle at Battle of Longewala
During their movement, several tanks of 38 Cavalry had to be abandoned because of technical issues in their engines. They had no logistics support during the tactical operation. There was no suitable transport for troop lifting and supporting this operation in the desert terrain.
The Pakistanis had to hire a few civilian goods carriers and tractor-trollies but they got stuck in the sand. There were no arrangements for repair and recovery.
In order to fill the gap for inadequate logistics support, most of the tanks carried an additional fuel drum strapped on behind the turret, which later proved fatal when attacked by IAF.
---
Read also: Today, the once-proud Indian Army seems like a crumbling edifice
---
During the operations, the Pakistani side was having frequent changes in their plans. There were contradictory orders during the battle which had led to utter confusion, mixing up of units and formations and loss of control.
Indian Army's operational plans
Prior to 3 December, Indian Army's 12 Infantry Division had started concentrating in the launch area for its operation to capture Rahimyar Khan.
Longewala was guarded by the BSF troops but had to be vacated for the ensuing operations in 1971. The post was manned by the troops of A Company, 23 Punjab (about 120 soldiers) led by Major (later Brigadier) Kuldip Singh Chandpuri.
According to the USI publication on "Battle of Longewala" by Major General Kuldip Singh Bajwa (Retd), "Rest of 23 Punjab had moved to Sadhewala to eliminate a Pakistani border outpost, preliminary to the attack to capture Rahimyar Khan."
"Defences at Longewala were not well developed. No mines had been laid and no barbed wire was erected. A single strand wire was strung around the parameter by the BSF to keep their camels from straying. This wire later fooled the attackers into believing that a minefield existed around the post."
---
Read also: Placing border-guarding forces under the Army?
---
A Company, 23 Punjab
Besides its integral small arms, A Company, 23 Punjab, had two medium machine guns, two 81 mm mortars; and for anti-tank defence, four shoulder-fired rocket launchers.
Two jeep-borne 106mm recoilless (RCL) guns from the battalion arrived at 2.30am on December 5. Three AMX light tanks (no match for T-59 or Shermans in a tank fight) came up at about 8am on that morning.
---