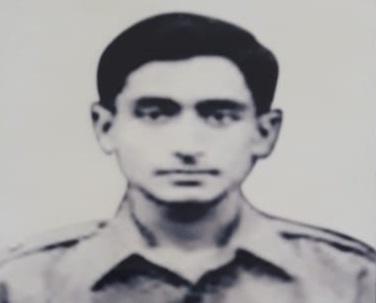 Second Lieutenant Shyamal Dev Goswami.

Shyamal Dev Goswami was born on November 6, 1938, in a Bengali family from Meerut, in – what is now – Uttar Pradesh. He was a shy but friendly child who used to write rhymes and loved music in his boyhood. He did his schooling from a Christian missionary school in Meerut where he was an average student. He never thought of joining the Indian Army, but he was inspired by his father and family members who participated in India's freedom movement of India. Besides, he was also very close to one of his cousins who was an officer in the Army.
Shyamal lost his father, who was a college professor, at a very young age. He and his siblings – Deepashree, elder sister; Ashoka, eldest sister; Madhu, younger sister; and Jayanta, younger brother – were raised by their mother, Amola Sanyal Goswami. Later, he went to study engineering in Gwalior as his mother wanted Shyamal to be like her father, who was a reputed engineer in Allahabad.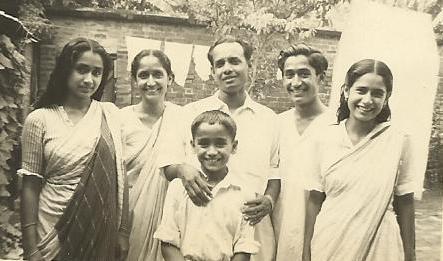 Shyamal Dev Goswami (2nd from right) with his parents and siblings.

Shyamal had a very small friends circle in college, but he had very good bonding with his friends. He enrolled for a degree in mechanical engineering at Madhav Engineering College, Gwalior when the thought of joining the Army crossed his mind on an impulse. He appeared for the Services Selection Board and got selected. He joined the Indian Military Academy in Dehradun for military training. Shyamal passed out from the academy and got commissioned as a second lieutenant into the Regiment of the Artillery, where he was very happy.
Soon the India-China war broke out and Second Lieutenant Shyamal Dev Goswami's unit was sent to defend Chushul in Ladakh under the 114 Brigade. Before joining his new posting, he caught cold and fever for which was admitted to a hospital. However, he insisted to join his troops. Shyamal was with 38th Battery of 13 Field Regiment under the command of Major SP Joshi (who later retired as a brigadier). Shyamal was posted to the Gurung Hill as an outpost officer to support a platoon of 45 Gurkha soldiers of ⅛ Gorkha Rifles.
On November 6 – his 24th birthday, Shyamal wrote a letter to his elder sister Deepashree about his post which was at an altitude of 16,000 feet. He described it as "very lonely, beautifully lonely". There was no sense of fear in his letter and at home. His mother was very confident that nothing would happen to her son.
Shyamal was very fond of his batman who was a Sikh and belonged to Punjab. Shyamal and his batman both were good at singing, and they used to sing "Dil De Ke Dekho" songs together on their post at 16,000 feet above sea level.
Soon the D-day came, on November 18. The Chinese army rained artillery and mortar shells on Shyamal's post. Despite being under heavy shelling, he kept bringing on artillery fire on the Chinese. This effectively prevented the Chinese from advancing as they had lost a large number of their soldiers due to artillery fire. Shyamal told his batman to leave the battlefield and retreat with others as he was newly married. However, his faithful and brave batman refused saying it was his duty to be with his officer always. Within minutes, a shell hit the young batman and he died near his loving "sahab", who too got seriously injured. Shyamal's face was hit with shell shrapnel.
Realizing his grievous injuries, Shyamal thought the Chinese might capture him, which would be worse than death. He tried to shoot himself with his personal weapon but suddenly the face of his late father, Priya Kumar, appeared before him saying, "What you are doing is cowardice, you should fight and go down like a hero not like a coward."
Shyamal, though badly injured and bleeding profusely, took his radio set and ordered "Fire Till Eternity" to his battery of guns. Soon after giving this order, he dropped unconscious. Sometime later the Chinese came to his post checking for survivors in the area where he was lying in severe pain. Luckily for him, they left him for dead and left the post.
---
Read also: Battle of Walong – The story of Lt Bikram Singh Rathore
---
A day later, Shyamal gained consciousness and somehow came down from his post crawling and limping towards the emergency base camp where two Gorkha soldiers saw him and took him to medical assistance. He was declared dead but suddenly there was a movement in his body. Shyamal was quickly evacuated and sent to the Military Hospital in Delhi.
A telegram had been sent in the meantime to his home in Meerut stating that 2/Lt SD Goswami is believed to be killed in action on November 18. However, his mother had a strong belief that her son was alive, and the next day around 9 in the evening a messenger came with a telegram from the Army. It stated: "Your son, believed killed in action, has reached the Army Hospital, Delhi. Come immediately."
---
Read also: 1962 India-China War – The reality of a military defeat
---
His family rushed to see him in the hospital in Delhi Cantonment, the very next day. He was covered with bandages all over and he was in an unrecognizable condition. He suffered severe frostbite on both his legs and right hand, had shrapnel wounds on his face. His both legs had to be amputated below the knees, and four fingers of the right hand had to go with only his thumb remaining.
It later emerged that the Indian government, reeling in an economic crisis brought about by the war, couldn't afford the expensive treatment for Shyamal. However, the Rotarian Club arranged for his treatment and rehabilitation in Germany where he lived for five years and fell in love with a girl, who as a nurse took care of him. He returned to India with the German girl, in 1967, but they never got married. The girl went back to Germany, and Shyamal later got married to a girl from Meerut.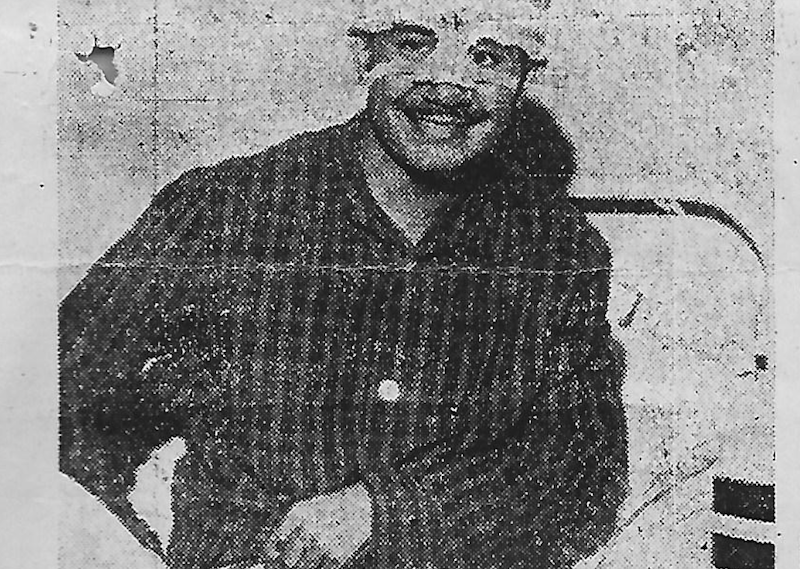 Shyamal Dev Goswami during his treatment at a hospital in Stuttgart, Germany.

Shyamal was boarded out of the Army due to his disabilities, but he was given an honorary rank of major. For the unmitigated valour he displayed in the battlefield, Major Shyamal Dev Goswami was awarded the Maha Vir Chakra – the country's second-highest gallantry award. He received his Maha Vir Chakra from the-then president of India, Dr Zakir Husain.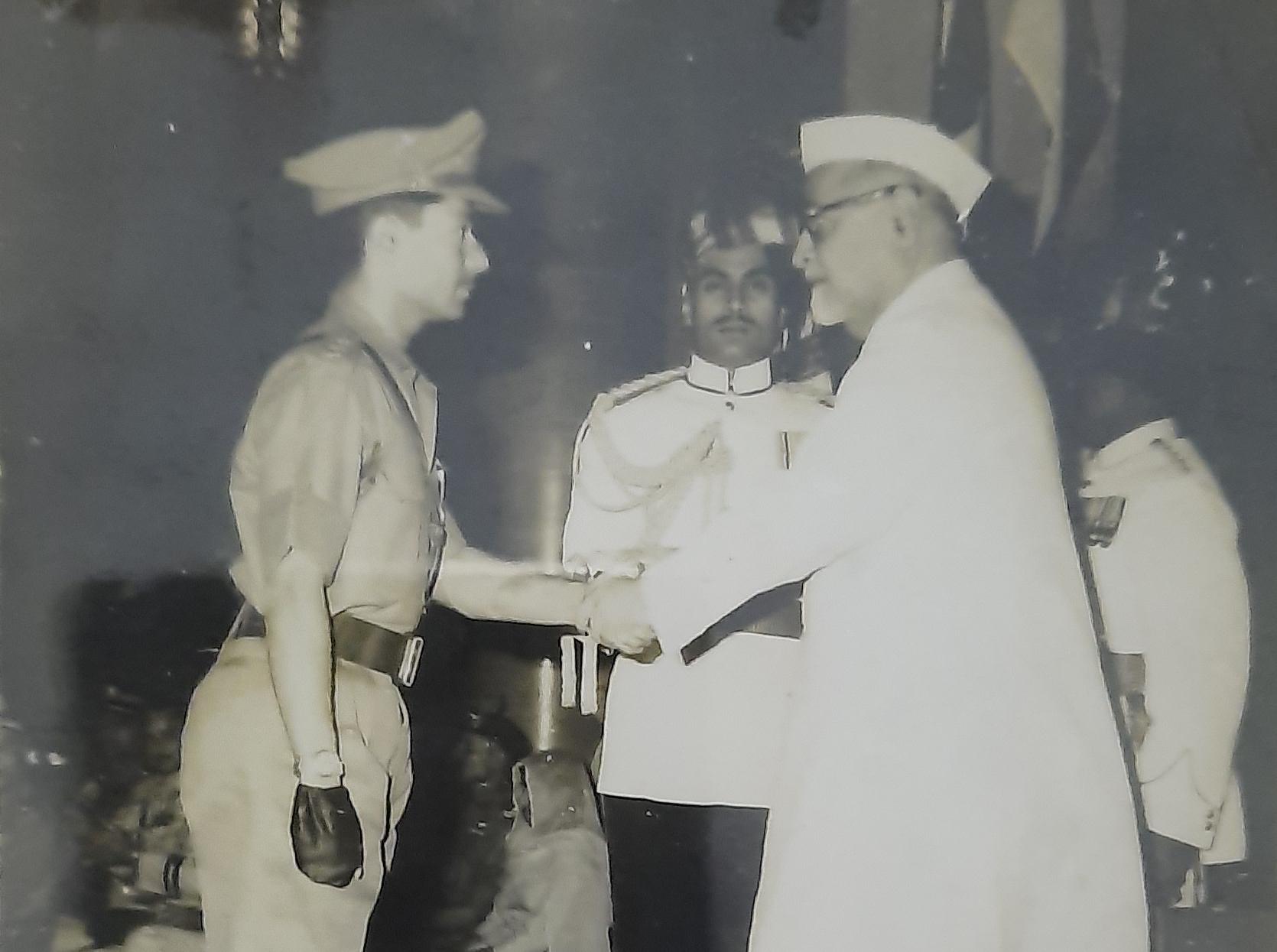 Major Shyamal Dev Goswami receiving the Maha Vir Chakra from President Dr Zakir Husain

It is said that Shyamal was unofficially associated with the Mukti Bahini in the 1971 Bangladesh Liberation War. He soon got a job with the National Cadet Corps. However, he wasn't satisfied and quit the job and joined Indian Oil Corporation in Delhi. This job also didn't satisfy his fauji heart and he quit it as well and went back to his hometown, Meerut, where government allotted him an Indane gas agency.
Major SD Goswami, MVC, proudly lived there for years before he passed away of unnatural causes in June 1992. He fought like a true hero in the war. Although he lost his legs, he lived confidentially and proudly.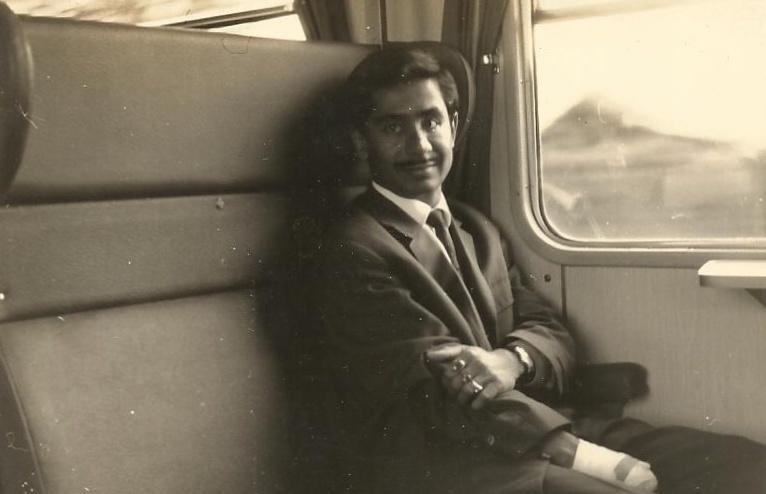 Major Shyamal Dev Goswami after his treatment in Germany.

However, despite his valour was recognized by the government, he remained unsung.
---
Follow us here:
Twitter: https://twitter.com/indiasentinels
Facebook: https://facebook.com/indiasentinels
Instagram: https://instagram.com/indiasentinels
YouTube: https://youtube.com/indiasentinels
---
Editor's note: The author has narrated this story as told to him by Deepashree Mohan, sister of Major Shyamal Dev Goswami, and Brigadier SP Joshi, commander of 38th Battery during 1962 war.
---
Photographs: Deepashree Mohan, sister of Major Shyamal Dev Goswami and Brigadier Amulya Mohan, relative of Deepashree Mohan.
---
Disclaimer: The views expressed in the article are the author's own and don't necessarily reflect the views of India Sentinels.
---
© India Sentinels 2022-23
---