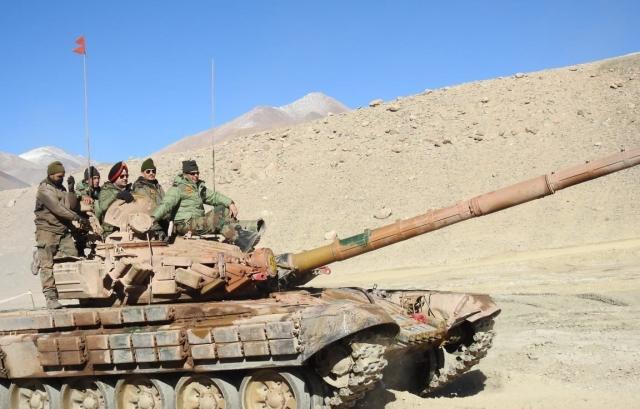 Lieutenant General Ranbir Singh, former commander of the Northern Army, on a tank in Ladakh. (Representative image via Northern Command, Indian Army/Twitter)
Many of our readers, by now, know about the exploits of Brigadier Rupinder (RJS) Dhillon (retired) as a daring paratrooper. However, a little-known aspect of him is that Brig Dhillon has an excellent "feel of feet" of the line of actual control (LAC) in Ladakh – all the way from the Karakoram Pass down to Galwan valley. His stint with the Ladakh Scouts gave him a unique exposure along the LAC and "across"!
He is one of the few officers who has personally visited the sites of our defeat in 1962, across the LAC, like JAK-I and JAK-II.
Against the backdrop of gloom along the LAC these days, we asked him about our options. As China's People's Liberation Army sits pretty in our areas, on the wrong side of the LAC, in several places, we have chosen the path of lengthy negotiations. Until now, except for Galwan, the talks don't seem to have made any headway.
Retired senior officers are talking about either evicting them physically, with the obvious costs, or gaining bargaining leverage against the PLA, through other means. And these "other means" can only be a quick counterincursion into Chinese territory, elsewhere, which can then be bartered for our areas where they are currently squatting. This is what Lieutenant General HS Panag (retired) said in an article, sometime back.
Brig Dhillon has a prescription. We must realize that he is talking of tactical possibilities and not certitudes. He is not abreast of the current order of battle (Orbat) of the combatants. Nor is he privy to their plans. But this is what he would do if he has the resources and the authority.
The area under this study: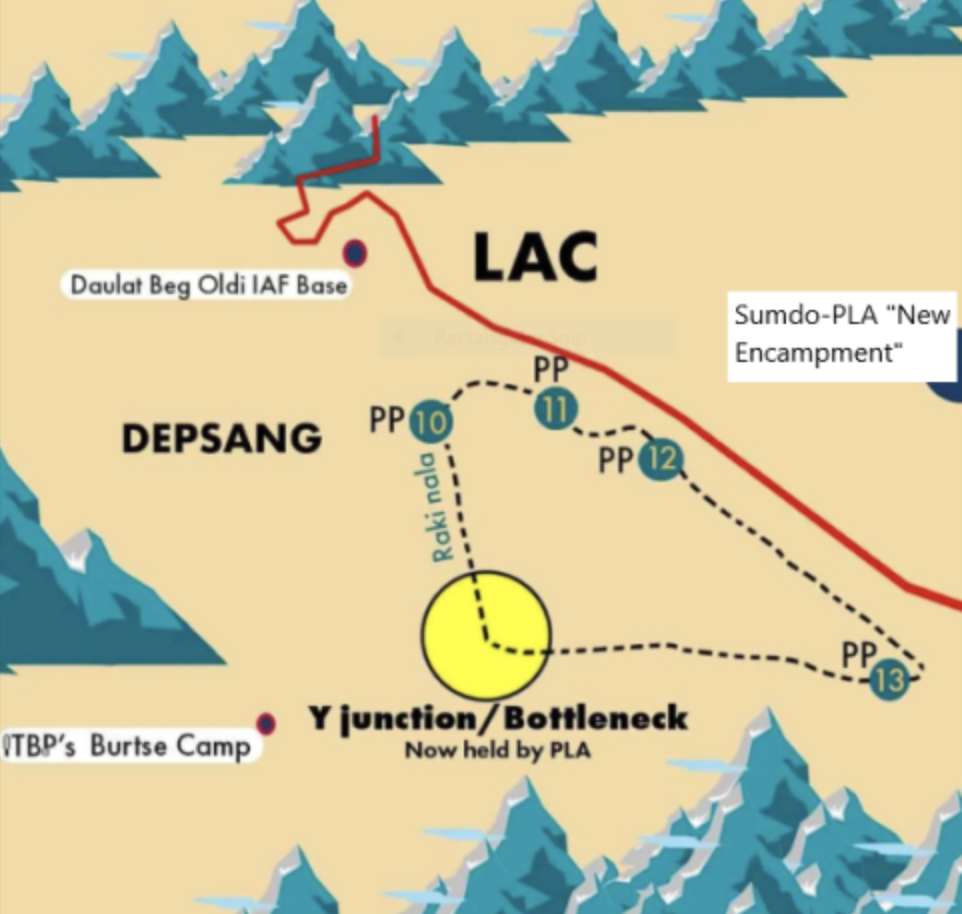 This is the subsector north (SSN), the most northern part of our area adjacent to the LAC in Ladakh. North of Daulat Beg Oldi (DBO) camp site lies the strategically vital Karakoram Pass, leading to China's vital interests (Xinjiang Highway: G-219 and other infrastructure beyond) on the other side. And to the west-south-west, lies the Siachen Glacier, vital to our interests. (Illustration via Quint)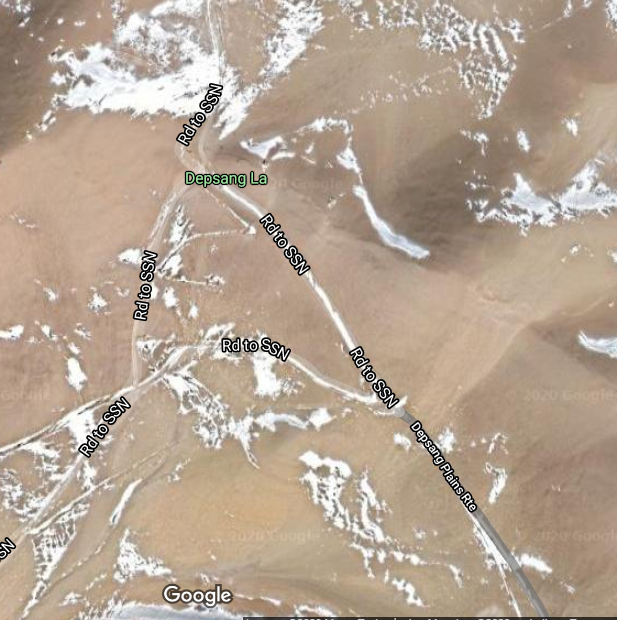 A satellite view of roads to the SSN at Depsang-la.

Brig Dhillon gives his perspective on gaining leverage against the PLA for restoring parity at the negotiations, as follows:
1. A coordinated and quietly built-up, multi-pronged series of incursions, overnight.
2. A move northwards from DBO, across the Karakoram Pass and beyond. This will point a dagger at China's vital Xinjiang Highway (G-219). Dhillon, having personally served there, says, the Karakoram Pass is passable for BMPs and Ts (T-90s/T-72s).
3. An integrated battle group (IBG) consisting of:
a. One battalion less of two companies of BMP-borne mechanized infantry
b. One squadron of tanks.
c. One company of engineers. (Engineering effort, blasting, etc, maybe required on the approach to the Karakoram Pass, the last bit above the hitching point of about 300 feet below the pass. The pass itself doesn't require any effort, on our side; perhaps some negligible effort on the Chinese side.)
d. One battalion of "footie footies" (infantry)
These can go across the pass and occupy a convenient feature on the other side. Then they will sit tight, forcing the PLA to react – either through an assault or through negotiations. This is one area where the Chinese simply cannot allow our presence for any length of time.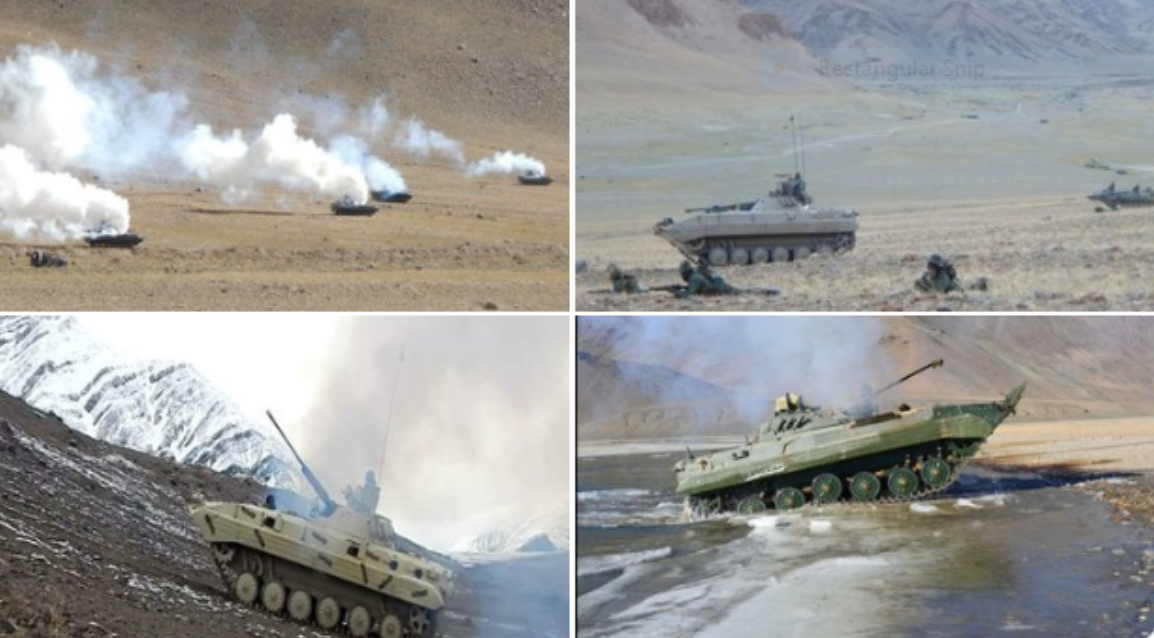 Indian Army armoured vehicles in a drill in Ladakh.

At the same time, the force shouldn't be large enough to spook the Chinese over the tipping point and force them to go for all-out war.
4. The reserves to be held at DBO are:
a. One tank regiment (less one squadron); two BMP companies.
Here Brig Dhillon insists that BMPs are adequate for armoured in Ladakh and there is no need really to miss the "light tanks", which are being suddenly discussed now. He says that during the time when they were testing high-altitude para operations in Ladakh, in the late 1980s, he had watched Gen Panag's mechanised combat group in action across all kinds of terrain. That has given him the firm belief that BMPs would be adequate and effective for our purpose.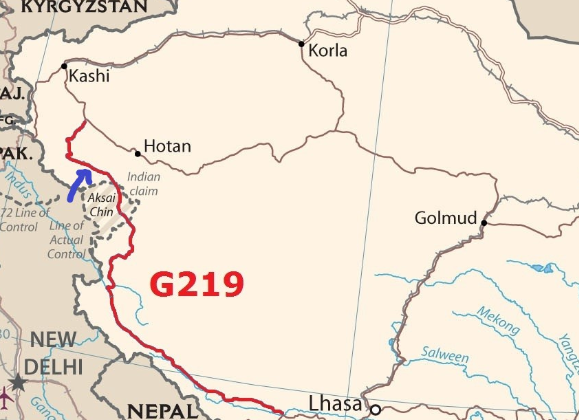 While the northern IBG goes across the Karakoram Pass, Brig Dhillon wants a simultaneous move down south. He recommends a company strength feint from our Burtse camp towards the Y junction. Noisy, but not engaging the enemy.
PLA's Shenxianwan post.
The real action should be in the form of a three pronged assault to interdict the PLA's line of communications from their "new encampment" across the LAC, which serves as a firm base for all their troop movements towards our SSN area. Thus, if that line is cut off by us across the LAC, then their forces which have come into our side, at the Y Junction, would be cut off and vulnerable.
The three prongs would be:
1. A battalion sized move from DBO south eastwards.
2. A Company-sized move via our track junction (highly exposed with concealment of larger numbers difficult.)
3. Another two companies moving over Depsang-la, going down to the Chip Chap river and onwards into the Depsang plains.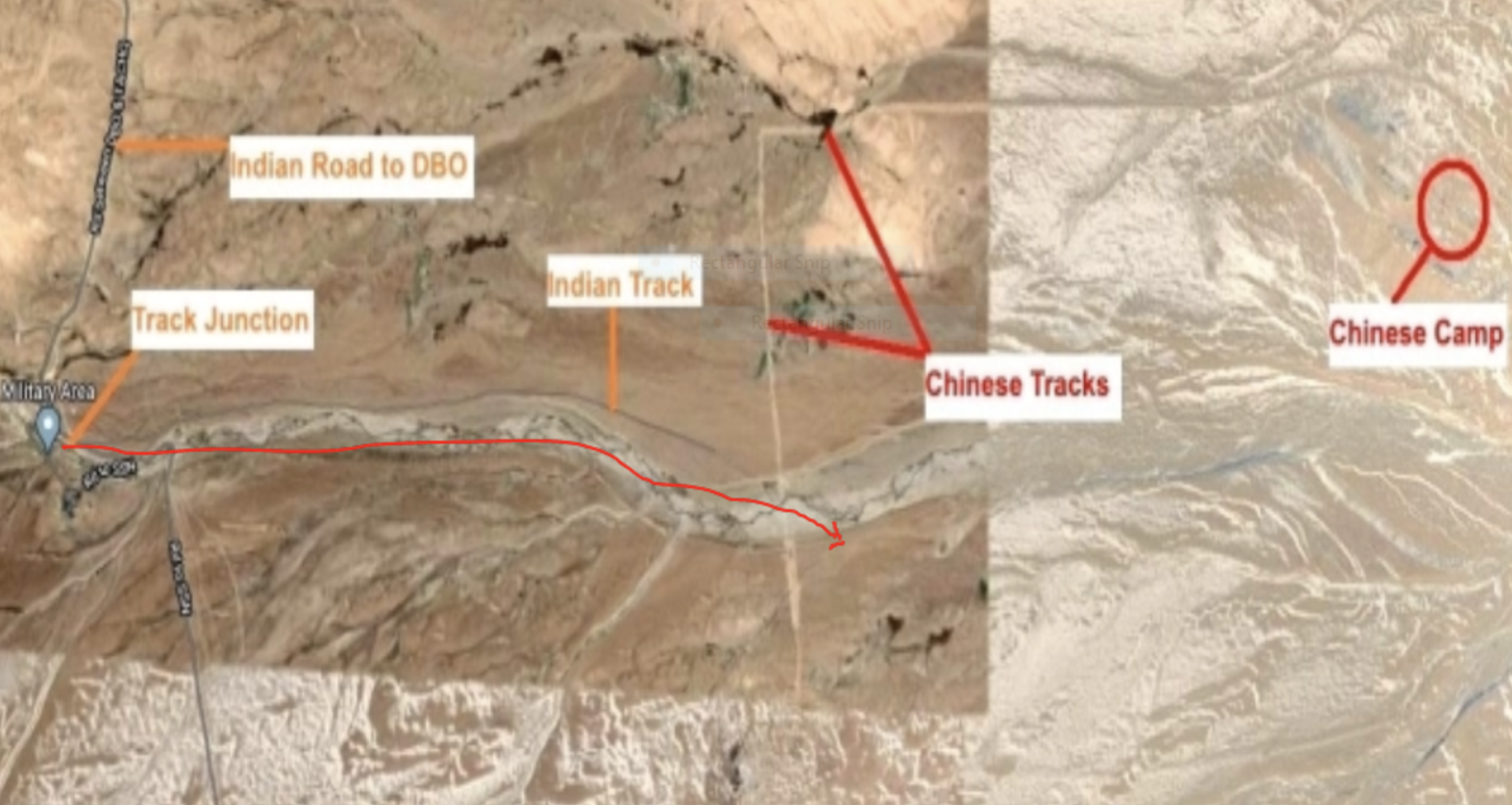 Satellite view of Indian and Chinese tracks near DBO.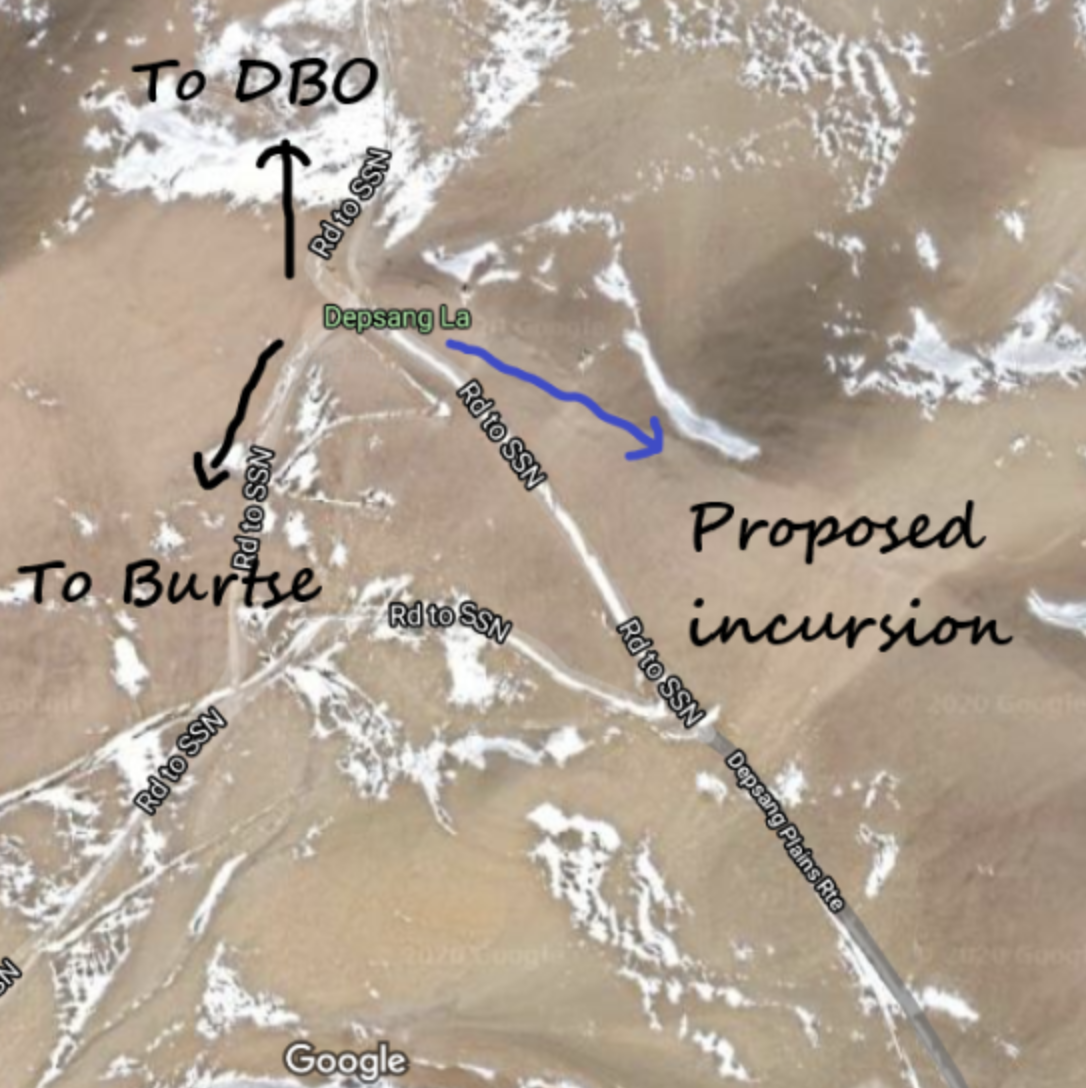 He insists that none of these moves should be deep. The features occupied across the LAC should be maintainable by surface convoys (mules, vehicles), except for one stretch beyond the Depsang-la, which should be maintained by helicopters.
Next, he is absolutely insistent on close support from attack helicopters (Apaches). He says the army should request the government to prevail upon the Indian Air Force to go beyond their doctrinaire objections to close ground support operations. This is a prerequisite for success.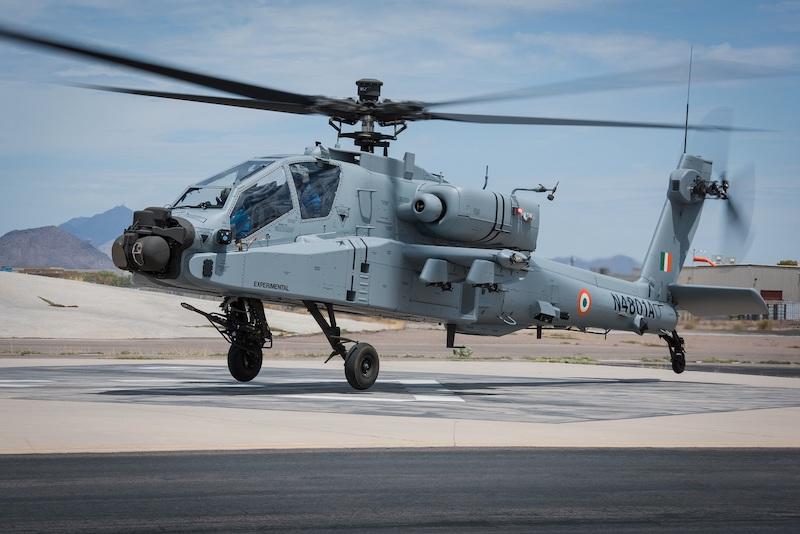 An IAF Apache attack helicopter.

Stealth and surprise should be ensured through night movements, during the build-up stage. The incursion should be completed overnight, with prefab (pre-fabricated) concrete structures (for roofing and side walls) being carried to quickly build bunkers.
The right locales and features should be chosen to occupy, keeping in mind that in the mountains, a 9:1 or even 12:1 force ratio is required for the side attacking, to dislodge a fortified, dug in defending force.
This, if accomplished, will force the Chinese to respond. One, they can choose to attack and risk a spiralling escalation OR consider the restoration of status quo ante elsewhere along the LAC, where they have encroached into our areas viz., Pangong-tso, Y Junction, Gogra–Hot Springs, etc.
Others veterans, say that we simply do not have the strength today to match the PLA in the open.
Gen Panag, in his latest article, says: "In execution, it implies fortifying the DBO-Galwan Sector, Hot Springs-Gogra-Kongka La-Tsogtsalu sector and Marsimik La-Ane La-Phobrang-Fingers 1-3 sector with overwhelming resources that must have an inbuilt tactical counter-offensive capability. The defences and habitat should be of a permanent nature. These sectors should be prepared to fight even when isolated. Main defences on Ladakh and Pangong Ranges must continue to be manned. Our reserves must be arrayed for an operational-level counter-offensive in Chushul/Indus river valley/Chumar sectors."
Thereby, he rules out any offensive possibilities in sectors other than Chushul, Indus river valley and Chumar. He sees fortified defences as the only feasible option, in other areas to the north.
In that case, a disruptive move on our part in the SSN, may invite massive Chinese counterattacks, which we would have to find a way to withstand.
Brig Dhillon also warns of a supply of body bags to be kept ready if we venture across the LAC. His solution is that our moves, as described at the beginning, should be shallow enough to be maintainable and not pose too serious a threat to China. While being critical enough to pinch.
This would be a mind game. The Chinese would have to decide between the advantages of deliberate and costly escalation, with incalculable consequences and restoring status quo ante, this time around, while preparing for the "real thing", at some point in the future.
We must realize that war is the last option. And yes, there is an asymmetry today vis a vis China. So then if the Chinese do not move back and restore status quo ante, are we prepared to countenance the loss of a substantial chunk of territory? Or should we risk a bloodbath, which may lead to a repeat of 1962?
"The nation wants to know!"
"Yahi tohfaa hai, yahii nazaranaa,
Main jo awaraa nazar laayaa hun;
Rang mein tere milaane ke liye,
Qataraa-e-khun-e-jigar laayaa hun,
Aye gulaabo ke watan." — Kaifi Azmi
Listen to what Brigadier RJS Dhillon has to say on India's options against China at the LAC and other things in this conversation with Sandeep Mukherjee for India Sentinels:
Part 1:
Part 2:
[Disclaimer: Views expressed by Brigadier RJS Dhillon are his own and don't necessarily reflect the views of India Sentinels.]
---