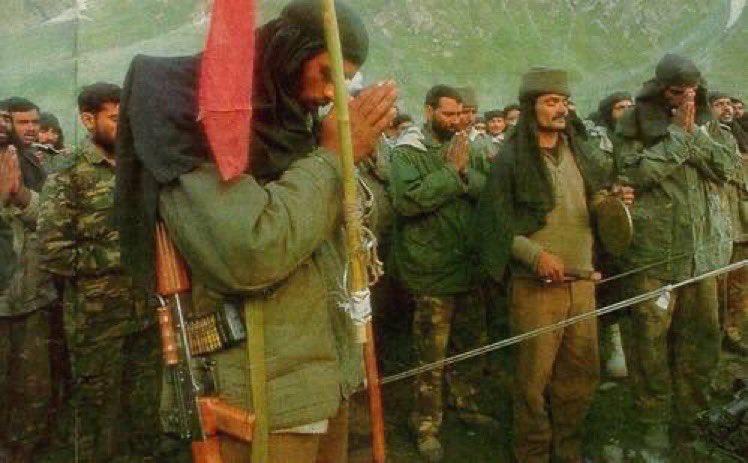 Indian soldiers praying before going to the Battle of Tololing, which took place between June 10–13, 1999, during the Kargil War. (Photo via Twitter/@JoBeingJoe)

India seems to have entered a zone of celebrations these days. With the Narendra Modi government declaring the current period as "Amrit Kaal" (best and most auspicious period to start or do something), we have recently celebrated "Kargil Vijay Diwas" (July 26), "Ghar Ghar Tiranga" (tricolour in every house leading up to Independence Day), "Azadi Ka Mahotsav" (grand festival of our freedom), 76th Independence Day (completing 75 years of India's freedom on August 15), etc, etc. However, lost in these celebrations were pressing issues that needed to be discussed and solutions arrived at.
One such issue is the celebration of "Kargil Vijay Diwas" (Kargil Victory Day), on which India commemorates its victory over Pakistani intruders in the Kargil heights, in 1999.
The politicians who were unusually euphoric about the victory in the Kargil War, their jingoistic blind followers on social media, and "defence analysts" thumping their chests during TV debates have no clue of what actually happened on the ground in Kargil. The less said about it, the better.
Paying tributes to the fallen heroes is all right but showing political one-upmanship can't be condoned. People at large get swayed by this pomp and show on display and go by what is being fed to them. It is, therefore, necessary that they are informed about the truth and let them decide for themselves whether it merits celebrations or introspection at all levels.
After almost a month since this year's Kargil Vijay Diwas, I have decided to write this with the sole aim of putting the facts before public. I am not the first to do so, and certainly won't be the last.
It is very important to know why Kargil happened. Some views are that it was the retaliation by Pakistan which was taken by complete surprise when the Indian Army occupied the dominating heights at the Siachen glacier. It is now the highest battlefield in the world. To me, it is the cumulative frustration of Pakistan's successive defeats in the 1947, 1965, and 1971 wars, especially the defeat in the 1971 Bangladesh Liberation War, which caused the disintegration of Pakistan and gave birth to a new nation. It was a massive blow for Pakistan, which humiliated both the Pakistani political and military establishments.
Following this defeat, some in Pakistan vowed to make India bleed with thousand cuts – a doctrine followed by the Pakistani military to this day. Soldiers like Parvez Musharraf could not digest the humiliation and were always looking for an opportunity to settle the score. Occupation of the Siachen glacier only added fuel to the fire and strengthened their resolve to do something extraordinary, and seemingly they got the opportunity in Kargil. Due to the reasons best left unexplained, suffice to say that they successfully identified the chinks in our armour and took full advantage. A brilliant planning under the-then Pakistani army chief General Parvez Musharraf saw Pakistani troops infiltrating and occupying the major heights well inside our territory.
At a time when the political leadership was euphoric over the historic Lahore Declaration, Pakistan forces disguised as Kashmiri militants infiltrated on the Indian side of line of control (LOC) and occupied our posts, which our soldiers vacated in the winters. The operation was code named "Operation Black". The area that witnessed the massive infiltration and fighting is approximately a 160km stretch of ridges overlooking the only highway linking Kashmir to Leh.
It was a brilliant move, and I may invite the wrath of many for praising the enemy. However, soldiers respect soldiers irrespective of the country they belong to. Pakistan successfully diverted our attention towards the terrorists coming in the valley in large numbers and infiltrated Kargil in massive numbers. The Pakistani army also managed to keep it a secret for a very long time until the day it got detected. They consolidated by constructing defensive structures, storing ammunition and supplies to sustain them for a very long Period of time. They also managed to bring in heavier weapons, like artillery pieces, which shows how successful their plan was.
On May 2, 1999, Tashi Namgyal, a local shepherd from a village near Kargil, while looking for his yak, spotted some men breaking stones and clearing snow. Attired in pathanis and military uniform, they were carrying arms as well. He reported this to a nearby Indian Army unit. Patrols were sent and the intrusion was detected.
The Army started preparing itself to "recapture" our own land occupied by enemy. The operation to evict the Pakistanis from the heights dominating the National Highway-1A was a priority. The terrain the war was to be fought was high-altitude mountains featuring jagged near-vertical hill faces. What followed was a violent skirmish all along the ridge lines occupied by the heavily armed enemy. The troops came under heavy fire from multiple directions. Movement on the NH-1A was extremely dangerous as the enemy brought down observed artillery fire inflicting massive casualties and damage to our convoys.
Here, it must be noted that despite this, the government of the day, headed by Prime Minister Atal Bihari Vajpayee, stipulated that the LOC was not to be crossed to avoid escalation.
The unmatched resolve of our troops and young leaders bore fruit and ultimately resulted in the "recapture" of our own land with the enemy pushed back to the other side of the LOC. It didn't come cheap as we had to pay a very heavy price in terms of loss of life and property and terrible injuries.
One wonders what might have gone wrong. Who failed and why? How come infiltration at such a large scale remained undetected? How did Pakistan manage to bring in heavy weapons, artillery pieces, ammunition and other everyday supplies to last them a lifetime? How the preparations by the Pakistani army, which included procuring state-of-the-art weapons, high-altitude clothing and night-vision devices went unnoticed?
These are serious questions yet to be answered. The Kargil Review Committee Report gave its observations and recommendations but whether action taken or not is still a mystery.
Therefore, the moot question, what are we celebrating? Is it:
· The death of 527 soldiers?
· The 1,000-plus seriously injured, some maimed for life?
· The recapture of our own land, which is an embarrassment?
· Political blunder?
· Failure of all agencies be it intelligence or diplomatic?
Men who have gone through the avoidable war wish to forget this horrible nightmare they had to live through. I am sure that recapturing our own land and, in the process, losing precious lives, is no event to celebrate. It only revives the memories best forgotten.
What we must do on this day is:
· Solemnly remember our fallen heroes by lighting a candle and prayers for them wherever they are.
· Spare a thought about their families and wish them well.
· Remember those who were seriously injured and are alive and help them get over the agony.
· Seriously look at what went wrong and take measures to avoid such recurrences in future.
Scoring political brownie points must be stopped as one can see through the façade. It also reveals that powers that are trying to hide behind fake celebrations, especially when one has witnessed obliteration of the memories of India's greatest-ever war fought in 1971 by extinguishing the sacred Amar Jawan Jyoti.
This may not go down well with "some", but the truth must be told.
---
Disclaimer: The views expressed in the article are the author's own and don't necessarily reflect the views of India Sentinels.
---
© India Sentinels 2022-23
---