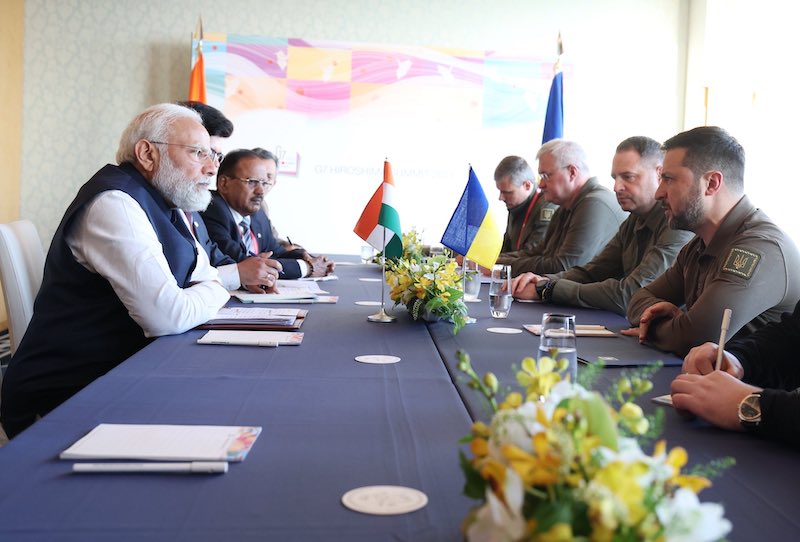 Narendra Modi (L) talking to Volodymyr Zelenskyy during their meeting in Hiroshima. (Photo: Twitter/@narendramodi)
Saudi Arabia took the initiative to host talks earlier this month on how to bring an end to the Ukraine war with the participation of senior officials from 40 countries, including the United States, China, and India. However, it was quite surprising that Russia, the key player in this conflict, was not invited to the talks.
This meeting, which was held in Jeddah over the first weekend of August, focused on the 10-point peace formula proposed by the Ukrainian president, Volodymyr Zelenskyy, such as calling for the "full withdrawal of Russian forces" and "restoration of Ukrainian territories, including Crimea".
Naturally, Moscow saw this meeting through a different lens, like mobilizing the global south behind Zelenskyy's position. During the talks, India's national security advisor, Ajit Doval, said that India will remain an active and willing partner in finding the solution for the Ukraine war. However, China declared itself to be impartial. The Chinese foreign minister, Wang Yi, said Beijing will be an objective and rational voice at any international multilateral forum.
---
Read also: At G7, Modi assures Zelenskyy India will do its best to end Ukraine war
---
However, it is difficult to believe that China can ever be an impartial and independent voice on the Ukraine issue because of its longstanding obsession to integrate Taiwan with the mainland, which it has vowed to do so by even using force if necessary. Therefore, any victory of Ukraine supported by the west would undermine the future integration of Taiwan into China. For China, especially after Xi Jinping assumed power in 2012, Taiwan has become the symbol of what it means to be a great power. And Taiwan is rapidly turning out to be the biggest cause of friction between Beijing and Washington now.
Therefore, given China's geopolitical ambitions and with the absence of Russia, the belligerent that started the Ukraine war, such initiatives, as the one Saudi Arabia held in Jeddah, are likely to fail. This war has dragged on for 18 months, but Western countries are still not able to see the legitimate security concern of Russia.
As most of us humans tend to live in binary, we tend to see things in black and white. Therefore, most nation-states also tend to perceive things in a similar manner without exploring the possibilities in the grey zone. The war based on ideologies and religions has been fought for centuries. And after World War II, the US fought several wars to spread its own political values and belief system around the world. This is the strong belief system in the US that liberal democracy, free market, and human rights collectively is the best way to move forward for the world. However, there are other nations, like China, North Korea, Iran, Saudi Arabia, Cuba, etc, who believe these principles are a threat to the sovereignty of their own countries.
---
Read also: Modi speaks to Putin, two leaders discuss bilateral ties, Ukraine
---
So, when two opposing types of ideological worlds clash, we have wars, like the Ukraine war, as a result.
Russia has always maintained that it will not tolerate Nato's further expansion eastward to its borders and Ukraine was a red line. This is one of the main reasons the Kremlin said was behind its – what it says – "special military operation".
Given India's national interests both in the US-led west and Russia, New Delhi expectedly took a neutral stance and refrained from outrightly condemning the Russian invasion of Ukraine. The west understands India's concerns regarding Russia, so it has not put Indian entities under sanctions.
As we can now see that the Saudi Arabia-initiated peace talks have all but failed, India can play an important role in bringing the war to an end, which is important to bring stability in the world. Already, the war is wreaking havoc with the world economy. The risk of large-scale starvation deaths in poorer countries looms because the war has also disrupted the supply chain of key foodgrains. India's unique position, where it is friendly both with the west and Russia, gives it a heft that no one single country has, as far as the Russia-Ukraine war is concerned. India can and must take this responsibility and play the role of a peacemaker between the west-backed Ukraine and Russia by taking both the US and Russia on board.
This won't be new for India to play the role of mediator. New Delhi played the role of a mediator during the Korean crisis. It was also one of those countries that helped bring the Vietnam War to an end. India's global standing has only grown since then. Today, India, with a population of 1.4 billion, is one of fastest-growing economies in the world. It is a regional military power and one of the handful of nuclear-armed countries. India aspires to have a seat at the high table of global powers, and deservedly so. The Ukraine war gives India a golden opportunity to achieve that. If New Delhi can assert itself to bring the Russia-Ukraine war to an end by playing the role of the leading peacemaker, it would give a huge boost to India's stature in the comity of nations.
---