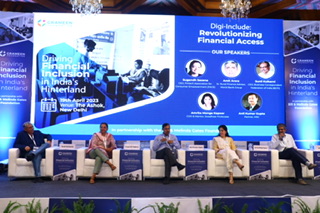 New Delhi: Mobile connectivity, internet banking, gender issues and empowering women were debated threadbare at a conference hosted by Grameen Foundation India (GFI) here.

The conference, themed "Driving Financial Inclusion in India's Hinterland", was organized in partnership with Bill & Melinda Gates Foundation.

The conference promoted collaborative innovation to empower communities, particularly women, for a sustainable financial future in India's hinterland.

Grameen also presented four knowledge products to the audience based on their previous work and future recommendations for the industry, namely, Gender Mainstreaming in BC Networks: Grameen's I-CARE Framework, Exploring the effectiveness of low-cost marketing strategies in BC Networks, Assisted e-commerce and ONDC: A new revenue source for BC Agents in India, and Women Friendly Micro Saving Products.

Purna Roy Chowdhury, Associate Director – Gender and Women's Economic Empowerment, Grameen Foundation India, said: "Grameen's innovative approach dismantles gender barriers, ensuring women's equal access and participation in BC networks, as highlighted in the released today titled 'Gender Mainstreaming in BC Networks: Grameen's I-CARE Framework and 'Women Friendly Micro Saving Products'.

"Grameen is revolutionizing financial inclusion by bridging the gap with last-mile delivery services, empowering BC networks to thrive, following the ecosystem-based approach," added Piyush Singh, Director – Innovations in Digital Finance, Grameen Foundation India.

The conference featured keynote speeches, panel discussions, fireside chats, and exhibitions focused on the role of digital innovation, gender sensitivity, and scalable solutions in driving financial inclusion.

Speakers included Jayshree Vyas, Managing Director, Shree Mahila Sewa Sahakari Bank; Chetna Gala Sinha, Founder, Mann Deshi; Pawan Bakhshi, India Lead for Financial Services for the Poor at the Bill and Melinda Gates Foundation; Jiji Mammen, Executive Director and CEO, Sa-Dhan; and Sunil Kulkarni, CEO, BCFI.

Jiji Mammen, Executive Director & CEO of Sa-Dhan, emphasized the need for a comprehensive approach to financial health. "Financial inclusion is not just about access to financial services. It's about empowering individuals and communities to make informed financial decisions and achieve economic stability. This conference provided an opportunity for stakeholders to come together and work towards this common goal."

Jayshree Vyas, Managing Director of Sewa Bank, delivered the keynote speech on Innovations in Financial Inclusion: India's Financial Inclusion Story. Vyas said, "The progress made in financial inclusion in India is commendable, but there is still much work to be done. This conference shed light on the innovations and interventions that can revolutionize financial access and empower the unbanked population."



---