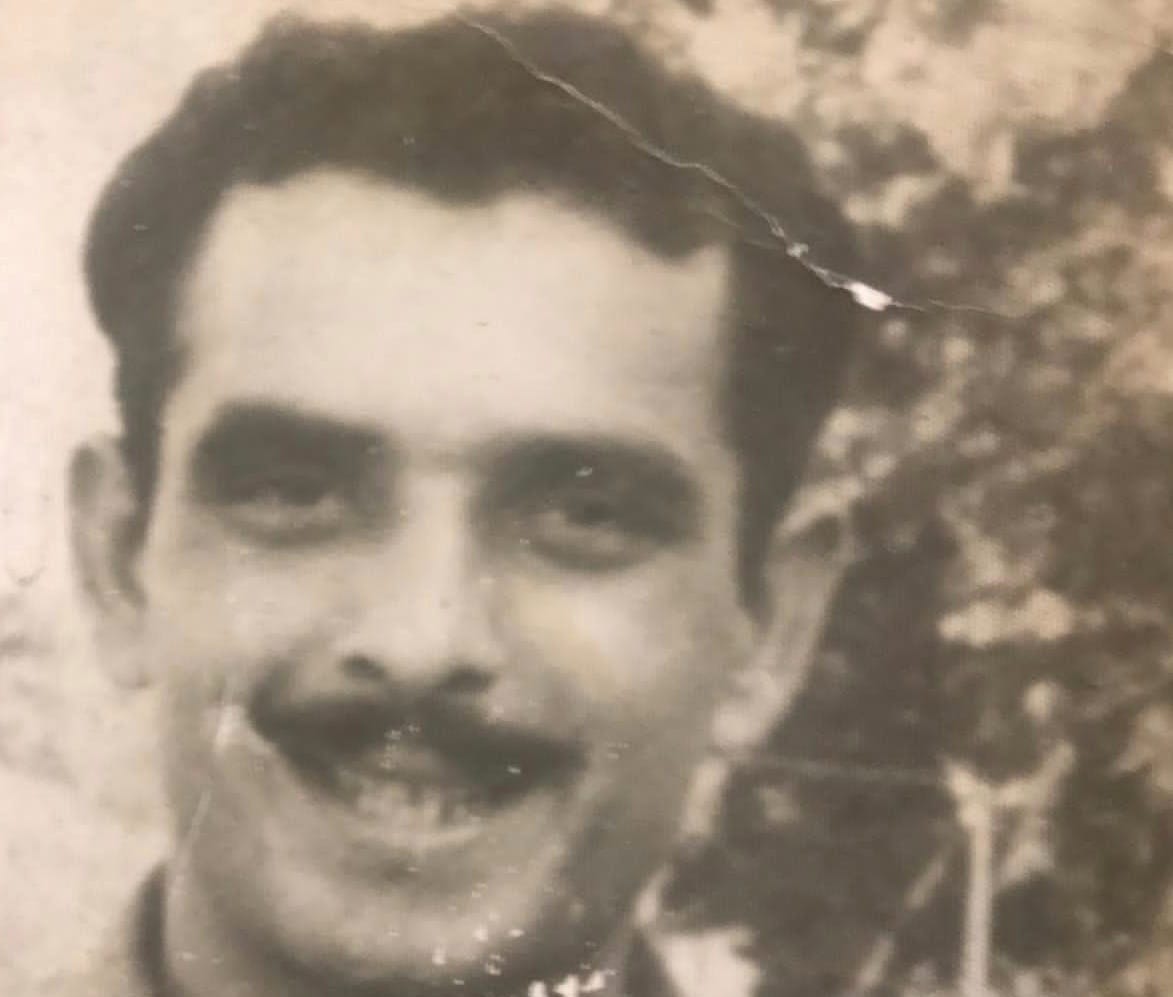 Lt Yog Raj Palta.

This is the story of Lieutenant Yog Raj Palta, a young and adventurous Indian Army officer who loved his Royal Enfield bike and Panama cigarettes – and immortalized himself in the 1962 India-China war.
Yog Raj Palta was born on April 20, 1938, to Shakuntala Devi Palta and Shadilal Palta in Ferozpur, Punjab. Shadilal Palta was a well-read man and a renowned criminal lawyer in the undivided Punjab. He was married twice; from his first marriage, he had a son named Krishan Raj Palta, who was an advisor to Netaji Subhash Chandra Bose. His second wife, Shakuntala Devi, bore four children ­– three boys and one girl. They were Vinod, Uma, Ashok, and Yog Raj. Yogi, as his siblings affectionately referred to him, was the youngest child in the family. He was an extrovert and an outgoing child from the beginning.
Because his elder brother, Krishan Raj, was linked to the Indian National Army, some INA officials used to visit their house in Ferozpur, and the children gradually developed a strong attachment to the motherland.
Yogi was so inspired by the freedom movement at a young age that he and his elder brother, Ashok, used to put up Quit India posters in public places. Once he was apprehended by municipal officers and brought to his father, who wanted his sons to study law in England and become barristers like him. The senior Palta explained the consequences and told Yogi to focus on his studies.
Yogi and Ashok were sent to Lawrence School, in Sanawar, which was a prestigious public school in the country, at that time. There, he honed his skills as a painter and boxer. Because of his appearance and weight, his friends dubbed him "Ladoo". Yogi was in his upper three (Cambridge pattern) when his father, Shadilal Palta, died in 1952. Yog Raj and his brother were taken out of Lawrence School following his death.
---
Read also: The story of Major Shyamal Dev Goswami
---
The entire family's responsibility fell on his mother's shoulders. She raised her children and got them educated all by herself. Yogi and Ashok both finished their education privately. Ashok later went on to build a career in the merchant navy.
Following that, in 1955, Yogi took and passed the National Defence Academy exam. Yogi had to lose weight because he was overweight, so he started to do skipping and other exercises, often wearing an Army jacket. He got in shape by losing 20 kilograms before appearing for the Services Selection Board in Meerut. He cleared his SSB tests in his first attempt.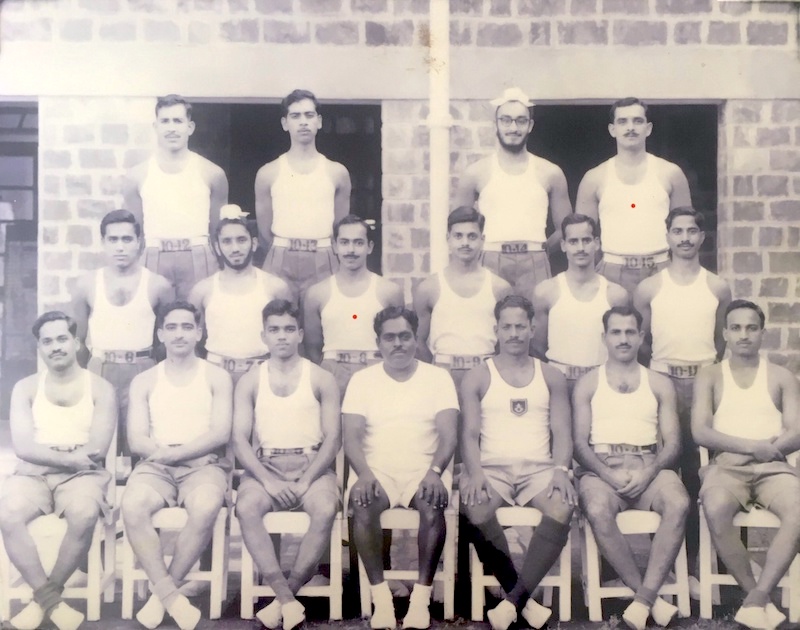 Yog Raj Palta (first from right in last row) during is physical training course at the Army Institute of Physical Training, Pune, in 1960.

In 1955, he enrolled in the NDA, where he excelled in training and competed in boxing tournaments. He went on to make a name for himself in boxing. He also liked to paint in his spare time. He became such an accomplished painter that Major General E Habibullah, the NDA's commandant at the time, bought several of his works. Yog Raj completed his training and was sent to the Indian Military Academy for further military training after graduating from the NDA, in 1958.
He was commissioned into the 4th Sikh (XXXVI) Battalion, also known as the Saragarhi Battalion. Yog Raj Palta was dubbed "Joe Palta" by his Army colleagues and friends. He excelled in his Army courses and was chosen for Himalayan warfare training at the High-Altitude Warfare School in Gulmarg.
When he visited his family in Delhi, he would go on rides on his Royal Enfield bike, which he adored, and he was quite popular among girls due to his charming personality and outgoing nature. He made many female friends, but he never had any romantic relationships. Yogi adored his sister, with whom he shared the same birthday. He was fond of his nephew Varun, who he used to take along for duck hunting. Overall, Yogi was very fun-loving, affectionate, and was very close to his family. He cared for them a lot.
Lieutenant Palta's commanding officer treated him as if he was his own son. He always told him: "One day you will be a general." He also used to tell Palta that he should never offer himself to go to the front, but if he has to go, he must go.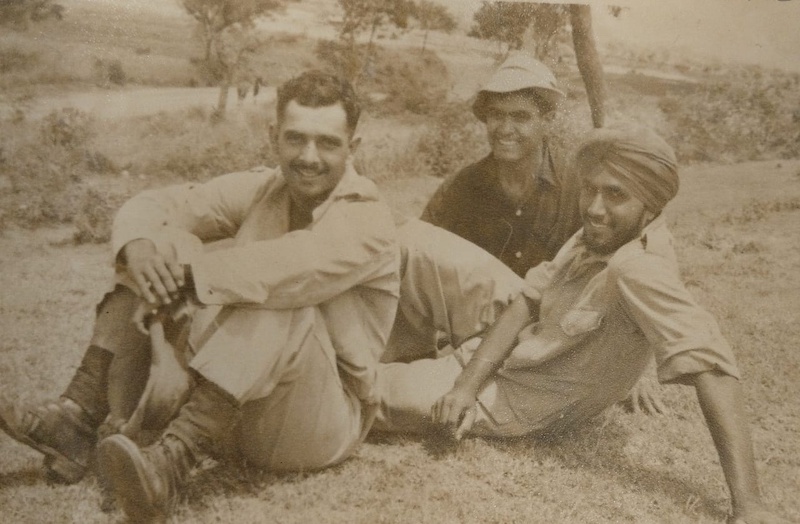 Yog Raj Palta (L) with friends.

In September 1962, Yogi's unit was celebrating Saragarhi Day in Ramgarh when tensions began to rise between India and China. His unit was ordered to move to an unknown destination. Yogi was on leave when he received a telegram telling him to return to his unit as it was moving to the frontline.
Yogi dashed off to join his unit. They were to proceed to Assam's Tezpur under the command of Lieutenant Colonel AL Behal. The order was changed and they were ordered to move to Chariduar, which was around 40 kilometres from Tezpur. While travelling by train from Rangapara, they were told to go to Jorhat instead. From Jorhat, the unit's A and B companies were airlifted to Tezu by Dakota planes, on September 22. From there, they took other planes to Along in the North-East Frontier Agency's Walong sector. At Walong, A Company occupied the High Plateau while the B Company occupied Maha Plateau. The C and the D companies were deployed much later in the sector, on October 23, after they arrived in Along.
Joe led the D Company, which was responsible for the Lachhman Ridge. The positions of the other companies were also changed: the C Company defended the Dong Plateau, the B Company was at the Maha Plateau and Ladders, and the A Company was at Dong Hill. Ammunition, clothing, and digging tools were all in short supply. Crossing the Lohit river was also difficult, and they had to rely on rubber boats or ropeways when necessary.
From the frontline, Yogi used to write letters to his family in Delhi and to his brother, Ashok, in Hong Kong. He once wrote: "More than our biological maa (mother) is Bharat Maa (Mother India). To lay one's life for the mother's honour is the greatest honour one can have." During that time, his 11-year-old nephew, Varun, used to save his pocket money to buy a Panama cigarette packet so that he could send it with a letter to his uncle on the war front.
The Chinese launched their attacks on October 24 and 25 on the Maha Plateau and the Ladders. They were beaten back. 4 Sikh handled the situation very well. Later, in the first week of November, 3/3 Gorkhas were flown to relieve the positions of 4 Sikh. Yogi's D Company was moved from Lachhman Ridge to the High Plateau on the east bank of the Lohit under 3/3 Gorkhas.
Lt Yog Raj, company commander, had previously reported seeing a large number of Chinese troops crossing the Lohit on rubber boats. When he informed his senior officers, no one believed him. As a result, no action was taken. When Joe was ordered to retreat, he asked his men if they wanted to retreat as well, but none of them wanted to.
---
Read also: The story of unsung hero Lieutenant Bikram Singh Rathore
---
At 11pm, on November 15, the Chinese attacked the D Company.
As defences, there were trenches and bunkers. Joe was constantly motivating his men to keep fighting. According to a High Plateau survivor, Joe moved from trench to trench, pumping up his men by saying, "Mere jawano, dushmano ko apni dharti par kadam nahi rakhne denge; khoon ki aakhri boond tak ladenge. (My soldiers, we won't allow the enemy to foot a foot on our land; we will fight until the last drop of out blood.)"
His presence boosted his men's morale, and they fought valiantly to repel the first enemy attack during the night. The enemy launched a second attack, which was also repulsed by the Joe's company, but they suffered heavy casualties. Joe requested reinforcements from the CO 3/3 GR, Lt Col Jadav, but the route was blocked by the enemy.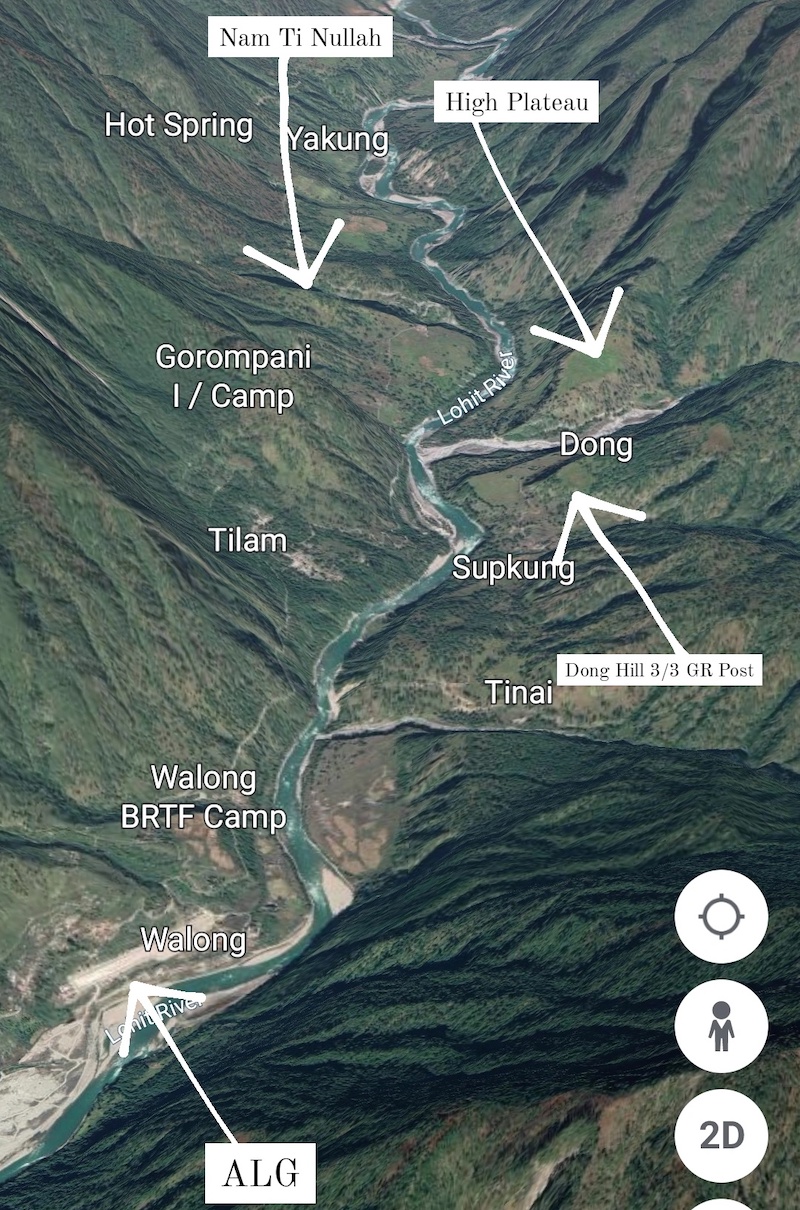 The battlefield at Walong sector where Lt Yog Raj Palta fought. (Google Earth map)

The enemy launched its final assault at 4.45am, on November 16. The men fought with grit and determination. Joe was seen firing a sten gun with his right hand, extracting grenade pins with his mouth, and throwing them at the enemy with his left hand.
Joe used to take photos during actions, according to his brother, as he carried a personal camera that his elder brother Ashok had gifted him. He wore the camera around his neck throughout the battle.
When the Chinese launched their final assault on Joe's company, he kept moving from trench to trench without caring for his personal safety. Suddenly, an enemy bullet pierced his neck and he fell. According to Indian survivors, his dying words were: "Dushman nu katche kha jao, pichha na chhado. (Eat the enemy raw, don't stop going after them.)"
This inspired his men even more and they persisted in their fight. When Joe was killed, his body fell on Darbara Singh, a young sepoy. The enemy overran the post as soon as Joe was dead. Darbara ran out of ammunition when Joe's body fell on him. He hid under the dead body of his company commander. The blood from Lt Palta's body soaked Darbara's beard and chest. Presuming Darbara dead, the enemy left him without taking him as a prisoner of war. Joe saved one of his men even after dying.
Havildar Gurmukh Singh and his platoon fought until the bitter end. While fighting in their trenches, Havildar Gurmukh Singh also died.
---
Read also: 1962 India-China War – The reality of a military defeat
---
Because the enemy buried the dead in trenches, Lt Yog Raj's body was never found. Later, officers in the Army insulted the unit because they believed it had casualties while retreating. Joe's family received a telegram after the war informing them that Lt Yog Raj Palta had been reported missing in action. His family had hoped for a long time that he would return, but he never did.
However, a fact-finding visit, in early 1963, to the post by the-then general officer commanding, brigade commander, and Major Harbans Singh, who was the officiating CO for a short period, and others revealed what happened on the night of November 15 and 16, 1962 and how valiantly Joe and his men fought.
Later, Maj Harbans made a list and cleared all misconceptions about the casualties. The list had the names of one officer, a JCO, two havildars, and 21 other ranks who had died fighting there. Later, the GOC decided to cremate the bodies, and, accidentally, according to some reports, the whole hill caught fire. Everything on it burned to ashes leaving no evidence. No dead were recognized. Those men remained unsung and unidentified.
Joe's coursemate, Lt Bikram Singh of 6 Kumaon, was also in the same sector and fought the fierce battle while commanding the D Company of 6 Kumaon on November 16, too died fighting gallantly.
Lt Yog Raj Palta was awarded the Vir Chakra posthumously for his indomitable spirit and selfless devotion to duty. His mother, Shakuntala Devi, received the award on behalf of her brave son.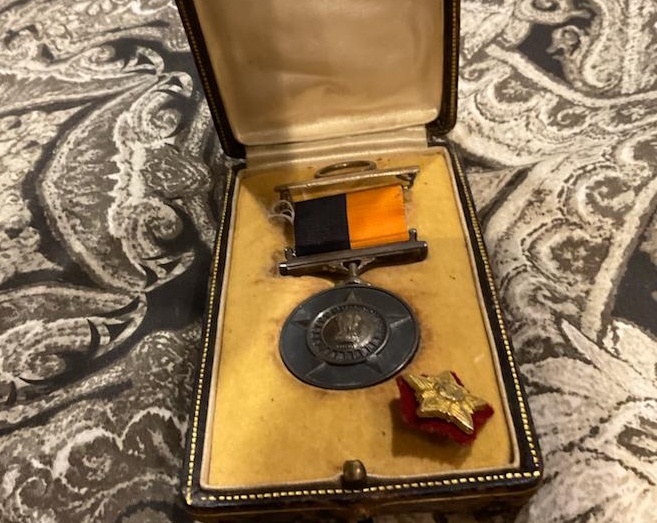 Lt Yog Raj Palta's Vir Chakra medal.

"Lt Yog Raj 'Joe' Palta laid down his life for mother's honour."
His mother fell sick after knowing about his death and never recovered. His family gets emotional talking about him. His sister remembers how protective and fun-loving he was. His brother recalls him as a friend who would sneak out of the school hostel late at night to get food.
---
Follow us on social media for quick updates, new photos, videos, and more
Twitter: https://twitter.com/indiasentinels
Facebook: https://facebook.com/indiasentinels
Instagram: https://instagram.com/indiasentinels
YouTube: https://youtube.com/indiasentinels
---
Editor's note: This story is based on the author's conversation with Lt Yog Raj Palta's sister, Uma; brother, Ashok; and nephew, Varun. He has also used references from Brigadier Kanwaljit Singh's longread "Battle of Walong: Indo-China War 1962".
---
Photographs: Lt Yog Raj Palta's brother, Ashok Palta; sister, Uma Malhotra; and Maj Gen Krish Khorana's Twitter feed.
---
Disclaimer: The views expressed in the article are the author's own and don't necessarily reflect the views of India Sentinels.
---
© India Sentinels 2022-23
---