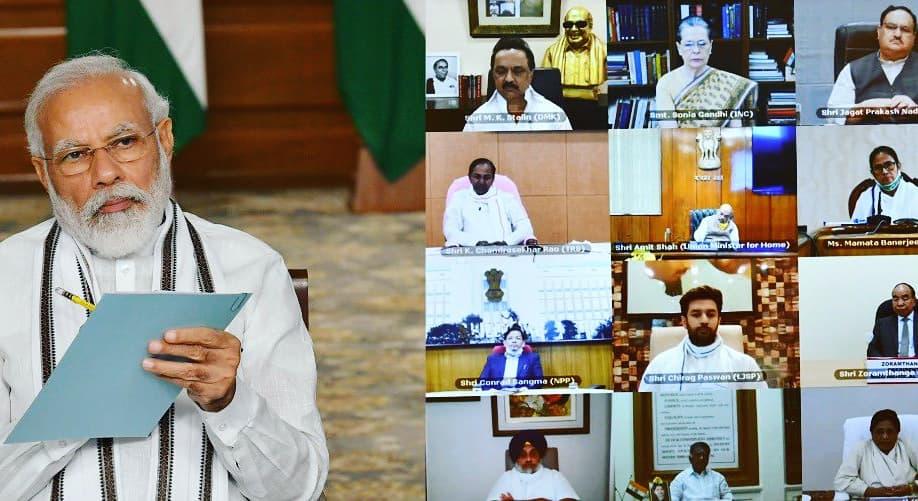 New Delhi: In the backdrop of border standoff with China in Eastern Ladakh, Prime Minister Narendra Modi called an all party meeting on Friday to discuss the situation along the Line of Actual Control (LAC), wherein all opposition parties unanimously stood with the government and cautioned of China's nature of betrayal.
Mr Modi assured the nation and said that nobody has entered into India's territory and neither has anyone captured any of its posts.
On killing of Indian soldiers in the violent face-off with the China's PLA, PM Modi said, "20 of our men were martyred, but those who dared to look Bharat Mata in the eye, they taught them a lesson."
मैं आपको भी आश्वस्त कर रहा हूं कि हमारी सेना देश की रक्षा के लिए कोई कसर नहीं छोड़ रही है।

Deployment हो, Action हो, Counter Action हो, जल-थल-नभ में हमारी सेनाओं को देश की रक्षा के लिए जो करना है, वो कर रही है: PM @narendramodi

— PMO India (@PMOIndia) June 19, 2020
On ramping of infrastructure along the border areas, he said, "In the past few years, to protect our borders, we have given importance to infrastructure development to protect our borders."
The prime minister further that the India's air capability is being enhanced.
"The requirements of our armed forces, be it fighter planes, advanced helicopters, missile defence systems, that too is being given importance," Mr Modi said.
He also said that the Indian troops are also monitoring those areas which were not really monitored earlier.
For deployment, action and counter-action, "Our Army, Navy and Air Force are doing their bit required to do. We have these capabilities and reason why no one can dare to look at ours' even one inch of land."
Chiefs and representatives of 20 political parties had attended the virtual meeting.
While expressing solidarity with the government in the meeting, Congress President Sonia Gandhi called the Chinese intrusion in Indian territory and violent clash between the two nations a consequence of "intelligence failure".
We in the Indian National Congress & the entire opposition unitedly stand by our defence forces & are prepared to make any sacrifice to ensure they are battle ready: Congress President Smt Sonia Gandhi's opening remarks in All Party Meeting. pic.twitter.com/T0Y3C7CjRV

— Congress (@INCIndia) June 19, 2020
She questioned, ''Even at this late stage, we are still in the dark about many crucial aspects of the crisis. We have some specific questions, for the Government: On which date did the Chinese troops intrude into our territory in Ladakh? When did the government find out about the Chinese transgressions into our territory? Was it on May 5th, as reported, or earlier?
The Congress leader further added, 'We in the Indian National Congress and the entire opposition unitedly stand by our defence forces and are prepared to make any sacrifice to ensure they are battle ready. The Entire nation expects that Government will take all Opposition Parties and the country into confidence and brief us regularly so that we may present to the world a picture of unity and solidarity."
Defence Minister Rajnath Singh said that "there was no intelligence failure" in case of Galwan violence.
प्रधानमंत्री श्री @narendramodi ने आज हुई सर्वदलीय बैठक में सभी राजनीतिक दलों को फिर से आश्वस्त किया है कि भारत की सेनाएं, सीमाओं की रक्षा करने में पूरी तरह सक्षम हैं। सेनाओं को यथोचित कार्रवाई के लिए पूरी छूट दी गई है।उन्होंने आज सार्वजनिक रूप से पूरी स्थिति स्पष्ट कर दी है।

— Rajnath Singh (@rajnathsingh) June 19, 2020
Janata Dal United Chief Nitish Kumar asked all the opposition parties to shun the differences.
"There is nationwide anger against China. There should be no differences among us. We are together. The parties should not show any disunity that can be explored by other nations. China's stand on India is known. India wanted to give respect to China. But what did China do in 1962?" Mr Kumar said, according to sources.
"Goods from China flooding Indian markets have major problems. They are plastic heavy. Chinese products are not eco-friendly and they harm the environment. Electronic waste associated with them is high. Chinese products don't even last long. It is our duty to be one and support the Centre," he said.
NCP Chief and Former Defence Minister Sharad Pawar said that issues of whether soldiers carried arms or not are decided by international agreements and "we need to respect such sensitive matters."
I shared my views based on the experiences on diplomatic solutions through a video conference with Hon. Prime Minister Shri Narendra Modi against the backdrop of the conflict between Indo-Chinese troops in the Galwan Valley of East Ladakh.@PMOIndia @narendramodi #GalwanValley pic.twitter.com/cXearOR7Bj

— Sharad Pawar (@PawarSpeaks) June 19, 2020
"In the last three decades, China with its Armed Forces has quietly strengthened its position on the 4000 Km LAC (Line of Actual Control ). They have particularly focused on enlarging and strengthening in the Eastern Ladakh sector," he said.
Shiv Sena's Uddhav Thackeray said that "we are all one"
"This is the feeling. We are with you, PM. We are with our forces and their families. India wants peace but that doesn't mean we are weak. China's nature is betrayal. India is 'Mazboot' not 'Majboor'. Our government has the ability to Aankhien Nikalkar haath me de dena," he said.
पंतप्रधान @narendramodi जी यांच्यासोबत झालेल्या सर्वपक्षीय बैठकीत मुख्यमंत्री उध्दव बाळासाहेब ठाकरे यांची महाराष्ट्र राज्य देशाच्या आणि जवानांच्या पाठीशी खंबीरपणे उभा असल्याची ग्वाही; pic.twitter.com/mnLdEwmjv4

— Office of Uddhav Thackeray (@OfficeofUT) June 19, 2020
Shiromani Akali Dal's Sukhbir Singh Badal said that this is not the right time to question the handling of the situation.
"India is with the PM. Let's give the message to China that we are with the PM," he said.
Jagan Mohan Reddy of YSRCP said, "Thanks to PM, India's reputation has risen globally. He has built key strategic partnerships across the world. You are our strength, Prime Minister. India has gained envy of many. They (China) are trying to destabilise India."
CPI's D Raja said that India should "resist US efforts to drag us into their alliance" even as CPI(M)'s Sitaram Yechuri stressed on the principles of Panchsheel.
TRS Chief and Telangana CM KCR said that PM's clarity on Kashmir has angered China.
"PM's emphasis on Kashmir's development has also angered China. PM's call of Atmanirbhar Bharat has rattled China," he said.
TMC leader and West Bengal CM Mamata Banerjee said that the meeting is a good message for the nation.
"Shows that we are united behind our Jawans. TMC strongly in solidarity with the government... Don't let China enter telecom, railway and aviation sectors. We will face some problems but we won't allow the Chinese to enter," she said.
"China is not a democracy. They are a dictatorship. They can do what they feel. We, on the other hand, have to work together. India will win, China will lose. Speak with unity. Think with unity. Work with unity. We are with the government," she added.
Besides Mr Modi and Mr Modi, Home Minister Amit Shah, External Affairs Minister S Jaishankar and Finance Minister Nirmala Sitharaman were also present.
Several political parties, including Rashtriya Janata Dal, AIMIM and Aam Aadmi Party expressed displeasure over being not invited for the meeting.
---