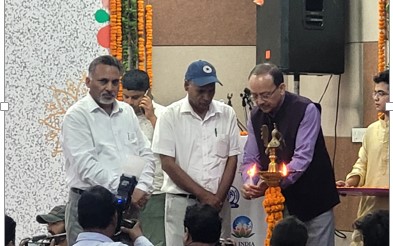 New Delhi: Torrential rains did not dampen the spirit of students and participants as Akashvani Delhi in collaboration with Rajdhani College organized the third programme in a series of programmes to celebrate India's G20 Presidency at the Auditorium of Rajdhani College, Delhi.
The events started with lighting of ceremonial lamp by the chief guest Dr. Subhash Sharma, former Secretary Govt. of India, Principal Rajdhani College Prof. Rajesh Giri and Head of Programmes Akashvani Delhi Mr Manohar Singh Rawat
Welcoming the participants and audience, the Principal Rajdhani College lauded the initiatives and efforts of Akashvani Delhi to provide a platform to the students of various colleges in Delhi NCR, thus igniting the spirit of Yuva Devo Bhav.
The jam packed auditorium was regalled by the enthralling performance of Haryanvi folk songs by Vidhi Deshval.
Paying tributes to the martyrs of Kargil war on Vijay Diwas, Vidhi sung a patriotic number that filled the air with sentiment of Patriotism. This was followed by a declamation on Environment related issues by the students of the college.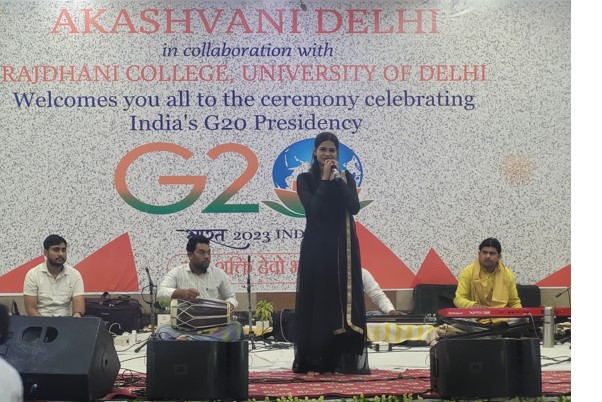 Students also performed a Rajasthani dance to the jam packed hall.
Participation certificates were distributed to the students along with G20 kit.
In his vote of thanks, Head of prgrammes Akashvani Delhi, Manohar Singh Rawat renewed the promise of Akashvani to all the youth to keep them providing the powerful medium of Akashvani for making their Voice count.
This was the third of a series of 50 days long celebrations by Akashvani Delhi to commemorate India's G20 Presidency that also includes a G20 Run and a programme for BSF Officers and Jawans at the Wagah Border.
Budding artists from all accross the country will be given a chance to perform for Akashvani at various educational institutions of Delhi and NCR in order to promote the abundant talent among the youth of the Nation.
---