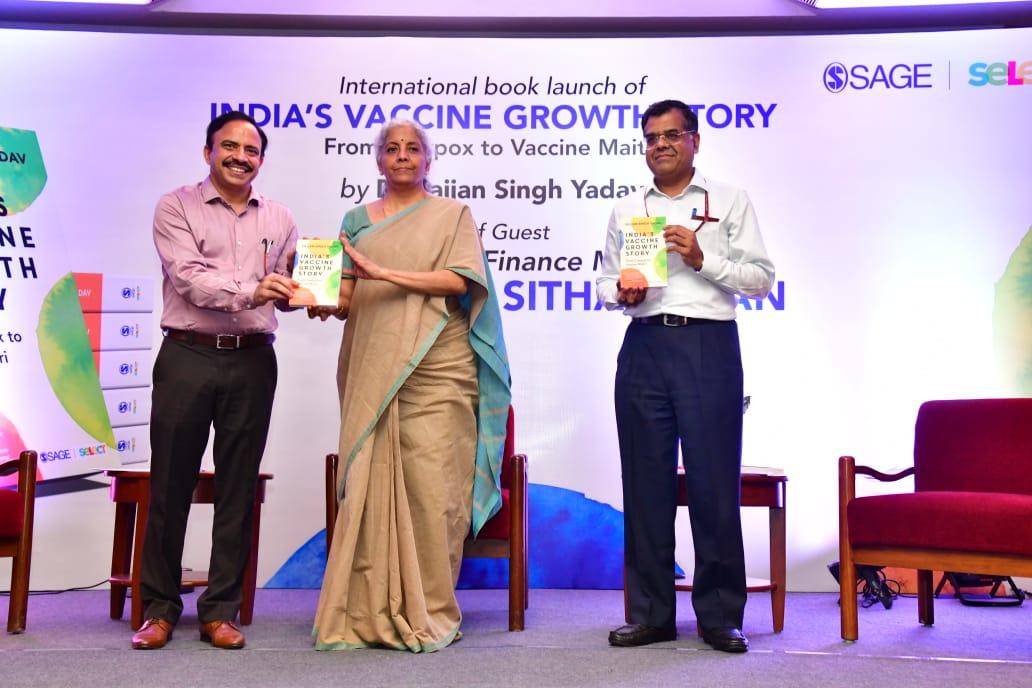 FM Sitharaman launches Dr Sajjan S Yadav-authored book India's vaccine growth story- from cowpox to vaccine maitry in Delhi
New Delhi: Finance Minister Nirmala Sitharaman has launched the book entitled "India's vaccine growth story- from cowpox to vaccine maitry", authored by Dr Sajjan Singh Yadav, an Additional Secretary posted in her ministry.
The book has attempted to capture the stories of around the development of vaccines and emergence of India as a global vaccine supplier.
Through this book, Dr Yadav has tried to trace India's journey as the torchbearer in vaccine development and inoculations worldwide.
The readers would find a numerous stories of birthing of several vaccines too.
The book also discusses development of vaccines by India at a fast pace to counter the COVID-19 pandemic and launch of the world's biggest vaccination drive by our country.
Other topical issues like vaccine diplomacy, vaccine economy, vaccine hesitance and vaccine leadership have also been eloquently covered in the book with interesting stories and anecdotes.
Releasing the book, Sitharaman said that the book has come at an appropriate time when India is celebrating "Azadi ka Amrit Mahotsav".
"In the recent years, 'Team-India' under the dynamic leadership of Prime Minister Narendra Modi Ji has taken the country to new heights. The world is seeing a new and rising India, leading the globe in many areas. Vaccines are definitely one such sector where India has clearly established its supremacy", she said.
India produces 62 per cent of the world's vaccine doses which has greatly contributed to the widespread global availability of affordable, high-quality vaccines.
Made in India vaccines save millions of lives every year. "As infectious diseases have a huge impact on productivity and economy, vaccines manufactured by India make a significant contribution in economic growth and development across the world", she said.
Sitharaman recalled that during the COVID-19 pandemic, the entire world was looking at India for providing the protective shield of vaccines.
"Under the charismatic leadership of our Prime Minister and his "whole government" approach, the untiring efforts of our scientists, entrepreneurs and health experts and liberal financial support, we lived up to the global expectations and have provided a bouquet of vaccines. Not only we have administered more than 200 crore doses of COVID-19 vaccine, but in the spirit of "Vasudhav Kutumbkum," and "Sarve Santu Niramaya" we have provided this "Sanjeevani booti" to more than 100 countries.
The minister also complemented Dr Yadav, who is a Doctorate in Public Health from the London School of Hygiene and Tropical Medicine for coming up with a book on India's successful vaccine development story.
---