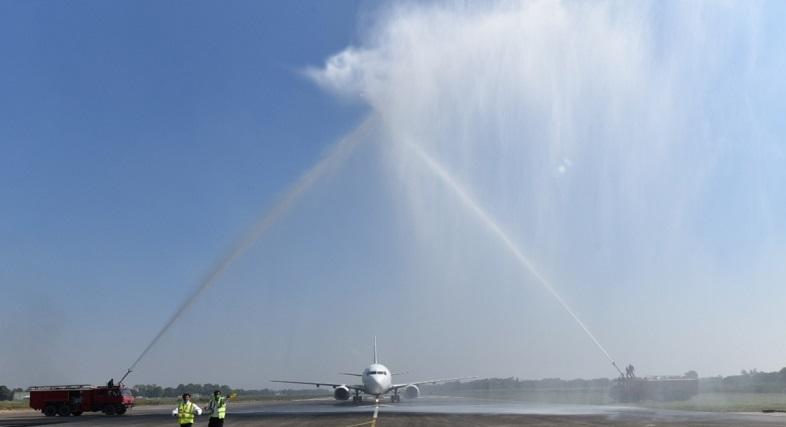 Darbhanga airport in Bihar
Darbhanga: The Indian Air Force (IAF) and the Airport Authonty of India (AAI) has now connected Air Force Station Darbhanga in Bihar, to other major cities in the country with first passenger fight of Spice jet landing on Sunday from Bengaluru at 1110 hours.
The Boeing 737-800 aircraft of the airliner had earlier got airborne from Bengaluru for Dharbhanga and left for Delhi at 1230 hours. This has been possible after the close coordinated actions by all the stake holders including the State Administration, a defence PRO said.
It was a long-standing demand of the people of the Mithila region who had to travel for hours to Patna to catch a flight.
As the first flight, operated by Spicejet, landed at the airport from Bengaluru, it was given the customary water salute, while the passengers were greeted with ''Mithila Paags'' (a traditional cap) and garlands.
The plane then took off for Delhi with 180 passengers, including Darbhanga's BJP MP Gopaljee Thakur, Darbhanga Town legislator Sanjay Saraogi and MLC Dilip Chaudhary.
Darbhanga will be connected by flights to Delhi, Mumbai and Bengaluru, officials said.
People of the region will save at least four to five hours travelling to and from Patna with the airport beginning operations, the officials added.
The foundation stone for the civil works was laid on December 24, 2018.
The Indian Air Force would be providing Air Traffic Control (ATC), Metrological and Communication Services for ensuring smooth operations.
Air Vice Marshal PK Mohey, Senior Officer Administration of CAC, had earlier visited Air Force Station Dharbhanga on several occasions to oversee the preparation towards the commencement of Civil Air Operations.
---