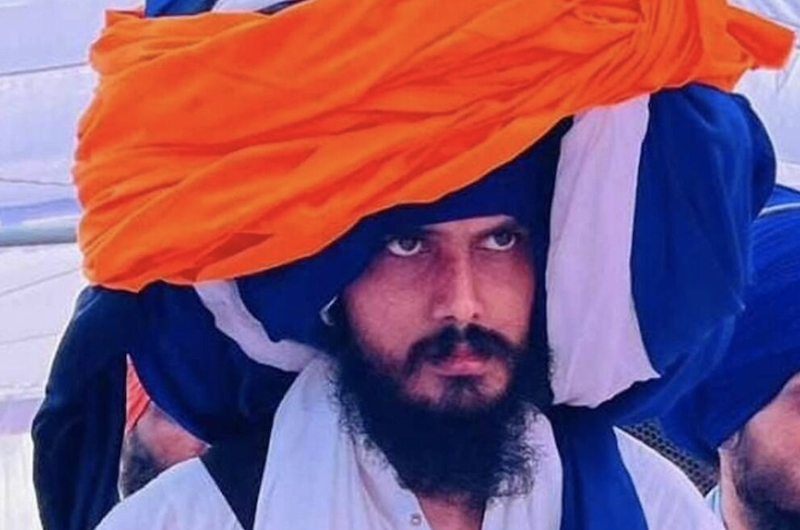 Amritpal Singh, a separatist and leader of "Waris Punjab De". (Photo: Twitter)
What happened in Punjab's Ajnala on February 23 was a total capitulation of state police before radicals who stormed the city's police station, forced the police leadership to accept the demand for release of one of their accomplices. In the end, the radicals walked away victorious.
The incident exposed the inability of the Punjab Police and the state government to tackle the challenge of radical separatists that have sprouted in the state again after three decades. Political parties always prioritize vote-bank politics – and their quest for power undermines good governance. Today, Punjab is in the grip of politicians who exploit vote banks for their quest for power. The state is simmering with radical turbulence wherein elements inimical to peace and stability are jeopardizing the security environment.
---
Read also: Punjab turbulence impacts national security, Centre-state joint effort must for peace
---
In this turbulence, the shadow and images of the 1980s are visible, which led to the rise of Jarnail Singh Bhindranwale, who drowned Punjab in an untold cycle of violence. The rest is history.
The traces of those days are visible in the rise of Amritpal Singh, the preacher and leader of "Waris Punjab De" (heirs of Punjab) who has occupied the radical political space of Punjab in a short span of about six months, creating an environment of fear and uncertainty in – what has been – a peaceful state for almost 30 years. It seems that neither the state nor the Union government is prepared to step in and investigate the sudden rise of the radical preacher.
The reason is not difficult to guess.
---
Read also: Need collective will to stop revival of militancy in Punjab
---
Pakistan's Inter-services intelligence (ISI) will certainly be happy at the developments and will exploit the situation for spreading their nefarious agenda of terrorism and militancy through cross-border smuggling of drugs and weapons to destroy peace and stability in Punjab, which is a frontline border state. Strangely, no police report (FIR) has been registered yet in the Ajnala incident against those who clashed with the local police. This point towards the reluctance of the police leadership to investigate Amritpal Singh and his activities. That the police can do so without the concurrence of the state's political leadership is incomprehensible.
Punjab is on boil because of unresolved issues. It needs deft handling through good governance, maintaining a strict professional security protocol, and healing touch by winning hearts and minds of people. Punjab has a high unemployment rate. There is distress in agriculture with farmers agitating for remunerative prices as agriculture has become barely sustainable economically. Now, the question arises of pertinent unresolved issues lingering for a long time. These, if addressed, will heal old wounds, and deprive radicals the platform to connect with and exploit sentiments of the state's people. However, will astute politicians allow this to happen? We can't be optimistic because this would deprive the politicians of emotive issues to further their agenda of vote-bank politics.
---
Read also: Akhand Bharat and 'retaking' Pakistan-occupied Kashmir
---
The first and foremost is the issue of the release of "Bandi Singhs" (Sikh prisoners), who are held incarcerated in various prisons, even after they have served their sentences. For this, "Sikh Bandi Chhod" (free Sikh prisoners) protests are also being held regularly. Some of these prisoners are physically and mentally unfit. The issue of release of Bandi Singhs have taken a religio-political dimension, which is now being exploited by separatists and radicals as an injustice to the Sikh community.
They have cited instances of release of prisoners charged with serious and heinous crimes by various state governments. They are questioning vocally the different yardsticks adopted by the government on dealing with separatists from other states and Sikh separatists. Both the Union and the state governments need to address the issue purely from the perspective of national security and decide each case on merit while taking care not to allow vote-bank politics to colour the decision.
Punjab is the food bowl of India and was the state that ushered in the "green revolution" in the country. River water is an emotive issue in Punjab being a riparian state, with the Sutlej, Ravi, and Beas rivers flowing through it. Water is needed for irrigation purposes by all states. The dispute between Haryana and Punjab over Sutlej water sharing must be resolved in the spirit of give and take, while keeping in mind the interests of both the states.
However, unfortunately, oneupmanship and politics on the issue has weakened national harmony, affected the relations between Punjab and Haryana, and given a handle to radicals to exploit the issue to fan dissatisfaction and ignite separatism.
In 2004, the Punjab assembly passed the Punjab Termination of Agreement Act, which terminated its water-sharing agreement, thus jeopardizing the construction of the Sutlej-Yamuna link canal in Punjab. In 2020, the Supreme Court directed the chief ministers of both Punjab and Haryana to renegotiate and settle the SYL canal issue at the highest political level under the Union government's mediation.
---
Read also: India needs to shed its hesitancy in dealing with China on LAC dispute
---
Since it is an emotive issue, both the states and the Centre need to rise above politics to settle the dispute in national interest, which will deprive radicals of a hot issue to fan separatism.
The third important factor, which has given a handle to separatists and played on the psyche of Punjab in general and Sikhs in particular is a section of India's political spectrum relentless effort to make separatism and Khalistan synonymous with every incident in Punjab. Needless to say, this is aimed at painting the Sikh community with a black brush for narrow political gains.
There is also a feeling that every incident connected with Punjab internally and related to Sikhs abroad is conformed and connected to the Khalistan agenda, which is obviously incorrect and driven by parochial, but highly dangerous, domestic political motives. Such narratives give leverage to anti-national elements to further their agenda by fuelling a sense of discrimination.
Every political party aspires to capture power through the ballot in a vibrant democracy. However, to influence voters through religious polarization in the name of hardcore majoritarianism for vote-bank politics will only sow the seeds of separatism and radicalism among those suffering because of religious polarization. This will also have an adverse effect on the social harmony and national integrity in the long run.
A country like India, where "unity in diversity" binds it as a single nation, cannot afford to tolerate politics for votes that is laced with separatism based upon regional, linguistic, and religious identity.
---
Read also: 'Gateway to Hell' – The 1962 Daulat Beg Oldie operation
---
In order to tide over the current burning issues, Punjab needs good governance. It should endeavour to resolve all issues that give a handle to separatist elements to lure people, especially youth into their dragnet. Keeping these issues unresolved will gradually, but surely, take Punjab back to the situation it found itself in the 1980s, when radicals used to move around openly with weapons with impunity.
The Union and state governments need to resolve the issue of Bandi Singhs and water sharing as a priority. They also need to address the issue of high unemployment to deny the separatists a platform to lure the youth into their fold. The issue of legal guarantee of minimum support price needs addressing as one of the top priorities. This will help in removing agricultural distress and help in restoration of peace in Punjab. Punjab also needs a professional police structure, which needs to act strictly and firmly and not look for political inclinations of the party in power to resolve law and order issues.
Punjab is simmering at this moment. It needs good governance and a balanced approach with human touch from both the state and Centre to bring the temperatures down.
---
Follow us on social media for quick updates, new photos, videos, and more.
Twitter: https://twitter.com/indiasentinels
Facebook: https://facebook.com/indiasentinels
Instagram: https://instagram.com/indiasentinels
YouTube: https://youtube.com/indiasentinels
---
Disclaimer: The views expressed in the article are the author's own and don't necessarily reflect the views of India Sentinels.
---
© India Sentinels 2022-23
---