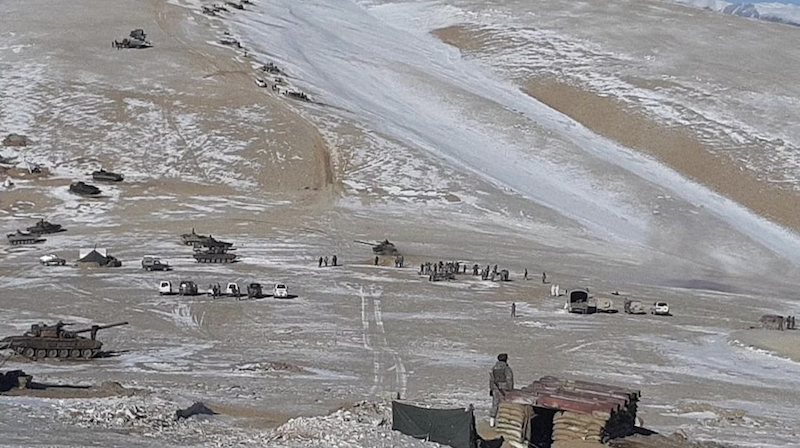 Indian and Chinese troops disengaging from a friction point at Pangong-tso in eastern Ladakh after Indian troops captured dominating heights in the Kailash Ranges, in 2020. (Photo: Indian Army)

The power and strength of the national security apparatus determine a nation's response in dealing with adversaries both on settled and unsettled borders. The national response is also manifested in the security strategy a country adopts to deal with adversaries challenging its sovereignty and territorial integrity. The challenges to sovereignty and territorial integrity are multifarious and are executed through grey-zone strategy exhibited by aggressive economic, diplomatic, and military posturing.
This is the strategy China exhibited along the line of actual control (LAC) taking advantage of the hesitancy in the Indian approach – and is practising it aggressively. Aggressive posturing is aimed at pressuring New Delhi to accept the border imbroglio as fait accompli and fall in line. Therefore, to deal with the rogue neighbour, especially along the unsettled borders, our national security strategy must be aggressive and not reactive.
Unfortunately, India's response and strategy to deal with China on the LAC is hesitant and passive.
China is effectively applying Sun Tzu's principle on the Indian diplomatic and military psyche that "the supreme art of war is to subdue the enemy without fighting." It seems China is draining India not militarily but psychologically, thereby putting the nation on the defensive.
---
Read also: Study says 'India lost 26 out of 65 patrolling points' near LAC in eastern Ladakh
---
Why it is so needs an in-depth analysis.
India is fighting an undeclared war with China along the LAC every day since 1959, when the-then Chinese prime minister, Zhou Enlai, proposed to the-then prime minister, Jawaharlal Nehru, that the armies of both countries withdrew 20 kilometres from McMahon Line in the east and from the line up to which each side exercised actual control. Situation on LAC was kept stabilized through diplomatic initiatives and agreements of 1993, 1996, and 2005 that were aimed at maintaining peace and tranquillity along LAC while striving to find an amicable solution to boundary dispute.
However, the situation has become aggressive and unstable since May 2020. The Chinese aggression along LAC in the eastern and western sectors is a clear attempt at keeping India under pressure. Grey-zone operations by China along the LAC are, now, a reality and if not dealt aggressively, it may lead to localized skirmishes and even a full-blown war. India needs to stand up firmly and retaliate effectively. China will continue to prick India until the government sheds its hesitant and passive attitude.
---
Read also: New Delhi must force Beijing to blink
---
India's armed forces have the capability to strike effectively both at operational and tactical level. However, the armed forces need strengthening to fight in terms of habitat, weapons and equipment, training, and technology to fight all forms of war. The government needs to make amends to its current defensive approach on China and prepare the armed forces accordingly.
A purely defensive approach is harmful to India's standing as a regional player and is not in the nation's security interests.
From the beginning, India failed to pick up the aggressive Chinese signalling from time India abrogated the Article 35A using the provisions of Article 370 of the Constitution, thus doing away with the special status given to the erstwhile state of Jammu & Kashmir, and bifurcated it into two Union territories, and later through the 20th party congress of Chinese Communist Party.
---
Read also: India must move earnestly and quickly to settle border dispute with China
---
On the first day of party congress, aiming to rile India, China played a video of the deadly June 2020 clashes that took place at eastern Ladakh's Galwan valley. Appointments to the China's Central Military Commission have generals well familiar with peculiarities of the LAC as they have served in the country's Western Theatre Command. Signals emanating from Beijing were clear through and through, aimed at keeping India under pressure.
It was apparent that the Chinese theatrics were aimed to force India to fall in line and accept Chinese terms. That is the reason, there is no forward movement on the LAC imbroglio despite seventeen rounds of corps commander-level military talks between the two countries.
India's inability to correctly appreciate Chinese strategic thinking have led to the present ground status in eastern Ladakh where India finds China in a dominating position. After Ladakh, China has set its eyes on Arunachal Pradesh questioning the validity and sanctity of McMahon Line, thus unilaterally bringing the status of the whole of Arunachal Pradesh in dispute.
---
Read also: China objects to India-US joint drill near LAC, New Delhi shows mirror to Beijing
---
India needs to set its response in consonance with Chinese posturing and signalling. The response must be strong and aggressive both diplomatically and militarily.
What should India do in such a situation where China harbours territorial ambitions and is hell-bent upon disturbing the status quo along LAC? What is at stake for India is its territorial integrity? What are Indian options?
For that, India first needs to accept that instability along the LAC is a part of China's hegemonic policy.
China also perceives India as a major threat to its regional and global aspirations. It also perceives the growing Indian proximity to the United States and the US-led Quadrilateral Security Dialogue (Quad) as a threat to its hegemonic aspirations. At stake for India vis-à-vis China is peace and tranquillity along LAC in the western, central, and the eastern sectors. Also at stake is the existence of Arunachal Pradesh, which China claims as "South Tibet".
---
Read also: Rajnath says China unilaterally tried to change status quo in Tawang
---
Therefore, what should be the Indian approach and strategy to put China on the defensive?
To do so, India needs to bare its fangs and make moves to reclaim territories along the LAC as a first step forward. It also needs to carry forward its commitment for reclaiming Aksai Chin, which has Chinese strategic assets and links Xinjiang and Tibet. India needs to prepare diplomatically and militarily to protect its sovereignty and territorial integrity. It should be prepared for escalation and long-drawn localized conflict, which ultimately will put pressure on China. India needs to appreciate Chinese weak spots all along LAC and make right movements to disturb China. It needs to shed its recalcitrant attitude and not give much weightage to domestic political considerations over national security.
Once the nation displays such strong riposte to China, it will impose a lot of caution upon China and will certainly force China to have strategic rethink over its attitude towards India both diplomatically and militarily.
The catchword for India is to prepare itself on all fronts to take on China aggressively. An aggressive Indian response will also help to regain its hold over neighbours who are too overawed by Chinese presence in their neighbourhood as well at their doorsteps. The only option for India to emerge stronger is to shed its hesitant and passive attitude while dealing with China and show its resolute intent coupled with actions on ground to come out of the LAC imbroglio.
---
Follow us here:
Twitter: https://twitter.com/indiasentinels
Facebook: https://facebook.com/indiasentinels
Instagram: https://instagram.com/indiasentinels
YouTube: https://youtube.com/indiasentinels
---
Disclaimer: The views expressed in the article are the author's own and don't necessarily reflect the views of India Sentinels.
---
© India Sentinels 2022-23
---