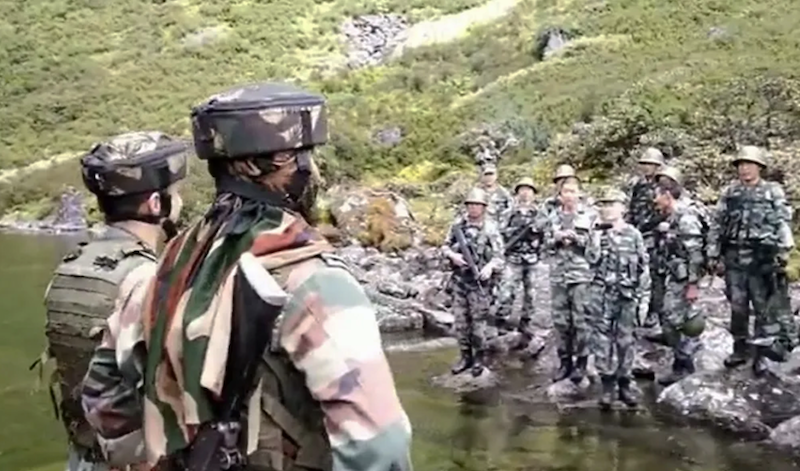 Indian and Chinese troops facing each other across a rivulet near the LAC in the Tawang sector. (Photo for representation)

The recent clash at the line of actual control in Arunachal Pradesh's Yangtse plateau near Tawang is the continuation of a series of police- and nomadic-pattern clashes between Indian Army troops and China's People's Liberation Army troops. It started from eastern Ladakh's Galwan valley in the northern sector, in June 2020, with the latest one taking place at the Yangtse plateau in the eastern sector.
However, the clash at Yangtse plateau won't be the last and India must be alert.
---
Read also: Threat of China annexing Tawang is real. What must India do?
---
The latest Chinese misadventure was waiting to happen from the time Beijing lodged strong protest over New Delhi holding this year's Yudh Abhyas joint army exercise between the United States and India in Uttarakhand's Auli, which is barely 100 kilometres from the LAC in the central sector. Although the Indian Army troops thwarted the PLA's attempts to grab land and change the status quo of the LAC at Yangtse plateau through grit and determination, the question that arises is: why is India unable to force China to blink?
The reasons are simple and obvious, which need comprehensive analysis.
Since the June 2020 Galwan valley clash, which saw 20 Indian soldiers dead, around 100 injured, and dozens captured, there have been six parliamentary sessions. In none of those sessions the incursions and ingress by China has been debated and neither was a strong parliamentary message conveyed to China and the world at large that tinkering with India's territorial sovereignty will invite reprisals. The officially invoked gag on parliamentary discussions on the LAC continues even today.
---
Read also: India must move earnestly and quickly to settle border dispute with China
---
The winter session of Parliament is in progress. The defence minister, Rajnath Singh, made a statement on the Yangtse clash. The opposition's demand for discussion was turned down citing the "sensitivity" of the border issue. This attitude of the government conveys the message that the opposition and government are not on the same page on crucial matters of national security.
National security is paramount and is not subservient to economic interests. As senior economic analyst Subir Roy pointed out giving commerce ministry's figures in a recent Tribune op-ed, the trade between India and China rose to $115.83 billion in the 2021-22 financial year, with India's trade deficit ballooning to around $74 billion. Trade between the two countries between April and October has been worth around $69.04 billion. Therefore, a trade embargo against China is not feasible for India. However, major steps at diversification are also not visible on India's side. A determined and collective national resolve to make China pay for its misadventures against us is absent.
India needs to exhibit national resolve to coerce and force China to stop its belligerence through a combination of military, diplomatic, and economic initiatives. What could be these initiatives?
As the first step, India must pull out the Army from policing and border-management roles. As evident from the current India-China stand-offs, such roles make a soldier's attitude defensive. The Army is for aggressive posturing and retaliation, in cases of provocation. It is not to execute policing and border-management tactics. It should send a message to China that any Chinese misadventure will invite strong military retaliation. However, the same can only be achieved by strengthening the intelligence grid and military posture to foil Chinese misadventures on the LAC. At the same time, capabilities need to be built to deter China militarily.
---
Read also: Placing border-guarding forces under the Army?
---
There are multiple friction points and disputed areas all along 3,488km-long LAC, which makes it situations unstable and incidents unpredictable. China, emboldened by the Galwan experience, will attempt such stealth operations all along the LAC. These attempts need to be to be countered strongly through military retaliation.
On the diplomatic front, India needs to realize that China is a contiguous neighbour with which it has complex and unresolved border issues. This is a major irritant in relations between both countries. The issue must be resolved bilaterally through diplomacy. Both countries can't afford to wage a full-fledged war, India much less so. India needs to impress upon China for the operability of the border agreements of 1993 and 1996 to progress diplomatically.
Trade with China is a complex issue, which also has security implications. There is a mini-China in every Indian household. Indians are deeply patriotic and are hurt with Chinese attempts at land grab. They do not want to purchase Chinese products. The government aggressively needs to work to provide alternatives to the citizens. The trade imbalance is heavily loaded in China's favour. India needs to slowly come out of the Chinese trade web, which also affects national security.
China is belligerent and hostile as is visible from its hostile actions along the LAC and in the interior targeting infrastructural facilities.
It may be recalled that in November 2006, in complete disregard of diplomatic decorum, the-then Chinese ambassador to India, Sun Yuxi, in a TV interview laid Chinese claim to Arunachal Pradesh as "South Tibet" and opposed Asian Development Bank-funded loans for hydel projects in the state. Later, in 2009, China started issuing stapled visas to officials stationed in Jammu & Kashmir and residents of Arunachal Pradesh, thus bringing the status of J&K and Arunachal Pradesh in dispute.
China renamed six places in Arunachal Pradesh in 2017, and recently, the Chinese ministry of civil affairs announced Chinese names for 15 places in Arunachal Pradesh. On its part, the Indian government had clearly asserted that Arunachal Pradesh has always been and will always be an integral part of India and assigning invented names does not alter this fact.
However, the fact is that China is not blinking.
The strategic objective of China is to establish itself as a regional and world power and provide strategic and security depth to Tibet and assets in Aksai Chin. This leaves it with little room to give space to India. It can only become a regional and world power by subjugating India, keeping it off balance militarily and economically, constantly pricking it at different friction points and forcing economic costs upon India.
The Chinese took home minister Amit Shah's statement on Aksai Chin very seriously and used it as a counter for its sovereignty and territorial integrity. It forcefully altered the status quo of LAC in Ladakh, in May 2020. The only option for India is to develop strong military capabilities in all domains of war to force restraint on China.
In the present security environment on LAC, what are India's options?
New Delhi must continue its engagement with Beijing at the military, diplomatic, and political level and keep pressing it to respect the sovereignty and territorial integrity of India. It needs to work on developing all six domains of warfare: land, sea, air, space, cyber, and information. In addition, infrastructural development in border areas facing China needs continuous push.
The government also needs to strengthen the country's intelligence agencies and hold them accountable for their failures, which prove costly for national security, like we saw in Kargil, in 1999, and Galwan, in 2020.
The government has very little manoeuvring space against China. It needs to be prepared to face Chinese belligerence in the western, central, and eastern sectors. The government must also listen to professional advice from security, strategic, and military experts, and consider their advice and inputs while making policies on China.
Beijing will not blink unless New Delhi forces it by demonstrating enhanced military capabilities and national resolve of democratic jointness to take on it.
---
Follow us on social media for quick updates, new photos, videos, and more
Twitter: https://twitter.com/indiasentinels
Facebook: https://facebook.com/indiasentinels
Instagram: https://instagram.com/indiasentinels
YouTube: https://youtube.com/indiasentinels
---
Disclaimer: The views expressed in the article are the author's own and don't necessarily reflect the views of India Sentinels.
---
© India Sentinels 2022-23
---